Send remittance through formal channels
Govt high-ups, commercial bankers urge expatriates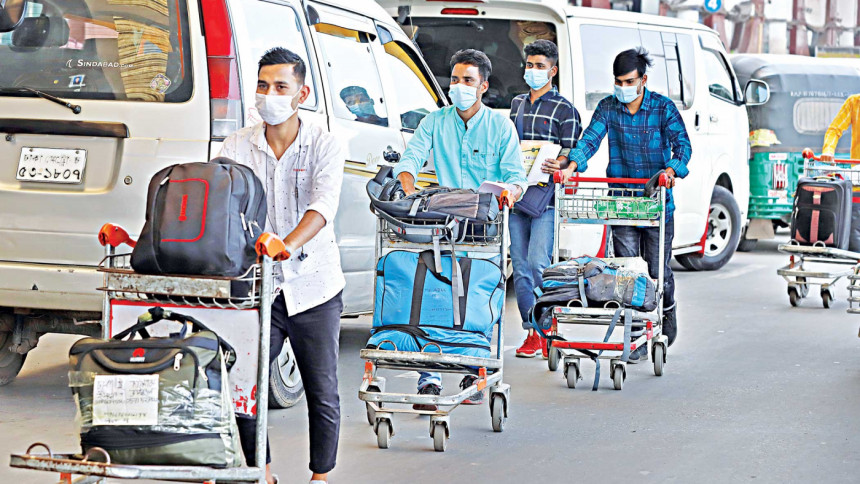 High-ups of the government and the top commercial bankers yesterday urged expatriate Bangladeshis to send their money through legal channels instead of using hundi, an illegal cross-border money transfer network.
Sending money through banking channels will insulate the country's foreign exchange reserves, which are now facing a decreasing trend, they said at a ceremony for distributing the Bangladesh Bank Remittance Award to the top remitters for the period of 2019-20.
The rise in import payments deriving from the prices increase in the global market has hit the reserves, they added.
The event was held at Krishibid Institution Bangladesh in Dhaka with Finance Minister AHM Mustafa Kamal present as chief guest.
Abu Farah Md Nasser, a deputy governor of Bangladesh Bank, said the reserves had decreased to some extent after settling import payments with the Asian Clearing Union (ACU).
The migrant workers should come forward to improve the volume of the reserves, he added.
The reserves stood at $41.9 billion on May 11 in contrast to $46.15 billion on December 31 last year. Earlier this month, the country made a payment of $2.24 billion to settle the import payments of nine ACU member countries.
Nasser says that the money sent through hundi may be used to perpetrate money laundering, finance terrorism and human trafficking.
However, there is no such risk if remittance is sent through legal channels, he said.
Sheikh Mohammad Salim Ullah, secretary of the Financial Institutions Division, said that Sri Lanka is now facing a crisis due to the scarcity of foreign exchange reserves.
The existing policy will be amended to tackle hundi If anyone provides a suggestion in this regard.
"The country's image will shine in the outside world if we can tackle hundi in a full-fledged manner," he said.
Ahmed Munirus Saleheen, secretary of the Ministry of Expatriates' Welfare and Overseas Employment, said the country is yet to draw up a diaspora policy in a bid to use the remitters for the country's economic development.
There is nothing to feel frustration about due to the downward trend of remittances though as around 10 lakh workers may go to abroad this year.
"This will give a boost to remittances," he added. Between July and April, remittance stood at $17.30 billion, down 16.2 per cent year-on-year, central bank data showed.
Abul Kashem Md Shirin, managing director of Dutch-Bangla Bank, said Bangladesh Bank usually warns banks when they follow high rates for the taka against US dollars.
"If banks do not give such rates, clients usually go to the illegal channel like hundi," he said, adding that the central bank should think on how to resolve the issue.
Mohammad Shams-Ul Islam, managing director of Agrani Bank, says there is an unholy competition among banks to hunt remittances.
In many cases, some banks offer excess rates to attract remitters.
"We may think of introducing an equal rate between the taka and US dollar for all banks to stop the unethical competition," he said.
Fazle Kabir, governor of Bangladesh Bank, said the country's trade gap stood at $24 billion in the first nine months of this fiscal year, when the current account deficit was $14 billion.
After settling the import payments to the ACU, the reserves now stand at around $42 billion, which is a good thing, he said. Although remittances have been maintaining a downward trend in recent months, the inflow may surpass $20 billion at the end of this fiscal year, Kabir added.
Finance Minister Kamal said the reserves had recently declined as global commodity prices increased due to Russia's invasion of Ukraine.
"The inflow of remittance should be increased more," he said.
"The money that went abroad will come back to the country as the interest rate on deposits in foreign nations is now negative," Kamal added.
The central bank gave 67 awards, including those to 14 entities for their outstanding performance in sending remittances between 2019 and 2020.