Savar's imitation jewellery industry losing sheen
Rising raw material costs diminishing profits, traders say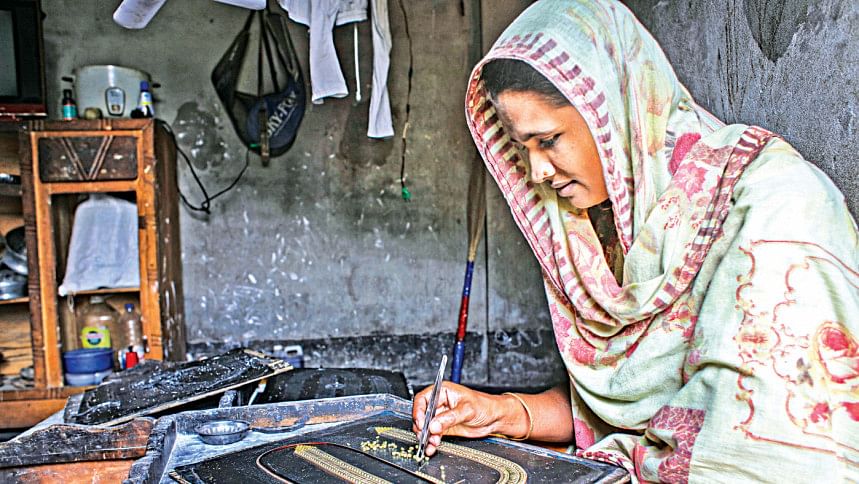 People living in Savar's Bhakurta union on the outskirts of Dhaka are bolstering their income by meticulously shaping copper and brass ornaments every day.
As such, the region has become home to a jewellery industry where locals can earn a living by smelting metals, threading strings, and piecing together the designs for various ornaments.
In Bhakurta, making jewellery is deemed a household routine as not only men, but also women and children work side by side.
Hundreds of dedicated workshops have sprung up throughout the village's narrow alleyways in recent years, making it a hotbed for Bangladesh's custom jewellery makers.
These ornaments are often purchased by wholesalers who sell them to, or at, supermarkets and other stores in Dhaka and various district towns.
For this jewellery-making business, the village has come to be known as "Gohona Gram" or jewellery village.
Local factories make all kinds of women's jewellery -- from hair ornaments, earrings, nose rings and necklaces to bracelets, bangles, anklets and lockets.
Artisan Mohammad Rafique, who has been engaged in the industry for the past two decades, told The Daily Star that stores in Dhaka apply the final touches, such as polishing and paint, to their ornaments but some finished copper and brass jewellery are sold in Bhakurta.
"Besides, if you place an order providing a design, the desired silver jewellery can be made from this location," he said.
"Our jewellery not only caters to domestic demand but also goes to Italy, the Middle East and India," Rafique added.
While speaking with local artisans, it was learnt that the industry had grown gradually.
The price of gold began to rise a few years after Bangladesh achieved independence, but artisans' wages remained unchanged.
Some of them returned to their villages in the region and began making silver jewellery but after the market for silver products took a downturn, the artisans began looking for alternative metals as this was the only trade they knew.
They then found copper to be an affordable and efficient substitute as they could use the designs of gold and silver jewellery to create a new market.
"Normally, the raw materials come from India and we collect them from Old Dhaka. The metals are gathered from scrapped ships," said Imran Hossain, general manager of Madina Metal Store in Bhakurta.
While visiting a market in Bhakurta last month, this correspondent met Riffat Hasan, chief executive officer of jewellery shop D Style Factory in Dhaka.
"We have been collecting some of our products from this market for several years and upload many of these designs to our official website," Hasan said.
"Currently, we are getting more orders as winter is the wedding season," she added.
The local jewellery industry has brought much-needed relief for hundreds of people in the area who allege that working from dusk till dawn in normal professions does not provide an adequate income.
"It's too difficult to support our four-member family on the income of my husband, who works as an auto driver," said Sakhina Begum.
"But I am really grateful that one of my neighbours taught me how to make necklaces, bangles, earrings and nose rings," she added.
However, Sakhina said their luck seems to have run out due to the rising price of raw materials.
"Previously, we could earn around Tk 70 from each necklace but now, we earn only Tk 30," she said.
Deen-E-Islam, an artisan based in Bhakurta, alleged that the rising raw material costs and lower profits from semi or complete products has come as a double blow.
"The price of some raw materials are rising day by day but the price of final products is the same or decreasing," Islam said.
"We have to pay around triple what we used to, as advanced factory payment went up from Tk 1 lakh to Tk 3 lakh while shop rent has been increased from Tk 1,500 to Tk 3,500," he added.
When contacted, Md Nazimuddin, president of the Bhakurta Gold, Silver and Imitation Traders Cooperative Association, said the promising local industry was currently faltering as a result of rising raw material costs.
In addition the cost of liquefied petroleum gas has risen, as have the costs of other related materials that are needed to melt the ornaments.
Some people also opt for the traditional method of using kerosene, the price of which has also increased by around Tk 15 per litre.
As such, many traders have been forced to take high loan-interest loans from non-government organisations in order to stay in business, he added.
Asked why the raw material prices have gone up, Nazimuddin said since they cannot directly import the materials from China, they were compelled to rely on Indian traders and pay high taxes.
"If the government makes the import process easier and lowers costs, the industry would quickly prosper," he added.