Saidpur airport to boost connectivity with Nepal, Bhutan
Officials say as development work underway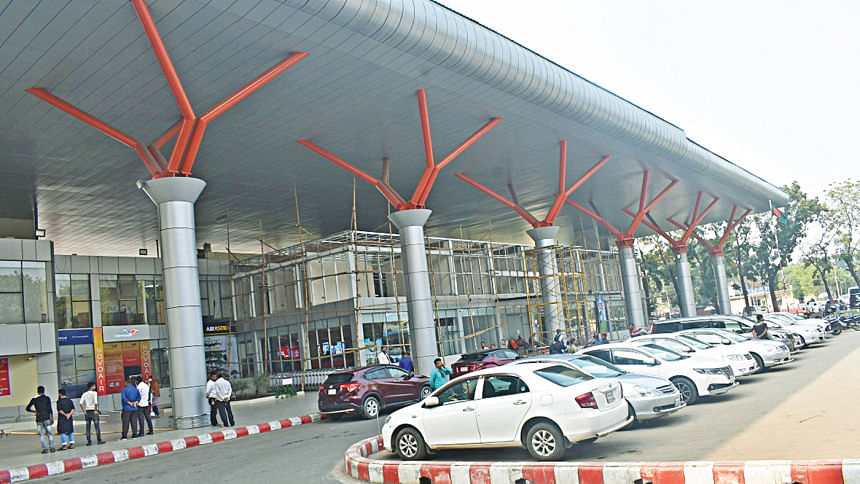 Efforts to turn Saidpur airport in Nilphamari into an international airport are underway as making it a key transit point would boost connectivity with Nepal, Bhutan and the Seven Sister states of India, according to government officials.
The northernmost airport in Bangladesh sits on 136.56 acres of land some 260 kilometres away from Dhaka by air with flights requiring about 48 minutes to reach the capital.
Having started functioning as a domestic airport in 1979, Saidpur airport has since become one of the country's busiest landing strips with roughly 30 flights plying the Dhaka-Saidpur-Dhaka route each day.
National flag carrier Bangladesh Biman and private operators US-Bangla Airlines and Novoair operate flights on the 6000-foot-long runway, said Suplob Kumar Ghosh, manager of Saidpur airport.
Prime Minister Sheikh Hasina announced plans to ready Saidpur airport for international flights back in 2018 and accordingly, development work is now ongoing.
Once complete, it will become the country's fifth international airport, he added.
As per official estimates, it takes between 30 and 50 minutes to travel to Nepal, Bhutan or the Seven Sister sates of India from Saidpur airport.
Pradeep Kumar Gywali, the foreign minister of Nepal, made a proposal to use the airport for meeting with his local counterpart during a visit to Bangladesh in February 2020.
After the meeting, AK Abdul Momen, the foreign minister of Bangladesh, said the government has decided to expand Saidpur airport to facilitate flights from Nepal and thereby improve connectivity, trade and tourism with the country.
Karma Tshering, the secretary of economic affairs of Bhutan, had spoken with Tipu Munshi, the commerce minister of Bangladesh, on using Saidpur airport for the same purpose during a visit in September this year.
Bilateral trade and connectivity with Bhutan would increase tremendously if Saidpur airport and its nearby land ports were used properly, Munshi said after the meeting.
Sources at the Ministry of Civil Aviation and Tourism have informed that a South Korean consultancy was appointed to conduct a survey on how to upgrade Saidpur airport and has already submitted its report.
As such, a masterplan has been chalked out to acquire 912.90 acres of land surrounding the airport.
Yasir Arefin, the deputy commissioner of Nilphamari, said the initial work for land acquisition is complete.
"As per the prime minister's directive, the process is ongoing to turn Saidpur airport into an international one," said Md Mahbub Ali, the state minister for civil aviation and tourism.
He went on to say that the Covid-19 pandemic and current global economic crisis have slowed the work.
"But it will gain momentum after the situation improves," Ali added.
Saidpur airport's Manager Ghosh then said the construction of a top-notch domestic terminal is almost complete. Once ready, the airport will be able to accommodate 610 passengers at a time instead of 200 at present.
In addition, a report submitted at a recent meeting of the parliamentary standing committee on the Ministry of Civil Aviation and Tourism showed that the length of the runway will be 12,000 feet once upgradation is complete.
Mostofa Shohrab Chowdhury Titu, president of the Rangpur Chamber of Commerce and Industry, said they would have bigger scope to trade with foreign countries if Saidpur airport is turned international.
"We will get scope to send our products, particularly agro products, to Nepal, Bhutan and northeast India if cargo flights operate from the airport," he added.