RMG orders picking up as US retail sales spike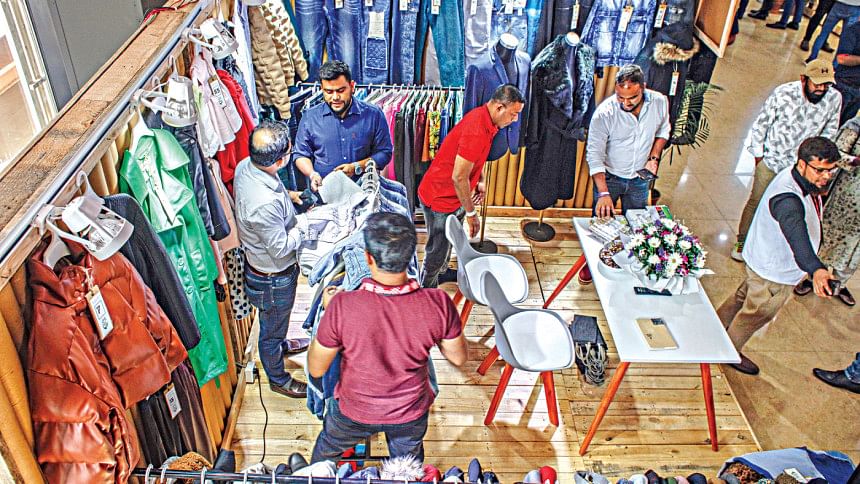 The restoration of buoyancy in US markets has led to a strong rebound in work orders from international apparel retailers and brands, providing much-needed relief to garment makers in Bangladesh following a lean season.
"While consumers feel the pressure of inflation and higher prices and there is continued stratification with consumer spending and behaviour among households at different income levels, consumers remain resilient and continue to engage in commerce," said National Retail Federation (NRF) President and CEO Matthew Shay as quoted by INO.com.
A forecast by the NRF in October said holiday sales in the US during November and December are expected to rise up to 8 per cent to as much as $960 billion.
US consumer prices rose less than expected in October, sending the annual increase below 8 per cent for the first time in eight months, the strongest signs yet that inflation was slowing, reports Reuters early this month.
The consumer price index rose 0.4 per cent last month after climbing by the same margin in September. Economists polled by Reuters had forecast the CPI would advance by 0.6 per cent.
Kutubuddin Ahmed, chairman of Envoy Textiles, an apparel exporter, said work orders have started coming back slowly. As such, the stock leftover from last season is decreasing rapidly with the beginning of Christmas sales in the western world.
The warehouses of major retailers and brands were full of old inventory, but the recent cooling of inflationary pressure in the US has led to a climb in sales.
"Fortunately, it seems the inflow of work orders will continue to grow gradually as western people missed three consecutive Christmas amid the Covid-19 pandemic," Ahmed said.
"My assessment is that this Christmas will see a massive sale."
The inflow of orders in Bangladesh was low over the last three months as international buyers were sitting on old unsold garment items due to severe fallouts of the Russia-Ukraine war, which began in February.
AK Azad, chairman and CEO of Ha-Meem Group, another garment exporter, said this year's Thanksgiving sales were not as high as expected.
"So, it is predicted that the consumers' response in the upcoming Christmas may also not be as upbeat as projected."
"This means the inflow of orders from international retailers and brands may not pick up until August next year."
Bangladesh has received nearly 20 per cent fewer orders so far this year compared to the same season last year, he added.
MA Jabbar, managing director of DBL Group, says it is true that orders are picking up gradually both in European and US markets but prices are not increasing.
"A lot of work orders are also shifting from China to Bangladesh."
Apparel shipments were slow in the last three months as consumers in the western world witnessed higher inflation due to the Russia-Ukraine war. But with the easing of consumer prices, consumers have started to spend again.
Jabbar said local spinners are selling yarns at 20 per cent lower prices to get rid of their old stocks.
It is expected that the domestic sales of yarn will pick up because of the rising demand for apparel items.
Md Shahidullah Azim, vice-president of the Bangladesh Garment Manufacturers and Exporters Association (BGMEA), says a lot of enquiries are coming from international buyers for the next spring season, which begins in March, not work orders.
Faruque Hassan, president of the BGMEA, said: "Orders are not coming in a big way like we received in February and March, but it is picking up gradually."
"Only some factories are getting a lot of orders in specific product categories."
Since the troubled European market is becoming more volatile due to the war, local exporters have started focusing on the Asian and the Middle Eastern markets, Hassan added.