RFL Group launches new bicycle plant in Rangpur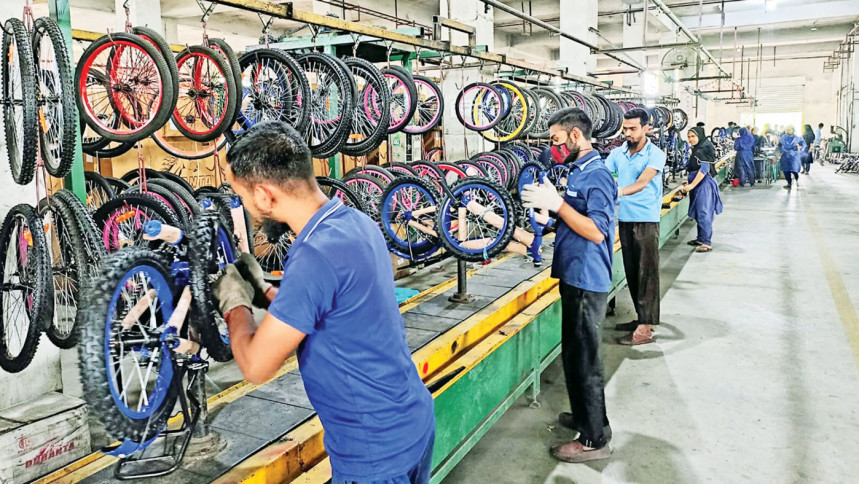 RFL Group has set up its second bicycle manufacturing plant with the objective to secure a bigger slice of the Tk 1,800 crore domestic two-wheeler market, which is growing due to rising health consciousness and a quest for convenience in transportation.
The plant, established in Gangachara upazila under the northwest division of Rangpur, has already started marketing the bicycles locally, said an official of RFL.
According to the company, the annual demand for bicycles in Bangladesh is 20 lakh pieces but a majority of this demand is met through imports as only two local firms are engaged in making bikes.
These two firms cater to 40 per cent of the local demand for bicycles.
"Once the demand for bicycles was huge in rural areas. Nowadays though, it is highly preferred in urbans areas considering the traffic congestion as well as the health benefits and environmental friendliness of two-wheelers," said Kamruzzaman Kamal, director of marketing at Pran-RFL Group.
The domestic market for bicycles is growing by about 7-8 per cent each year.
The new plant has an annual production capacity of three lakh pieces. With the new unit, RFL's total annual bicycle production capacity has become 11 lakh units.
The company's first bicycle factory was established at the Habiganj Industrial Park in Shaistaganj upazila of Habiganj, where it mainly produces two-wheelers for export.
Kamal went on to say that about 300 people are employed by the new factory, which cost around Tk 60 crore to build.
Imported bikes from China and India dominated the market before 2010 in absence of domestic manufacturing. Later though, RFL entered the industry with its locally made bicycles in order to sell them at home and abroad.
"Currently, we cover around half of the total domestic demand," Kamal said, adding that RFL would consider expanding production again if demand grows further.
RFL has to import a number of raw materials, components and other accessories for making bikes from abroad, namely China, India, Malaysia, Indonesia, Vietnam and Japan. Meanwhile, it manufactures the required frames, forks, rings, tyres and tubes at its factory.
"We are still trying to meet the domestic demand along with exports year after year," he added.
Of the country's total bicycle exports worth $130.8 million in fiscal year 2020-21, RFL fetched $18.8 million. The company exported $12 million worth of bicycles the previous year.
RFL began exporting bikes in 2015 through a shipment to England. It now exports to 10 countries, including England, the Netherlands, Denmark, Germany, Austria and Belgium. The company also exports components such as bike magnets, frames, forks, tyres and tubes.
Kamal said policy support is required to develop the backward linkage industries of two-wheeler manufacturing.
For example, low cost loans, allocation of land at cheaper rates and tax benefits are needed, he said.
Most investors shy away from investing in the bicycle business as a good amount of capital is required while it also takes time to generate a return from the investment.
"So, policy support such as reduced import duty on components would encourage investment in the sector and help the domestic market expand," said Kamal.
RFL is working to export bicycles to the US by 2022, he added.