GROUP INSURANCE IN INDUSTRIES
Regulator moves to ensure compliance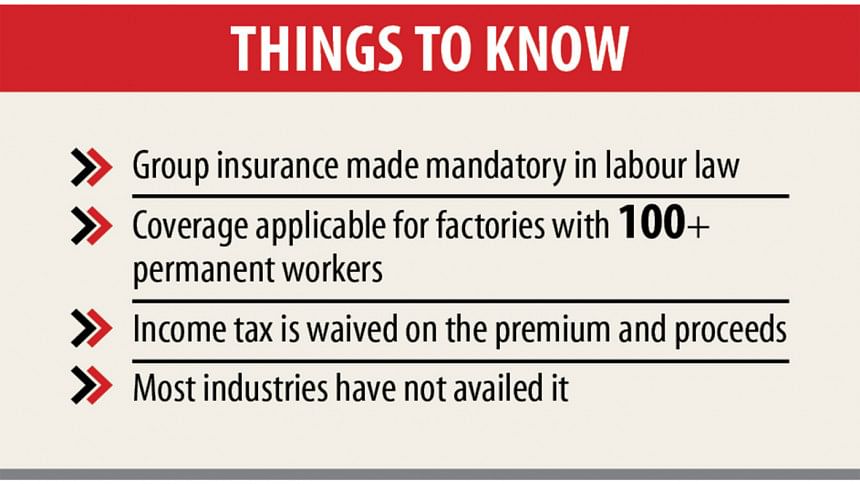 The Insurance Development and Regulatory Authority (IDRA) has taken up an initiative to make all industries and factories adopt group insurance, made mandatory in the Bangladesh labour law, against the backdrop of recent tragedies in the industrial sector.
In a recent letter, the regulator requested the secretary to the labour ministry to hold a high level stakeholders' meeting to devise implementation strategies.
However, the IDRA has also sent another letter to the financial institutions division recently to pursue the matter with the labour ministry.
One IDRA official said the issue came to light after a recent deadly fire at a factory in Narayanganj that claimed over 50 lives and injured many.
Under a provision of the labour law, owners of factories and industrial units with 100 or more permanent workers must purchase group insurance for them.
The letter cited that group insurance for workers has not been introduced in most factories and industrial units.
It noted that recent deaths and injuries suffered by a significant number of workers from fire and other incidents tarnished the country's image globally.
Moreover, the government has to provide financial relief to the workers from the exchequer.
"If group insurance is introduced in factories, both the owner and workers will benefit," the letter said.
Income tax is waived on the premium and proceeds of group insurance in an effort to encourage factory owners to bear the expense, it added.
"Accidents will occur but we don't know when. But who will then take charge of the families of those workers?" said SM Shakil Akhter, executive director and spokesperson of the IDRA.
"Most of the factory owners in Bangladesh are busy with their own interests. But they do not see to the interests of the workers. So we have made it mandatory to introduce group insurance in industries and factories," he added.
"All those who export goods in the garment industry have group insurance. But very few of the remaining industries and factories have group insurance," said Jafrul Hasan Sharif, a labour rights expert.
It is a very good proposal since insurance is a part of social security, said Sultan Uddin Ahmed, assistant executive director of the Bangladesh Institute of Labour Studies.
The question is whether the insurance will be commercial or non-commercial from the state institution, he asked.
Every employee, not just a few of an organisation, has to be brought under group insurance, he said.
When an accident occurs, the factory owners get away for legal loopholes, something the IDRA must watch out for, said Ahmed, adding that workers have to be provided retirement allowances.
State Minister for Labour Begum Monnujan Sufian did not respond to requests for comment.
The Department of Inspection for Factories and Establishments (DIFE), under the Ministry of Labour and Employment, is responsible for ensuring welfare, safety and health of human resources working in various sectors.
It has no information on the number of industries and factories which had availed group insurance.
Shamsul Alam Khan, joint inspector general of general section, DIFE, told The Daily Star that they were planning on creating a list of those which availed group insurance and those which had not.
The DIFE said in fiscal 2019-20 it issued 8,455 factory, shop and construction licences while 25,176 renewed their licences.
"I look at the issue in a positive way. Many of the largest factories in the country have group insurance. Not many others," said Md Jashim Uddin, president of the Federation of Bangladesh Chambers of Commerce and Industry.
"I think those who have the ability, should avail group insurance. But it is not right to impose group insurance on small companies," he said.