Reforms needed to avoid middle-income trap
Says CPD's Mustafizur Rahman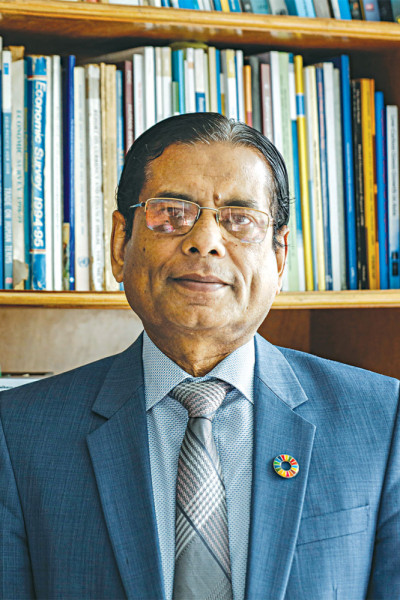 "Bangladesh has to address structural challenges to ensure modern industrialisation and services sector, more equitable distribution, and a climate-resilient economy."
Bangladesh may find it difficult to avoid the middle-income trap and become a high-income country if it can't bring in the second generation of policy reforms and focus on the quality of macroeconomic management, said Mustafizur Rahman, a distinguished fellow at the Centre for Policy Dialogue.
On the back of years of steady economic growth and social gains, Bangladesh is set to be a developing country in 2026. It transitioned to a lower-middle nation from the lower-income category in 2015 after meeting the World Bank's criteria.
The dual graduation entails the second generation of challenges, said Rahman. 
"The countries that have not been able to tackle the challenges properly have fallen into the middle-income trap, whereas those that have dealt with the challenges appropriately have become high-income countries."   
"Bangladesh has to address structural challenges to ensure modern industrialisation and services sector, more equitable distribution, and a climate-resilient economy."
The transition will bring challenges in terms of macroeconomic management, diversification of the economy, overcoming structural weaknesses, raising productivity, blending skills and productivity, and technology transfer.
The LDC graduation will have impacts in four areas: market access; relationship with foreign partners; obligation; and compliance. And Bangladesh is graduating at a time when compliance and rights will become major preconditions for market access, according to Rahman.
"We will have to put in place the basic structures. We already know what we will have to do. We have to carry out reforms to raise more revenues domestically and restructure incentives to develop entrepreneurship."
Another important achievement for Bangladesh is it has moved from a predominantly aid receiving country to a trading nation.
Now, Bangladesh needs to make another transition: from pre-dominantly preference-driven competitiveness to skills and productivity-driven competitiveness.
It is easier said than done.
"In order to transition to skills and productivity-driven competitiveness, we have to blend skills and technology and tune the education system with that," said the former professor at the University of Dhaka.
Rahman, who did his masters in economics from the Kharkov State University in Ukraine and PhD in development economics from Moscow State University in Russia during the Soviet Union era, called for incentivising the vocational education system.
"We have to revise and redirect incentive structures so that entrepreneurs move to technology and innovation-driven practices."
He suggested the government negotiate bilateral free trade agreements and comprehensive economic partnership agreements with trade partners, taking into account that the country will lose duty-free market access following the LDC graduation.
Bangladesh is setting up economic zones with the hope of attracting a lot of foreign direct investments.
"Our labour force has to be equipped with the right set of skills so that they can meet the demand of the companies being built in the economic zones."
Rahman thinks domestic resources mobilisation is crucial for Bangladesh in order to lift the country's revenue-GDP ratio from the current 9 per cent.
"We have to pay attention to this area so that we can have fiscal space."
This is because, he argues, that if there is fiscal space when a country is on the receiving end of global and nature-induced shocks, it will be able to tackle the temporary challenges.
"But if an economy can't absorb the temporary shocks, it will not be able to wait for the good days. So, that resilience can be generated through higher domestic resources mobilisation."
Income distribution is also important for Bangladesh.
"If there is a better income distribution system, countries can better deal with shocks. But if there is high-income inequality, the government can't control the situation through safety net programmes or cash support."
Rahman thinks there is a lesson for every developing country to learn from the Sri Lankan crisis since it teaches the importance of export diversification.
The advantage Bangladesh enjoys is that its major export item, readymade garments, is a necessary good, sad Rahman.
"It is not something like the tourism industry that could face closure because of a crisis like the coronavirus pandemic. But we have to pay heed to intra- and extra-garment diversification so that we can reduce risks."
Bangladesh also needs to focus on services shipment and move to expand non-cotton markets as well as the export of leather, footwear and pharmaceuticals, IT-based services and business process outsourcing sectors.
Bangladesh has taken up many projects under finances from bilateral lenders such as China, India and Russia alongside multilateral lenders in the last decade, raising concerns about debt risks. 
"Of course, we need the projects we are implementing now. If our financial and economic rate of returns is justified, that's fine," said Rahman.
"We have to calculate the risks properly so that one fine morning we don't find the accumulated risks are a reality."
He added infrastructure projects have to be implemented ensuring good governance to avoid over-capitalisation, a problem that caused troubles for Sri Lanka.
As the country has become a middle-income nation, the cost of borrowing is going up. Bangladesh has already become a blend country from the IDA-only country.
As a blend country, Bangladesh enjoys both concessional and non-concessional loans, in comparison to concessional loans extended to the countries under the International Development Association (IDA) of the World Bank.
"So, our strategy has to be prepared, taking the transition in mind because the burden of market-based and conditional loans would pile up," said Rahman.
He says if infrastructures are not set up in a cost-effective manner, producers, consumers and exporters all will have to pay more to avail of the services.
"We have seen these in the countries that have fallen into the trap."
If there is major deviation and corruption and money-siphoning, outcome will not meet the expectations although project costs and debt servicing will be there.
"This is the formula for the debt trap. In order to avoid that, we need good governance," said Rahman.
According to the analyst, the importance of data and evidence-based policy-making is growing.
"If we are complacent and our decision-making is not evidence and data-driven, our macroeconomic management quality will suffer."
"Bangladesh is a $425-billion economy. It is not easy to manage it," he said, urging the government to build institutional capacity and use digital technologies to manage the economy.
Rahman says about 15 economic zones should have been up and running by this time.
"We are in such a competitive environment that if we make delays, investors will go to other destinations such as Indonesia, Vietnam, and India."