Rangpur jute mills in a rundown state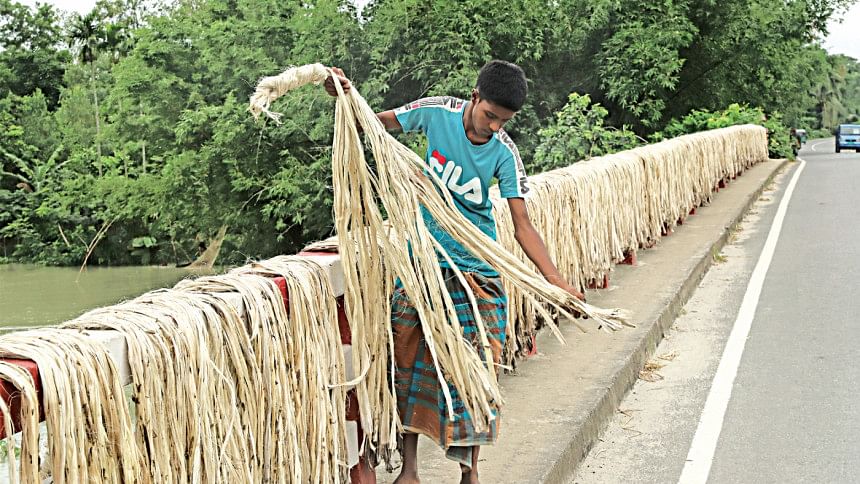 The jute industry in Rangpur is facing collapse as four small mills in the region have shut down while others may follow suit at any time after being compelled to shrink production due to multiple issues.
The exorbitant price of raw jute amid unabated exports of the natural fibre to countries like India, unjustified tariffs imposed on jute products shipped to the neighbouring nation, difficulties in securing bank loans and stimulus funds, and want of skilled manpower are some of the issues faced by small jute mills.
As such, the industry has been so far unable to fully recover from the coronavirus-induced downturn.
Sources at the Department of Jute in Rangpur division said there are a total of 19 small jute mills across five districts in the region with 10 being placed in Rangpur, six in Nilphamari, and one each in Gaibandha, Kurigram and Lalmonirhat.
The four mills to recently close down are the North Bengal Jute Mill and SR Jute Mill in Rangpur, JK Jute Mill in Kurigram, and Gobindaganj Jute Mill in Gaibandha.
"Although the government's ban on the use of plastic bags for packaging commodities brought a good opportunity for small jute mills, the unabated export of raw fibres is causing a local crisis," said Khondokar Foyez Ahmed, general manager of the Bhai-Bhai Jute Mill in Rangpur's Burirhat.
Exporters' agents do not hesitate to purchase raw jute from hoarders at high prices of between Tk 3,500 to Tk 3,800 per maund (37 kilogrammes), and this increases the production cost of small jute mills.
However, the price of their products do not rise in proportion to the increased costs as plastic goods remain a strong alternative.
"To avert losses, the owners either shut down their mills or decrease production," said Raz Kumar Poddar, owner of ND Jute Mills in Saidpur of Nilphamari.
Aminul Islam Mintu, director of Selim Agro Industries in the same district, urged the government to allow the export of raw jute only after domestic requirements are fulfilled.
Md Shafiqul Islam, general manager of Nine Jute Mill in Rangpur, said they operate the mill for just two or three days a week to minimise losses as they could not renew their bank loan or get stimulus funds amid the pandemic.
"Our mill has 150 looms but due to the high price of raw jute, we decreased production and now run only 120 looms," said Md Abu Sayed, general manager of the once flourishing Eque Jute Process in Nilphamari.
"We're unable to run our mill further for manifold problems and decided to sell it," said Mizanur Rahman Swapan, owner of SR Jute Mill in Rangpur's Haragas.
Owners reported that due to uncertainty, skilled workers leave the profession and become easy bike drivers or migrate to big cities as construction workers, which is a big blow to the industry.
Rangpur Chamber of Commerce and Industries' President Mostofa Shohrab Hossain Chowdhury Titu, also owner of the Motahar Hossain Chowdhury Jute Mill, expressed his views on the issue.
"The government doesn't impose tax on raw jute export and utilising this opportunity, foreign buyers, particularly from India, are purchasing our goods to run their mills smoothly," he said.
"On the contrary, the Indian government imposed unjustified taxes on finished jute products shipped from Bangladesh," Chowdhury said.
"It is interesting that India, after purchasing our finished goods, exports them abroad after branding them as made in India. So to save our jute mills, the government should impose high tax on jute export," he added.
"We're sincere in our efforts to overcome any hindrance, but coordinated efforts are necessary to this end," said Md Solaiman Ali, additional director of the Rangpur regional jute department.