Rainwater could meet up to 60pc water demand at garment factories
Finds study of WaterAid and RAin Forum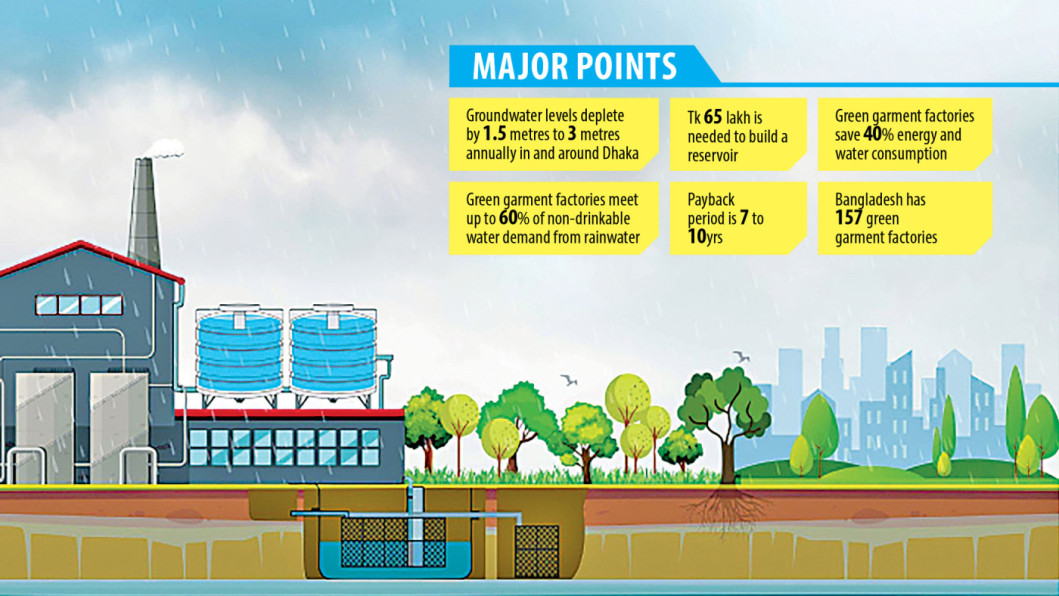 Harvested rainwater currently meets 15 per cent to 60 per cent of the demand for non-drinkable water at textile and garment factories, helping the industry further its green movement by reducing dependence on groundwater, according to a study released yesterday.
The study, which aims to give a better understanding on the demand and consumption of water in the apparel production process, was jointly conducted by the WaterAid and the RAiN Forum.
Of the 65 textile and garment manufacturers surveyed, 12 units have rainwater catchment areas of 2,000 square metres while the remaining 53 factories have catchment areas ranging from 2,000 to 8,000 square metres.
The annual demand for non-drinkable water in 17 of these factories is 10,000 cubic metres, while it ranges between 10,000 and 50,000 cubic metres in the remaining 48 units.
As such, around 34 of the factories have the potential to harvest 10,000 cubic metres of rainfall while the other 31 could harvest anywhere from 10,000 to 30,000 cubic metres each year, the study said.
Six of these units meet 15 per cent of their demand for non-drinkable water from the harvested rainwater while 59 meet up to 60 per cent of their demand from the same source.
It takes an investment of about Tk 65 lakh to establish a reservoir in the factory area to harvest rainwater, which is mainly used for non-drinking purposes such as washing clothes.
It usually takes about seven to 10 years to recoup this investment as rainwater harvesting is a cost-effective and environmentally efficient way to reduce groundwater usage and save energy.
Bangladesh is currently the global champion in green garment factories with 157 Leadership in Environmental and Energy in Design (LEED) certified garment units across the country.
These green garment factories have been saving an annual average of 40 per cent on their power and water costs by introducing rainwater harvesting.
"Harvested rainwater even meets 100 per cent of the demand for non-drinkable water in some garment factories that do not have dyeing and washing units," said Md Ashraful Alum, member secretary of the RAiN Forum.
Alum made this comment while presenting a keynote paper on the study's findings at a discussion on "Industrial Rainwater Harvesting, a Sustainable Approach to Water Management".
The WaterAid, the Bangladesh Garment Manufacturers and Exporters Association (BGMEA) and the Bangladesh Apparel Youth Leaders Association jointly organised the discussion at The Westin Dhaka, where international retailers and brands, industry leaders, apparel exporters and researchers were present.
BGMEA President Faruque Hassan said he would include the sustainable water management cell in the innovation centre at the newly constructed BGMEA building in Uttara this year as a part of its efforts to save the environment.
International retailers and brands as well as Bangladesh's development partners always prefer to finance well-established garment units and usually do not care about smaller factories.
"So, small garment factories need more financial assistance to grow but unfortunately, they are not getting the required assistance from anywhere," Hassan said.
Hasin Jahan, country director of WaterAid, said the water level in and around Dhaka city is falling by 1.5 per cent to 3 per cent annually because of the overuse of groundwater. The water levels in the Tejgaon and Mirpur areas of the capital have fallen the most so far.
Similarly, water is not available in the normal tube-wells in areas of Rajshahi due to the falling water levels, she added.
Tanzida Islam, programme manager for environment at H&M, said 50 per cent of the company's local apparel sourcing factories are expected to build rainwater harvesting infrastructures by the end of 2022.
As of last year, 45 per cent of H&M's 105 sourcing factories in the country had already built rainwater harvesting infrastructures, saving 0.2 million cubic metres of rainwater.
Shamima Akhter, head of corporate affairs of Unilever Bangladesh, said rainwater currently accounts for about 21 per cent of the water usage at their Kalurghat factory but the target is to raise it to 79 per cent.