Rains ruin raw bricks
Industry loss could be Tk 2,400cr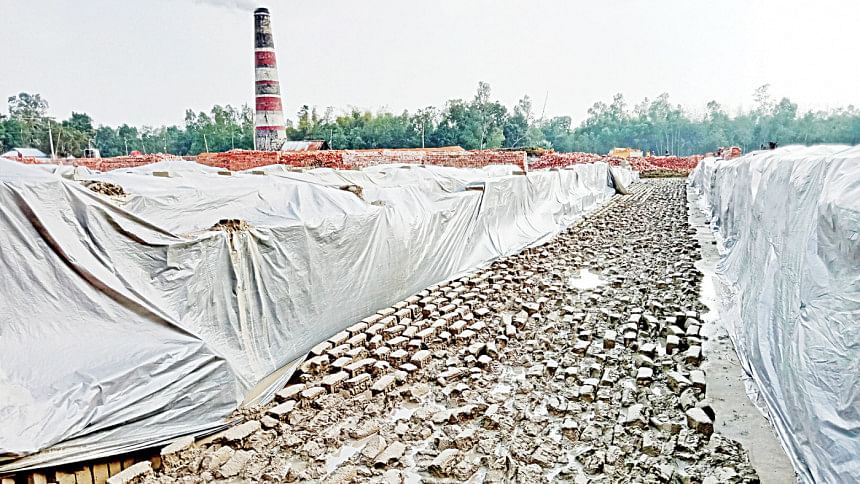 While rain can be a blessing in providing life-sustaining water, recent showers have turned into the bane of many brick manufacturers' lives for their use of traditional kilns.
Rain on February 4 and 5 spoiled crores of raw bricks across the country, all of which had been stacked out in the open to dry in the sun prior to being baked in kilns.
Little to no rainfall during the months of February and March make it a prime period for moulding clay-rich soil into bricks and heating them in high temperatures to get the final hard and durable product.
The financial repercussions are quite substantial, spilling onto the sector's several lakh workers who do not get paid for halts in production for inclement weather.
A rough guestimate of the Bangladesh Brick Manufacturing Owners Association puts it to as much as Tk 2,400 crore.
"We have around 8,000 brick kilns across the country. Each kiln lost 10 lakh to 12 lakh raw bricks or Tk 25 lakh to Tk 30 lakh," said Asadur Rahman Rakib, the association's general secretary.
"Many of our brick kiln owners will face losses of up to Tk 1 crore at the end of the year," he said.
The damage has intensified woes of the brick kiln owners who are already reeling with soaring production costs for the spiralling of prices of coal, the key fuel used in firing the kilns.
Prices of coal have almost doubled, said Rakib.
"We hardly find anyone to look up to for support in this industry. No person or institution wants to stand beside us," he alleged.
For one brick kiln owner in Duhuli village of Nilphamari sadar upazila, the loss in earnings amounted to Tk 50 lakh.
Around 5 lakh raw bricks at the manufacturing unit of Mahbubar Rahman, owner of NBL Bricks, has turned to mud as the sudden rains did not provide the slightest scope of laying out a covering of polythene sheets.
Rain not only damaged three lakh raw bricks of Hiralal Roy, manager of SMN Bricks, but also resulted in water seeping into and damaging his kiln at Laxmanpur village in Saidpur upazila.
Regaining productivity will likely take three to four weeks, he said.
There are 54 brick kilns in the northwestern district of Nilphamari.
President of the district's brick kiln owners' association, Selim Dewan, claimed that the district suffered damages to raw bricks anywhere in the range of Tk 10 lakh to Tk 12 crore, which would be difficult to recoup.
"We are an integral part of visible development and the government should provide us support with respect to our existence," he added.
"All the affected kiln owners have to spend an additional Tk 4 lakh to Tk 5 lakh to remove the damaged raw bricks from the kiln premises which will increase the losses," said Mahmudar Rahman, owner of MSB Bricks at Khutamara village in Jaldhaka upazila.
"From the beginning of the season, brick kiln owners have been facing hurdles due to abnormally high prices of coal and the untimely rain raised their expenditures," said Harun-ur Rashid, secretary of the association.
Inevitably, the costs would be passed onto the shoulders of customers.
Brick kiln owners believe prices of bricks may rise further this year, saying their existence would otherwise be at stake.
Recent heavy rains have been the cause of much distress for both owners and workers, said Abdur Rashid, general secretary of the Dhamrai Brick Kilns Association.
In most cases, the brick kiln owners have to provide payments in advance to contractual workers. "Once the raw bricks get damaged, we have to count losses over the payments," he said.
There are 165 brick kilns in Dhamrai upazila under Dhaka district and most will have to count huge losses, he added.
For the 50 or so brick kilns in Tangail's Ghatail upazila, the losses could be around Tk 10 crore, according to the owners.
It has been raining there for the past three days since Thursday afternoon, sometimes heavy downpours and sometimes drizzles.
A visit revealed production having been put on hold at different brick kilns due to waterlogging. The temporary shutdown has also left more than 5,000 workers out of work.
Syed Tanzizul Aziz, owner of PYS Brick Kiln at Dhalapara, told The Daily Star that he incurred at least Tk 10 lakh in losses.
"Previously I had been struggling to burn bricks this season due to high prices of coal. Now, the untimely rains have left me in a tight spot," he added.
"Moulding 1,000 raw bricks cost about Tk 3,500. As such, my own loss is about Tk 30 lakh," said Mostofa Kamal, owner of two brick kilns at Chantara village.
"If I want to resume production, I have to start anew. It is a big loss for me which cannot be compensated," he said.
The rains spoiled about five lakh raw bricks, meaning a loss of Tk 15 lakh, said Mithun Miah, manager of Ghatail Bricks at Lauagram area.
"Many low-income owners will lose their capital while many others will have to start anew," said Faruk Hossain Dhala, general secretary of the upazila's brickfield owners' association.
"As a result, brick prices may rise and a shortage of bricks may hit the market this year."