Aquaculture in Khulna: Pioneer of Pabda farming leads the way for locals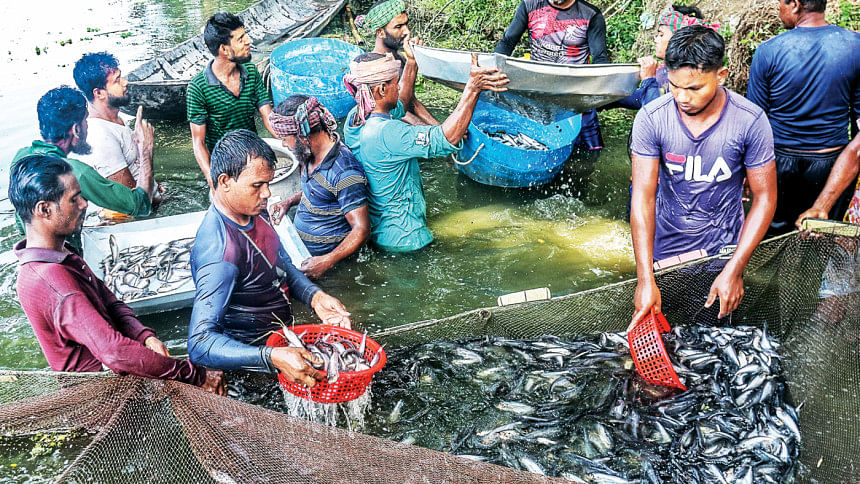 Md Alauddin Zoardar of Hasanpur village under Khulna's Dumuria upazila has become a pioneer in fish farming by cultivating Pabdah catfish, locally known as Pabda, in a saline prone area of the region.
Locals say Alauddin was the first among them to start farming Pabda, which is particularly impressive given the fact that this species of catfish is a freshwater breed.
He now sells Pabda worth Tk 50-60 lakh each year with some of the fish grown in his pond even being exported to India for the last few years.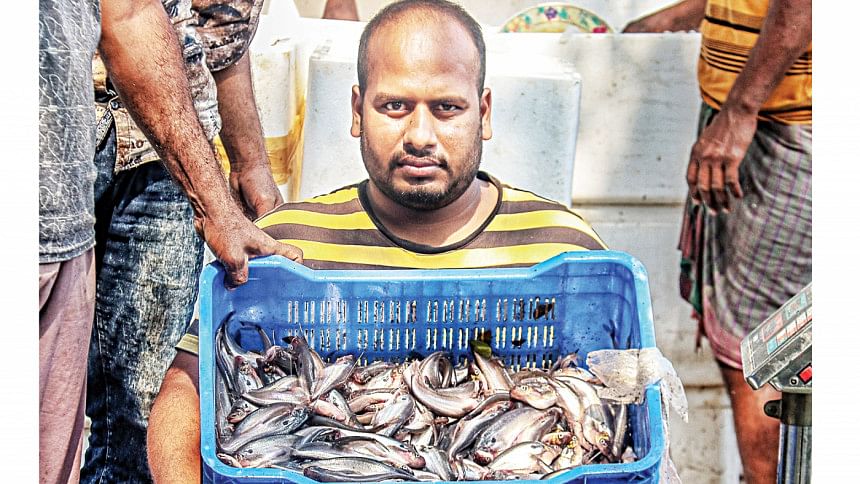 Seeing his success, many people in the district's southwestern region are now investing in Pabda cultivation.
However, this success did not come overnight as he had previously tried and failed at shrimp farming.
"You do not get good quality shrimp fry in this region and the government has banned collecting them from open sources such as rivers," he said.
And just when Alauddin found himself in deep despair, some people on a visit from Mymensingh encouraged locals of the village to cultivate certain breeds of catfish, which are generally grown in plain land with sweet water.
He then mustered up the courage to have another go at aquaculture and travelled to Mymensingh in 2016 to buy 1 lakh Pabda fry.
In addition, he purchased 70,000 Barbel fry and another 1 lakh fry of two catfish breeds.
"But it was a challenge to cultivate Pabda in a saline-prone area and due to the lack of experience, I fell into losses at first," Alauddin said.
He went on to say that the biggest difficulty in farming Pabda is that they tend to eat any smaller fish in the pond.
"Since I gave Barbels and Pabda in the same pond, the big Pabda ate the Barbels and smaller catfish as well," he added.
In the end, he was left with just 5,000 Pabda that sold for Tk 650 per kilogramme (kg). As such, Alauddin incurred losses of Tk 3.5 lakh that year.
"But I didn't give up and despite my family's discontent, I cultivated another 1 lakh Pabda again in 2017," he said.
About 85 per cent of the Pabda ultimately survived and once again sold for Tk 650 per kg, earning him a profit of around Tk 3 lakh.
Then in 2018, Alauddin decided to start fish farming on a large scale and with advice from the local fisheries officer, he leased 10 bighas of land for five years at Tk 5 lakh per annum.
Alauddin then bought 5 lakh Pabda fry from Bogura that same year and started farming them alongside some 10,000 carps.
After spending a total of Tk 27 lakh in 2021, he sold Pabda worth Tk 17 lakh in one day while his entire catch that year earned about Tk 50 lakh.
Tito Molla, an entrepreneur of Damodar village under Phultala upazila, bought fish from Alauddin last year and exported it to India. Other buyers did the same that year, when around 225 maunds of fish from his ponds were exported to India.
"Already 230 maunds have been exported this year," Alauddin said.
During a recent visit to the farm, it was seen that 5 aerators are constantly running to maintain the water's oxygen supply while four workers were busy sprinkling fish feed and keeping the ponds clean.
"I spent Tk 60-65 lakh on cultivation and already sold Tk 58 lakh worth of fish in three stages," added Alauddin, who expects to earn another Tk 50 lakh from his current stock.
Pabda is currently selling for Tk 13,000 per maund (roughly 37 kg).
Alauddin then said Pabda farming has great potential in the region as they can be cultivated thrice a year.
However, the problem lies elsewhere as the region does not have natural freshwater ponds and plain lands. Besides, Pabda needs ponds that are at least 6-7 feet deep in order to thrive, he added.
Joydeb Paul, district fisheries officer of Khulna, told The Daily Star that they are trying to inspire fish farmers in the district to cultivate some 60 species of local fish. And like Alauddin, many are now farming freshwater fish in the saline prone area.
"We are encouraging Pabda cultivation to meet the nutritional needs of people, solve unemployment problems, achieve financial prosperity and earn foreign exchange," he said.