Padma Bridge to strengthen Patuakhali's fishing industry
Fresh fish, including hilsa, to reach Dhaka in just 6 hours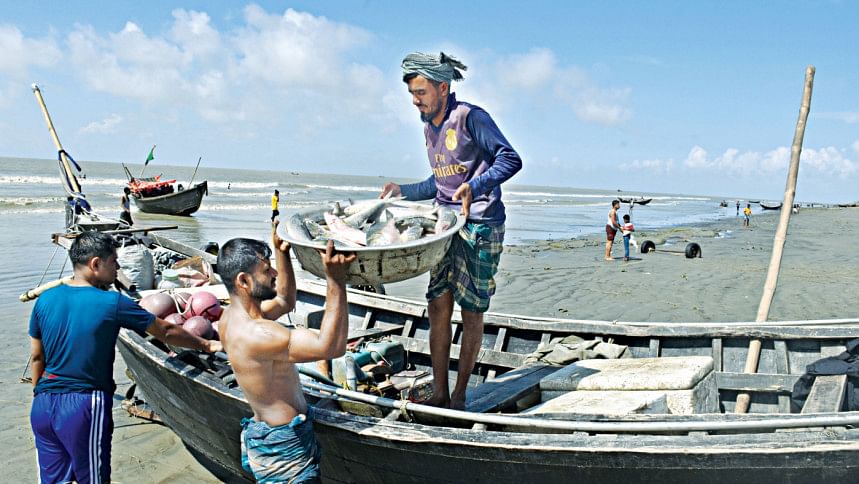 Patuakhali, a southern district on the shores of the Bay of Bengal, annually produces about 1.23 lakh tonnes of fish, of which 36,000 tonnes are consumed locally while the remainder is sold in different parts of the country.
Local fishermen previously faced numerous difficulties in selling the perishable product but as the launch of Padma Bridge now facilitates direct shipping, they are expanding their farming capacities in anticipation of better prices and demand.
There are 26 rivers, 563 canals and 1.42 lakh ponds in Patuakhali, according to the District Fisheries Office.
About 1.23 lakh tonnes of fish are extracted from these waterbodies every year. Meanwhile around 46,000 tonnes of hilsa are extracted annually from the Bay of Bengal area adjacent to Patuakhali. The number of registered fishermen in the district is about 70,000.
Apu Saha, senior fisheries officer of Kalapara upazila in Patuakhali, said fishermen usually catch different species of fish from the sea. Hilsa is the most sought-after variety while tuna, some species of shrimp, pomfret, eel, and others are popular as well.
Some of these fish are dried before being marketed in the dry season while others are sold fresh.
"With the opening of Padma Bridge, the transport crisis will be over and traders will be able to make more profit by bringing fresh fish to the market," Saha added.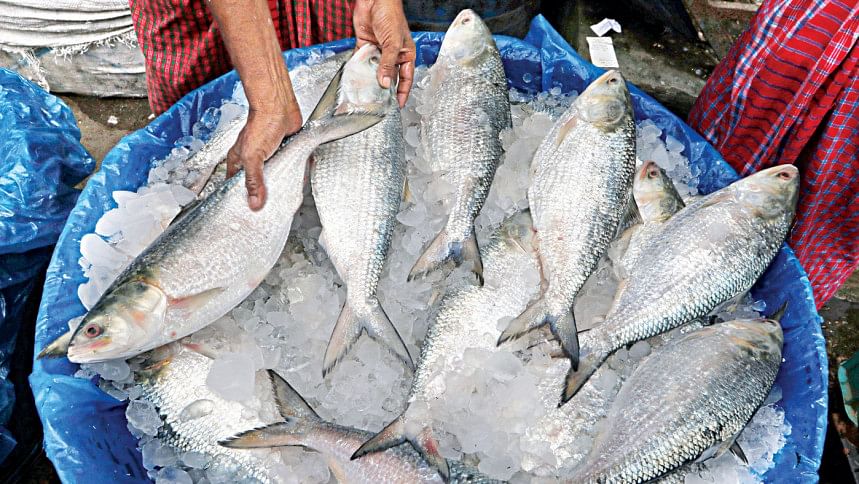 Patuakhali District Fisheries Officer Mollah Emdadullah said transport delays due to problems with the ferry often resulted in rotten fish that deprived fishermen and traders of a fair price.
But after the launch of Padma Bridge, traders will be able to send their goods directly to certain places, which will benefit them and strengthen the local fishing business, he added.
Fazlu Gazi, president of the Mahipur Fishermen's Association, a fish landing station near Kuakata, said trucks loaded with hilsa and other fish would stand at the ferry ghat for hours during the hilsa season, causing the fish to rot.
As such, traders had to count losses due to not being able to take their fish to the market on time.
But after the opening of Padma Bridge, they will no longer face transportation problems, he added.
Another fish trader, Anshar Uddin Mollah, said about 400 fishing trawlers from the Kuakata area catch fish in the sea and employ 5,000 to 6,000 workers. Most of the fish caught here is taken to the capital while they are also sent to Faridpur, Jhenaidah, Magura, Kushtia, Pabna, Rajshahi, Rangpur and other districts.
In the dry season, dried fish is mostly sent to nearby regions such as Chattogram.
After the inauguration of Padma Bridge, it is now safer to send fish by truck from Kuakata to Dhaka, as well as reduce transportation costs.
Abdur Rahman, a truck driver, said that before Padma Bridge was launched, he used to charge Tk 18,000 to Tk 20,000 per trip from Kuakata to Dhaka.
"But now we are giving a trip to Dhaka for Tk 15,000 to Tk 16,000. Because earlier we had to stand at the ferry terminal for 10 to 12 hours or more but can now reach Dhaka in only 6 hours," he added.
Rahman also said that 25 to 30 trucks transport fish from Mahipur Fish Landing station to Dhaka every day during the hilsa season.
Abdul Jalil, a fisherman from Gangamati area of ​​Kuakata, said he puts his life at risk when fishing in the sea.
"But for so long we have been deprived of the right market due to ferry problems. We also often suffered losses when truckloads of fish went rotten. But now that Padma Bridge has launched, we no longer have that problem," he added.
Abdul Jabbar, a fish trader from Patuakhali New Market, said he buys fish caught in different rivers and sends it to different parts of the country, including Dhaka.
"But because of not getting the ferry on time, our fish often rotted and we had to count losses. We do not fear any loss in this business after the launch of Padma Bridge and hope this industry will recover from now on," Jabbar added.