Pacific Jeans eyes $500m exports this fiscal year
Pacific Jeans Group, one of the fastest-growing garment exporters in Bangladesh, could rake in $500 million in export earnings in the current fiscal year as its apparel shipment grows steadily.
Exports fetched $450 million for the Chattogram-based manufacturer in the last fiscal year of 2020-21. It was $325 million in 2017-18.
"Our target is to raise export turnover to around $1 billion in the next five years," said Syed Mohammad Tanvir, managing director of the company, in an interview recently.
The country's leading premium jeans exporter has been posting a consistent growth for the last few years and now plans to be more focused to diversify products as it aims to materialise its long-term vision of becoming a global lifewear solution company.
"We want to make all of the quality clothes one needs to lead a better life," said Tanvir.
"Basically, we want to diversify so that we can produce different categories of products depending on different categories of markets and customers."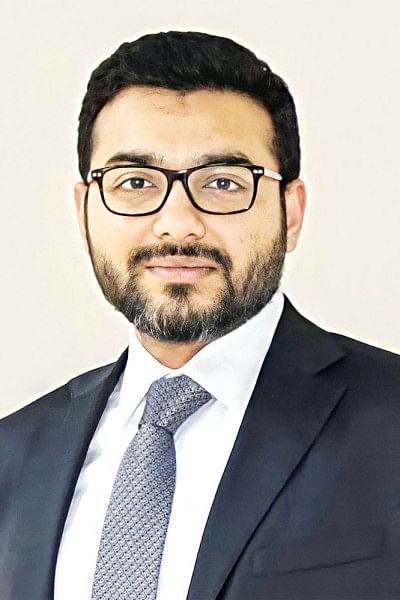 Tanvir's visionary father M Nasir Uddin started the journey of the group by setting up a small factory, NZN Fashions Ltd, with 500 workers in 1984 in the port city's Patharghata area.
In 1994, Nasir established Pacific Jeans Ltd in the Chattogram Export Processing Zone (CEPZ) with 1,500 people.
Over the years, the group has transformed itself into a top manufacturer of premium jeans.
It introduced its knitwear unit, Pacific Casuals, in 2019 and launched Pacific Knitex last year to make fabrics for the plant.
Currently, it runs six units -- Pacific Jeans, Jeans 2000, Universal Jeans, NHT Fashion, Pacific Accessories, and Pacific Casuals -- at the CEPZ and Pacific Knitex at Sitakunda, employing around 35,000 people.
Last month, it opened Pacific Workwear at the CEPZ to produce workwear. The production in the new factory has not started yet.
Of the companies, Universal Jeans and Pacific Jeans were awarded the National Export Trophy and won gold and silver medals respectively for their outstanding performance for the fiscal year of 2017-18.
Universal Jeans started its journey in 2008 with 500 workers and exported goods worth around $15 million in FY2008-09. The export receipts rocketed more than 11 times to $172 million in 2017-18.
The unit employs around 10,000 workers alone.
Tanvir credited the consistent growth to the gradual improvement in the overall management.
In the last few years, the group has focused on product development, production efficiency improvement, human resources development, development of skills of mid-level managers, and optimum utilisation of resources.
"We have also placed importance on issues such as process improvement, process innovation and overall process digitalisation in the last few years, and it helped us reduce human errors."
"With these, we have been able to grow our overall production and improve efficiency. This has ensured consistent growth."
Currently, the company's major markets are Japan, Europe, and the US.
"We want to explore various other markets as well. We want to penetrate big markets such as China and India and other emerging Asian markets."
Pacific Jeans Group has stepped up its efforts on environmental sustainability and improving the working environment in the last four to five years and has enhanced its financial and corporate governance. 
"Our company is now more process-driven, not a people-driven one," Tanvir said.
The group plans to keep working on product diversification, produce more high-value products and explore new markets.
It has invested to bolster its capability in the knitwear segment as it eyes to work with various knitwear items.
Tanvir is, however, aware that the investment in the knitwear sector can't be feasible without composite factories. At present, it has a unit to produce fabrics for the knitwear plant.
"When our fabric producing capacity grows, we will try to invest in spinning," he said.
"The investment in Pacific Workwear is part of the process of moving to more high-value products. There is growth prospect in this segment."
There are challenges as well.
Customers always want a short lead time. So, infrastructure development is a must for the country's export growth.
Bangladesh needs the Bay Terminal and deep seaports as early as possible since mother vessels can't enter the Chattogram port. As a result, it takes an additional 15 to 20 days to deliver cargoes to the export destinations.
"This is a major impediment to exports," said Tanvir.
The entrepreneur called for increasing the country's capacity in producing raw materials to cut reliance on external sources with a view to feeding the largest foreign currency earning sector.
"The more we can be self-sufficient in terms of backward linkages and raw materials, the more growth we will attain."