Thakurgaon's Orange Valley turning heads
Shows how cultivation of the fruit can flourish in northern districts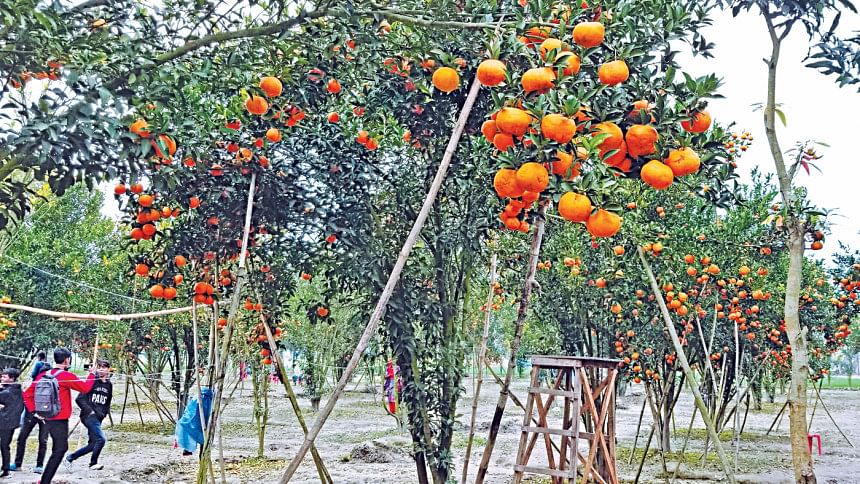 Several hundred people from different parts of the country are gathering daily at an orchard abundant with ripe oranges in Thakurgaon's Pirganj upazila as pictures of the location went viral on social media giant, Facebook. 
And since they are buying the produce directly from the trees, owners do not need to find traders to get good prices.
Besides, after getting a taste of the scenic beauty as well as the local fruits, many visitors return home with hopes of starting up their own such garden.       
The orchard in question, named "Orange Valley", is located in Malancha village of Pirganj upazila, 33 kilometres south of the Thakurgaon district headquarters and 28 km west of Dinajpur's Birganj upazila headquarters.
During a recent visit, this correspondent saw that the orchard bore a tremendous look as it was profusely covered with ripe oranges, attracting a huge number of visitors each day.
They observe the picking of ripe oranges, try to gather knowledge on cultivation and express hope for setting up such orchards on their own lands.
Many of them are even seen collecting saplings from Orange Valley.
Ahmed Raju, who hails from Thakurgaon town, said it is unimaginable that a local orchard bears fruit that are excellent in size, colour and taste, and are in no way inferior to those produced in India's Darjeeling.
Irin Parvin Luna, a lecturer of economics, said the orchard has become a tourist spot for its scenic beauty.
"Besides, The potential orange farming in plain lands could flourish agro-tourism in the area, making a good contribution to the rural economy," Luna added.
In addition, locals and different shop owners, especially eateries, get to enjoy additional income thanks to the huge turnout of tourists.  
Arshad Hossain Babu, owner of the Priyanka Hotel and Restaurant, and Khorshed Alam Mollah, owner of Mitali Hotel, both said they are serving three to four times more food than usual amid the onrush of visitors.
Betel leaf shop owner Tepal Barman witnessed similar growth in daily sales while Riajul, a rickshaw-van puller, also said he earns more than usual as hundreds of people travel between Pirganj upazila town and the orange orchard on a daily basis.  
Abu Jahid Ibnul Ekram Jewel, owner of Orange Valley, told The Daily Star that he bought his first 50 saplings for about Tk 5 piece about a decade ago, when a few people of Thakurgaon had shown interest in the saplings being provided by the local department of horticulture in a bid to expand cultivation of the fruit.
Two years later, the saplings had grown into trees that bore fruits of good size, colour and taste. Seeing the result, Jewel returned to the horticulture department to buy 240 abandoned saplings, which he then planted in the gaps of his mango orchard in 2012.
The trees bore fruit after another three years and ever since then, both cultivation and yields have increased gradually.
"In previous years, the fruits were sold through traders but this season I decided to sell it to visitors directly from the orchard for developing awareness and creating interests on its farming among people," Jewel said, adding he is happy with such a good response.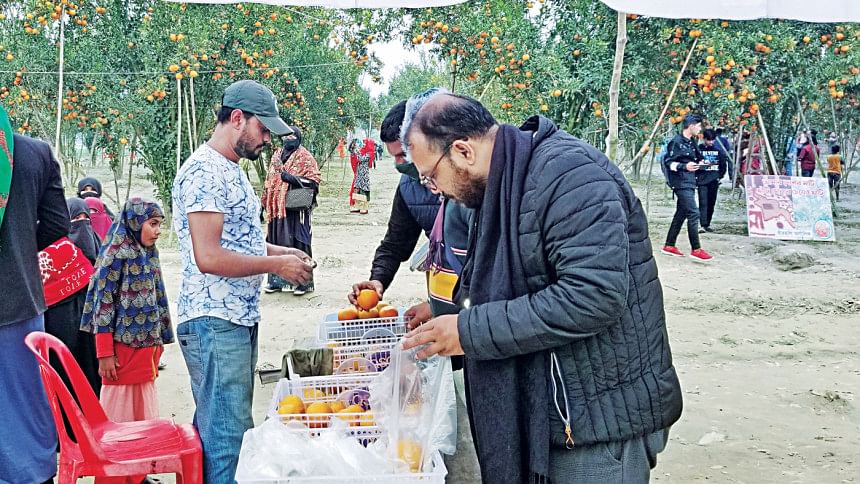 Orange cultivation has good prospects in the country's north as the Himalayan basin's plain land is suitable for farming such plants. 
Jewel went on to say that they only need to use pesticides twice a year as orange trees do not need it as much as other crops.
The acidic soil and climatic condition of Panchagarh and Thakurgaon make the districts suitable for orange and tangerine cultivation as the area is near the Indian districts of Darjeeling and Jalpaiguri, where high quality oranges have been growing for a long time.
As adequate irrigation is needed over the year for orange cultivation, it can be more easily provided in plain lands compared to the hilly areas in Darjeeling.
After observing six years of good yields, Juwel decided to start producing saplings of the Darjeeling variety, which bears fruits for fifty years. The saplings sell at about Tk 200 to Tk 300 per piece while five-year-old plants go for around Tk 5,000. 
The orange harvesting season began last November and will continue till mid-February this year as the citrus fruits hold on trees for several weeks after ripening.        
About Tk 4 lakh is needed annually to maintain Orange Valley, including labour and other expenses.
Juwel said he has already reaped about 100 maunds (one maund equals 37 kilogrammes) of oranges to get a total of Tk 5 lakh by selling each kilogramme at an average price of Tk 150. He expects to get another Tk 5 lakh within the ongoing season.   
Those who are inspired to try their hand at farming the fruit after visiting Orchard Valley buy around 1,000 saplings worth Tk 2.5 lakh each year.
Orange farming was introduced in northern districts under the government's 2006-2011 Orange Orchard Development Project (ODP), said Abu Hossain, deputy director of the Department of Agricultural Extension in Thakurgaon.  
After the ODP ended in 2011, the "Citrus Development Project" began in May 2013 for the same purpose and was later extended with a new title, the "Citrus Fruits Extension, Management and Increasing Production Project", in 2018.
At present, a total of 130 hectares of land have been brought under orange tangerine cultivation in the district.