Only two export items fared well in first half of FY23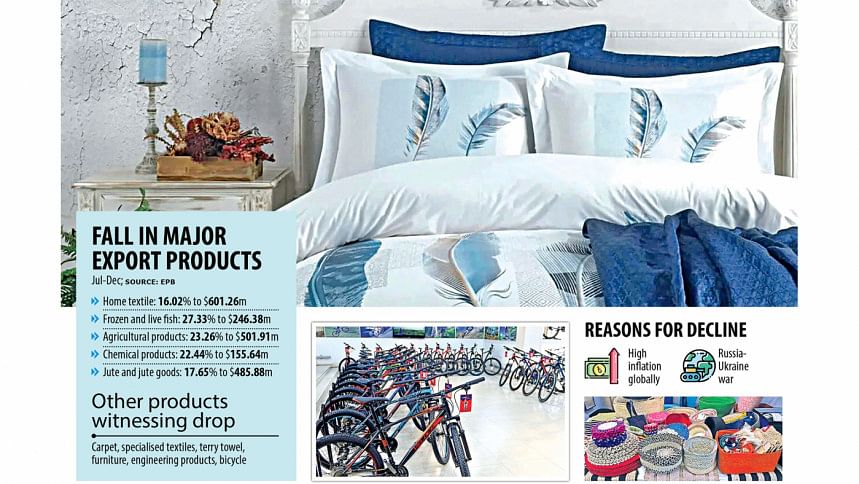 Only two major exports, namely apparel and leather and leather goods, performed well in the first half of the current fiscal year as global demand for non-garment items has fallen in the face of high inflation stemming from the Russia-Ukraine war.
As such, the export earnings of other goods that showed growth over the past few years started shrinking due to lower demand abroad.
For instance, home textile was an emerging product in fiscal 2021-22, when it earned $1.62 billion in export receipts to register growth of 43.28 per cent year-on-year.
Earnings from the sector then declined by 16.02 per cent to $601.26 million in the July-December of fiscal 2022-23, according to data from the Export Promotion Bureau (EPB).
Md Shahidullah Chowdhury, executive director of Noman Group, a leading home textile and garment exporter, said high inflation is mainly responsible for the lower demand.
Besides, the use of home textiles was higher in the previous fiscal year as people were forced to remain in their houses during lockdowns for the Covid-19 pandemic.
Md Shahidullah Chowdhury, executive director of Noman Group, a leading home textile and garment exporter, said high inflation is mainly responsible for the lower demand
"But after normalcy was restored, the use of the home textiles declined again," Chowdhury told The Daily Star by phone.
Similarly, earnings from frozen and live fish fell 27.33 per cent in the July-December period to hit $246.38 million as the demand for shrimp and other fish declined worldwide.
Kazi Belayet Hossain, the immediate past president of the Bangladesh Frozen Foods Exporters Association (BFFEA), said shrimp exports have been falling for the last few years due to the sector's dependence on shipments of the vannamei variety, which is highly produced in other competitive countries.
The government recently permitted commercial cultivation of vannamei shrimp and it is expected that exports will grow from next year as a result.
Moreover, exports of shrimp and other types of fish fell because of the Russia-Ukraine war as the purchasing power of consumers in Europe and Russia has decreased amid high inflation, he added.
Meanwhile, shipments of agricultural products declined by 23.26 per cent to $501.91 million in the July-December period for the same reason.
Exports of chemical products like pharmaceuticals also dropped by 22.44 per cent to $155.64 million at the same time while earnings from shipments of jute and jute goods decreased by 17.65 per cent to $485.88 million.
Shipments of carpets, specialised textiles, terry towels, furniture, engineering products and bicycles fell in the July-December period of the current fiscal year as well.
Abul Hossain, president of Bangladesh Jute Mills Association, said exports of jute and jute goods fell because consumers are choosing alternatives considering how the price of the golden fibre has increased significantly in local and international markets.
Also, the Indian anti-dumping duty on Bangladeshi jute goods of 5 per cent to 29 per cent is also responsible for the drop in jute goods shipments, he added.
On the other hand, even in the volatile global economic scenario, Bangladesh logged a historic high single month export earnings in December by registering 9.33 per cent year-on-year growth to $5.36 billion riding on garment shipments.
In the July-December period, the first six months of the current fiscal year, earnings from merchandise shipments grew by 10.58 per cent to $27.31 billion, which was 0.44 per cent higher than the periodic target of $27.19 billion.
Of the total earnings, $22.99 billion came from garment shipments, which typically contribute 84 per cent of exports in a year.
Export earnings from apparels is high even amid global volatility as unit prices increased following the hike in raw materials costs, said Faruque Hassan, president of the Bangladesh Garment Manufacturers and Exporters Association (BGMEA).
For instance, if any garment item was sold at $10 before November last year, the same product was then sold at $13 or $14 as international retailers and brands increased the prices of garment items to compensate for the higher price of raw materials.
In addition, Bangladesh started exporting high-end value-added garments, for which international retailers and brands are paying better prices, Hassan added.
As the second highest export earner, shipments of leather and leather goods grew 13 per cent to $637.29 million in the July-December period compared with the corresponding period the year before.
MA Razzaque, research director of the Policy Research Institute, said export growth maintained an average of 24 per cent, most of which took place in the first half of 2022-23.
The high dollar price and inflation in western countries helped with somewhat higher prices, Razzaque added.
Also, in 2022, the global economy saw the return of on-site office work and tourism activities, raising the demand for clothing items.
Going forward into 2023, the impact of the economic recession in Europe and America will become prominent and certainly create a downward pressure on the demand for clothing exports from supplying countries such as Bangladesh.
And even though China's exports grew in the first half of the year, geopolitical tensions among major global economies resulted in some export orders from China being shifted, which also helped Bangladesh.
It became clear that in the backdrop of growing geopolitical rivalry, Bangladesh's position in the garment supply chain would get consolidated further.
"This is what we saw in 2022," Razzaque said.
Especially in the first six months of this year, export earnings are likely to have weaker prospects considering the global economic environment, he added.