Northern malta growers grab hold of domestic market
Locally grown oranges now preferred over imported variety, sources say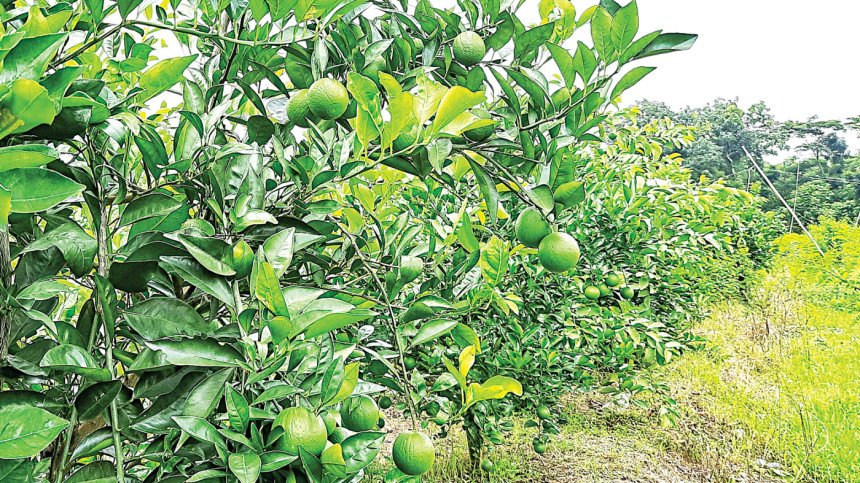 Sweet orange grown in the country's northern districts such as Thakurgaon, Panchagarh and Dinajpur are dominating the local fruit market this season thanks to increased demand and reasonable prices.
Besides, fruit traders prefer to sell the locally produced sweet orange (Citrus sinensis), commonly known as malta in Bangladesh, as they can collect it as per their requirements directly from various orchards in the region.
This is comparatively cheaper than selling the imported varieties while consumers also prefer the preservative-free, locally sourced options.
Malta is being sold for between Tk 90 to Tk 120 per kilogramme (kg) depending on the size and variety while the imported ones cost Tk 220 per kg in local markets.
People are seemingly more interested in the locally grown malta rather than the imported ones since the local variety comes at reasonable prices and are preservative free, said Aminul Islam, a fruit trader of Kalibari in Thakurgaon municipality.
When this year's harvesting season began, local orchards were selling malta for about Tk 2,400 to Tk 2,800 per maund (around 37 kgs) while the price is now between Tk 3,600 to Tk 3,800 per maund, he added.
Lal Mia, a fruit trader of Badupara colony in Thakurgaon sadar upazila, spoke of Bari Malta-1, one of two varieties of sweet oranges developed through rootstock by the Horticulture Research Center at Bangladesh Agricultural Research Institute (Bari) in 2005.
This variety is seeing higher demand than previous years as people no longer doubt its quality, he said.
When the harvesting began, Mia collected the fruit from orchards and supplied retailers for a good profit this year.
Other than the country's northern region, traders ship the vitamin-rich fruit all over Bangladesh, he said.
Malta was cultivated on 85 hectares of land in Panchagarh, 80 hectares in Thakurgaon and 77 hectares in Dinajpur with an expected production target of about 1,340 tonnes in the current season, according to the Department of Agricultural Extension (DAE).
At the national level, about 1,324 acres of land across the country were brought under malta cultivation in fiscal 2019-20, when 2,266 tones of the fruit were produced.
Panchagarh, Thakurgaon and Dinajpur collectively accounted for about 787 tonnes of this amount, said the DAE sources.
Abu Hossain, deputy director of the DAE office in Thakurgaon, said malta cultivation was first introduced in the northern districts under a "Citrus Development Project" back in May 2013.
The initiative was later extended under a new title, "Citrus Fruits Extension, Management and Increasing Production Project", in 2018.
The acidic soil and climatic conditions in the three northern districts are most suitable for orange cultivation as they border Indian districts such as Darjeeling, Jalpaiguri and Siliguri, where high quality varieties of the fruit have been grown for a long time now.
Interested people can collect malta tree saplings from the Dinajpur and Thakurgaon horticulture centres for about Tk 50. Here, the Bari Malta-1 and Vietnamese varieties of orange tree saplings are being supplied.
Md Asaduzzaman Ripon, a farmer of Bollam village in Boda upazila of Panchagarh, told this correspondent that he planted Bari Malta-1 saplings about eight years ago on about 1.5 bighas of land.
Last year, he sold fruits worth Tk 3 lakh and secured Tk 4.5 lakh this year at an average cost of Tk 3,200 per maund.
Encouraged by the increasing profit, Ripon gradually expanded his orchard to more than 7.5 bighas.
Tariqul Islam, a farmer of Pramanikpara village under the same upazila, said he planted 40 malta saplings in 2018 on one acre of land.
He expects to sell over 120 maunds of the fruit from his orchard for about Tk 4 lakh.
Malta farming is comparatively easy since the plants need little care. However, the vitamin-rich fruit offers high returns and can always be sold with little hassle thanks to high demand, Isam added.
Nur Nabi, a malta grower of Choupukuria village in Birganj upazila, said he started planting malta saplings in 2017 and now has covered 11 acres of land with about 2,300 malta plants.
He sold fruits from his orchard worth Tk 10 lakh so far and expects sales to reach Tk 18 lakh this year. After deducting expenses, his profit will be around Tk 12 lakh this season.
In response to a query, Nabi said after facing an acute shortage of farm hands for usual crop cultivation, he decided to switch to malta farming as it can be conducted with just two or three workers.
After seeing how much success the juicy, high-value fruit has brought these farmers, many others are being attracted to the profession, according to various growers and officials.