No one immune from the impact of Russia-Ukraine conflict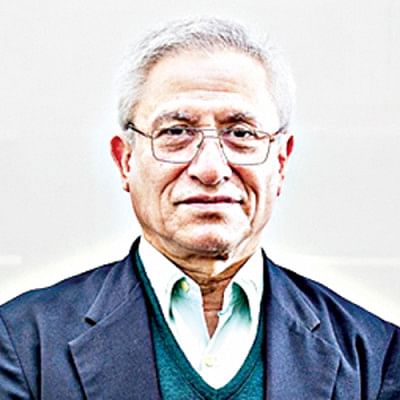 The economic damage from supply disruptions triggered by the confluence of events around the Russian invasion of Ukraine would be severe in some countries and industries and less so in others depending on the depth and breadth of economic ties, mainly with Russia because of its size, and the degree of integration with global commodity and financial markets. It is hard to imagine circumstances under which any country can escape the near-term economic impact of the Ukraine crisis in this globalised world.
The impact is not just because of disruptions caused by the war but also the multifarious economic sanctions against Russia imposed by the US, the EU, the UK, Japan, and several others. Even neutral Switzerland has adopted EU sanctions.
Global banks are bracing for the effects of sanctions designed to restrict Russia's access to foreign capital and limit Russia's ability to process payments in dollars, euros, pounds, and yens which are crucial for trade. Large parts of the Russian economy will be a no-go zone for banks and financial firms after the decision to cut off some of its banks from SWIFT.
The situation has prompted a fast-growing list of large multinational corporations to shun Russia because of concerns about their financial and reputational risks. Among others, western oil and high-tech companies have severed or restricted ties with the Russian economy. US payment card firms Visa and Mastercard have blocked multiple Russian financial institutions from their network. Shipping giant Maersk has halted all container shipping deliveries to and from Russia.
The crisis is weighing heavily on the markets because of Russia's central role as a global energy producer. Russia is the third-largest producer of oil, providing roughly one of every 10 barrels the global economy consumes. Surging energy costs will ripple quickly through the global economy, fueling inflation further. Since December, oil prices have risen more than 40 per cent. Releases from the global oil reserve may only temporarily alleviate the shortage.
The sanctions could disrupt Russia's ability to export other commodities, including natural gas and wheat. Natural gas reserves are running low. Russia is the world's largest supplier of wheat and, together with Ukraine, accounts for nearly a quarter of total global exports. Other commodities tied to Russia and Ukraine, such as gold, aluminium, corn, and nickel, have been trading at multiyear highs since the eruption of the conflict.
Russia has banned air carriers from 36 countries, including European nations and Canada, from its highly trafficked airspace after the EU took similar action against Russian airlines. By forcing major airlines to take longer, more circuitous routes to Asia and the Middle East, this will increase ticket prices for travellers. There can be other retaliation by Russia in the days to come that may increase the cost and risk of doing international business.
The impact on the Bangladesh economy can be through disruptions in bilateral trade with Russia, rise in import payments, fall in export receipts, pressure on the exchange rate and a weakening of Russia's ability to deliver aid.
Disruptions in bilateral trade can hurt production and supplies in Bangladesh. The volume is small but nontrivial.
Total exports in FY21 were about $550 million and imports $480 million. Trade with Ukraine with Ukraine amounts to around $350 million. Bangladesh mainly exports apparel items, jute, frozen foods, tea, leather, home textiles and ceramic products to Russia and Ukraine. Imports include cereals, minerals, chemical products, plastic products, metal, machinery, and mechanical equipment.
Exports to Russia were on a rising curve. There may be an immediate impact on getting payments against items already exported to Russia and Ukraine.  If two months' equivalent of export payments are stuck, we are talking about $100 million (based on FY21 exports to Russia and Ukraine). Disruption in import supplies can hurt domestic production and stoke domestic prices.
Pressure on external balance and the exchange rate will deepen. The external current account deficit in the first half of FY21 had already reached a record high of over $8 billion due to a steep increase in import payments and significant deceleration in remittances. 
Global commodity price increases in the aftermath of the crisis will fatten the import bill. There may not be any major impact on remittances assuming migrant workers in the war-affected part of Europe will not face any complications in money transfer. The persistence of a high current account deficit implies continued pressure on the exchange rate.
Russia is financing multiple projects, including the Rooppur nuclear power plant. There is about $7.8 billion in Russian aid in the pipeline. Financial and payment sanctions against Russia can make disbursements from the aid pipeline very difficult not to speak of the impairment of Russia's ability to do so because of foreign exchange shortages.
On the policy front, there are three areas where proactivity is immediately needed.
First, the relevant agencies of the government must continuously monitor the spillover effects of the sanctions on Bangladesh's international transactions. These will depend on the precise modes of application of the sanctions already in place and how they escalate further. 
Second, the Bangladesh Bank must ensure the adequacy of liquid reserves to preempt undue volatility in the foreign exchange market. This means being more careful in committing reserves to longer-term uses.
Third, the finance and planning ministries will need to revisit the FY23 budget now under preparation. They need to ascertain to what extent the energy and food price increases can be absorbed in the budget considering the hardship the poor and vulnerable households are already facing as they struggle to recover from the impact of the pandemic. 
Even after the immediate, headline-based volatility subsides, there will be many challenges to contend with. There is no immediate resolution of the Ukraine-Russia conflict on the horizon even if Russia wins the ground battle. The war is likely to continue in one form or another. We are likely to be in this environment of a multipronged and multifaceted sanctions regime for months if not longer.
The author is an economist.