6 YEARS OF GI RECOGNITION
No global gain yet for Jamdani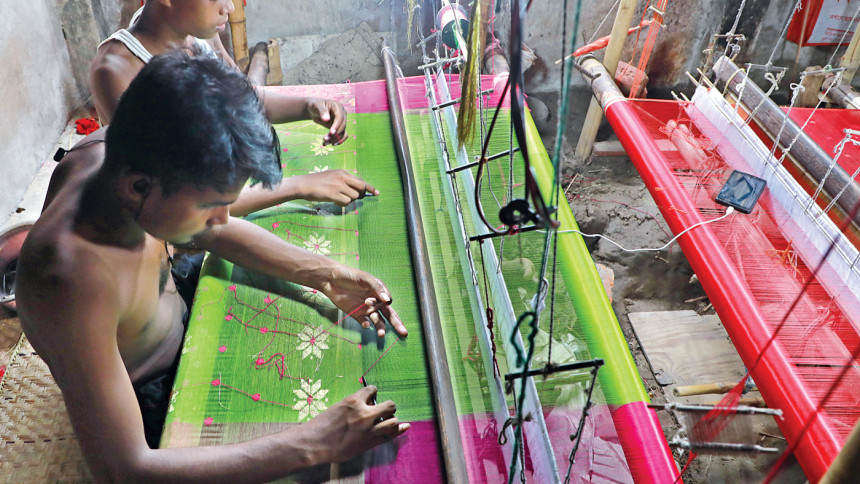 Bangladesh is yet to see any big gains in the global market five years past recognising Jamdani as its first Geographical Indication (GI) product.
No guideline has come about from the state-run Bangladesh Small and Cottage Industries Corporation (BSCIC), the first to apply for the certification.
At that time, the BSCIC had stated that it was attempting to facilitate weavers to brand the indigenous cloth in a better way at home and abroad.
The GI is a name or sign used on some particular products to certify that they possess certain qualities enabled by the environment, weather and culture of a country.
This in effect facilitates branding highlighting traditions and reputations in the global market and creates a separate demand for the product.
The path to commercial production, marketing rights and legal protection is paved. GI-tagged products fetch higher prices compared to similar products in other countries.
The BSCIC applied for the GI certificate, which is a form of intellectual property rights, on September 1, 2015.
The Department of Patents, Design and Trademarks (DPDT), which is under the Ministry of Industries, provided it on November 17, 2016.
As per World Intellectual Property Organization (WIPO) rules, the DPDT gives this certificate in accordance with the Geographical Indicative Products (Registration and Protection) Act, 2013.
Naturally it was expected for the BSCIC to create a framework for commercial planning and training, production and marketing for weavers.
But it has no specific plans to this end till date.
The sole visible development brought about by the organisation was arranging for weavers to participate in two internationally organised fairs.
But that has come to little use as the BSCIC does not have any data on relevant issues such as the number of tagged products sold till date, the countries where the products were exported, the level of satisfaction it had on buyers, whether they would recommend it to others and so on.
Following the recognition, 66 weavers were registered so that they could use the GI certificate in their trade.
Shockingly, they know nothing about how this works. They were provided with no guideline, training or instructions for use of the tags in production and marketing. Weavers also claimed that there has been no state monitoring.
Apparently all the certificate did was adorn the walls of their homes.
Billal Hossain is one of the 66.
"I got a GI certificate in 2018. I've got the certificate only. I didn't get anything else," he told The Daily Star.
"It is very valuable. There is such a valuable thing (GI certificate) in the room (of his house). I'm still working in the same way I used to make and sell Jamdani earlier. There are no additional benefits," he said.
The reporter spoke to 5 of the 66, each of whom echoed the sentiment.
The BSCIC sources said the number of weavers to be registered on use of the tag has not increased since then. No initiative was taken up to attract weavers.
"These products are sent to different countries of the world when there are fairs for branding in the global market," said Akhil Ranjan Tarafder, general manager, marketing department, BSCIC.
"It will be difficult to say how many expos were reached in the last five years. They were in China, India and another fair have been attended," he said.
"We have no statistics on how much Jamdani products have been sold with GI tags," he said.
"Jamdani is yet to reap the benefits of the GI tag. But we are trying to reap the benefits. Meanwhile, there was a manpower crisis in our team," he said.
Tarafder refused to accept the fact that the weavers had not gained any benefit.
"It's not right that they didn't benefit after getting the GI tag. But we are working with weavers," he said.
"The BSCIC has been entrusted with the responsibility of preserving intellectual property rights," said DPDT Registrar Md Abdus Sattar.
"It is also its responsibility to increase branding, marketing and sales by highlighting the tradition and reputation of Jamdani products in the international market," he said.
According to a 2015 study by Bangladesh Foreign Trade Institute (BFTI), there is good demand worldwide for geographical indication products.
Buyers in different countries are willing to pay up to 30 per cent more. More importantly, GI products draw foreign investment.
"We still don't understand the importance of GI recognition. It's such a big thing; you have to work with your own zeal," said Prof Md Abul Kalam Azad of the marketing department at the University of Dhaka.
"But the people concerned did not pay proper attention…the BSCIC has failed to fulfil its duties," he said.
"But time has not run out. The commerce ministry and embassies will have to take initiatives to increase the sale of Jamdani products in the international market," he said.
Jamdani prices can range anywhere from Tk3,000 and Tk 2.5 lakh based on the intricacy of their designs and the time spent behind them.
According to BSCIC Jamdani Industrial City in Rupganj of Narayanganj, they annually produce and sell about 60,000 Jamdani products, earning around Tk 36 crore.
However, outside the industrial city, there is a market for Jamdani products, traders of which say is worth Tk 5 crore to Tk 6 crore a year.
There are more than 2,000 weavers in the BSCIC Jamdani Industrial City. All in all, there are currently about 5,000 weavers in Bangladesh.