Navigability crisis silencing Baghabari river port
Most fertiliser, fuel-laden vessels unloading in other districts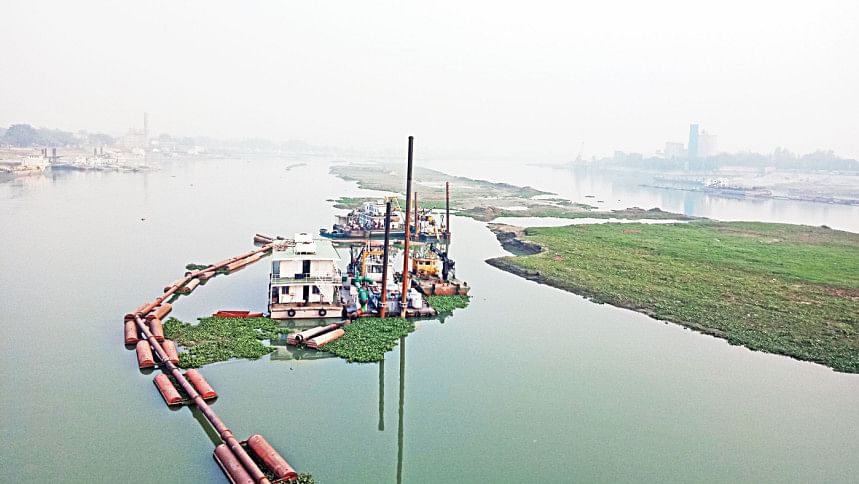 Operations at the Baghabari river port in Shahzadpur upazila of Sirajganj, one of the most important river ports in Bangladesh for ensuring a supply of fertiliser and fuel to 16 northern districts, has been limping on due to a massive navigability crisis.
Although dredging of the related section of Jamuna river has been carried out, there is no sign of improving the navigability as the water level has been lowering rapidly while dense fog amid the ongoing winter is only making matters worse.
Md Asaduzzaman, assistant director of the Bangladesh Inland Water Transport Authority (BIWTA) and officer of Baghabari port, said at least eight vessels mostly carrying fertiliser would previously stop off at the port each day between September and May, the peak season for operations.
"But vessel movement has deteriorated from last year and now the port is on the verge of closing," he said.
Md Jahangir Alom Sardar, who organises labourers at the port, said the roughly 500 workers he used to manage are now mostly unemployed due to the lack of vessel movement.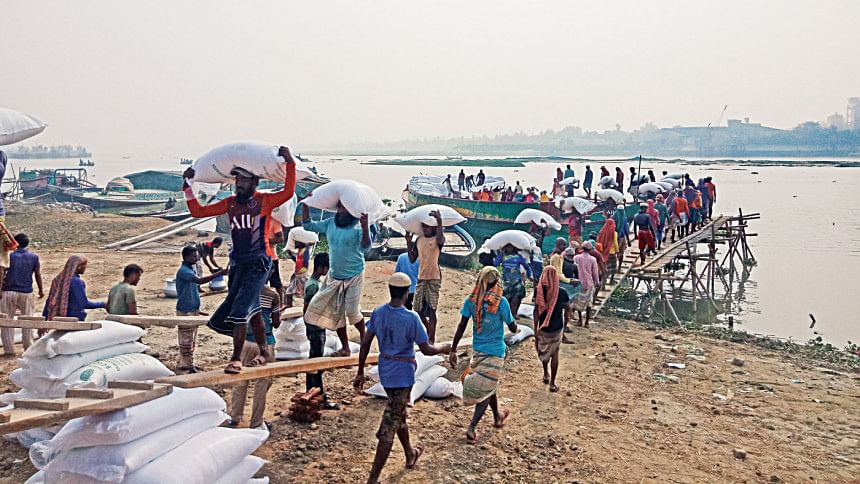 "At least three lighter vessels are now needed to unload goods from large ships and bring them to the port," he added.
As such, various ship operators claim the poor navigability is preventing them from sending large vessels to Baghabari port.
"We used to carry a minimum of 18,000 bags filled with fertiliser or rice weighing 50 kilogrammes each. But now, we cannot operate our vessels due to poor navigability," said Md Eusuf Ali, ship's master of MV Foysal-07.
Ali then said they need to unload at least half the goods at Aricha or Paturia point so that lighter vessels can take them the rest of the way to Baghabari port, which is inflating transport costs.
"So, ship operators are preferring Nawapara port in Jashore and Nagarbari port in Pabna instead for unloading goods bound for northern districts," he added.
Md Masud Rana, the inspector of food at Baghabari port, said the navigability crisis in the river is badly hampering the supply of food grains.
"Due to the navigability crisis, the supply of rice and wheat supply has become slow," Rana added.
Not only solid goods, but also the movement of fuel-laden vessels has been badly hampered by the poor navigability, numerous sources said.
"In normal times, we used to carry at least 12 lakh litters of fuel such as kerosene, diesel, petrol and octane on our ship, which requires a minimum 10 feet draft. Now though, we are carrying just eight lakh litters considering the river's 6-7 feet draft," said Md Sobuj Miah, ship's master of the OT Shippers World-01.
Vessel movement has been badly hampered on the 25-kilometre route from Nagarbari point to Baghabari port due to the poor navigability, he added.
Sobuj went on to say that ship operators like him have no choice but to unload the fuel onto lighter vessels in the river.
"So, we have been carrying the minimum load for the last couple of months to keep the fuel supply normal in northern districts," he said, adding that transportation costs have risen as a result.
Baghabari Port Officer Md Asaduzzaman then said the navigability crisis is a common problem in Jamuna River during the dry season.
There are many shoals that emerge down river of the Nagarbari, Pachakola, Mohongonj, Mollarchar, Baterir chars and some other points of the 25-kilometre river channel from Nagarbari to Baghabari.
"So, the BIWTA has ordered maintaining 6-7 feet draft due to the poor navigability, but almost all the vessels are carrying loads that require more than 10 feet draft, so the crisis has deepened," he said.
Asaduzzaman then informed that the BIWTA has been running dredging works at three points down river from Nagarbari ghat.
"And although the dredging will continue, the vessels must follow the BIWTA's instruction on maintaining draft for smooth vessel movement in the channel," he said.
Baghabari port, established in 1983, ensures the supply of fertiliser to 14 go-downs in 16 northern districts while also transiting fuel for the region.
"We would carry fertilisers from Baghabari port to different northern districts every year, but now I am carrying fertiliser from Nawapara, Jashore and Khulna ports to Baghabari depot for supplying in the north," said Md Forhad Hossain, a truck driver who carries fertiliser.
Just last year, the vast yard at Baghabari port was filled to the brim with various goods but now it lays empty, he added.
At least 5 lakh tonnes of fertilizer and other goods were regularly unloaded at Baghabari port, earning the government about Tk 4 core in revenue. Now though, the once busy port has gone silent, and it is uncertain whether even 1 lakh tonnes of goods will be unloaded this year.
If this situation continues, the port will lose its revenue collection while the supply of fertilizer and other goods will be uncertain too, officials say.
RENOVATION STALLED
BIWTA has submitted a proposal to upgrade Baghabari port with modern facilities such as a jetty, weight machine and other technical support.
However, the Tk 400 core project is yet to be approved.
"If the development work starts, then dredging will be operated on a vast scale. Besides, the use of new technologies will make the handling of goods more functional," Asaduzzaman said.