More youths needed in ad industry
Says Mediacom COO as it celebrates 25th anniversary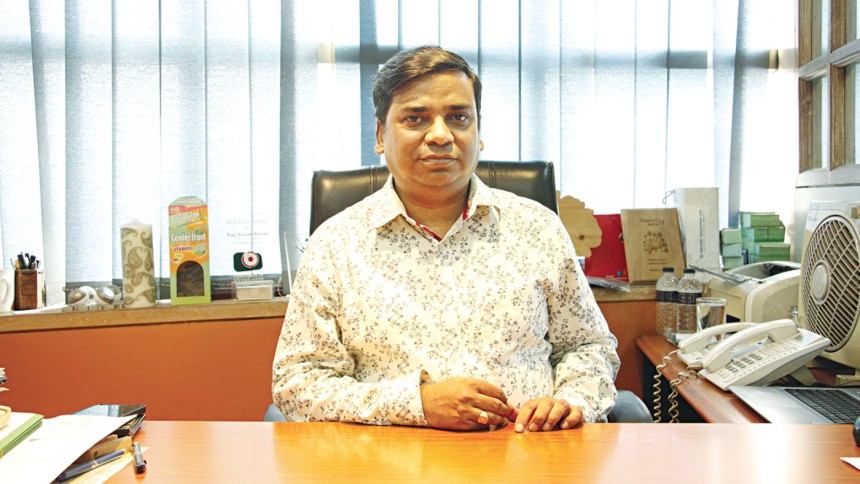 In the advertising sector, you cannot get stuck in only one place. Upgradation is needed all the time in order to survive with the changing landscape of the industry
Mediacom has carved out a niche in the Bangladesh advertising industry with their standard and quality work. Ajoy Kumar Kundu, chief operating officer of Mediacom, recently shared the company's success story in an exclusive interview with The Daily Star's Md Abu Talha Sarker.
It was the mid-90s when different organisations in Bangladesh were frequently making advertisements to promote their products. But the process was not a smooth one. Making an advertisement meant a lot of complications. This is because most of the top artists of an advertisement, such as creative director, media director and art director, would have been imported. From their availability, timings to airing the advertisement, all were a matter of concern.
Square Toiletries went through many such complications while running advertisements for its brand. As a result, the company's Managing Director Anjan Chowdhury decided to establish an advertising agency under the name "Mediacom".
Mediacom started its journey in the second week of July 1997 with just more than four persons on board. The organisation went ahead with small steps, according to the Mediacom COO.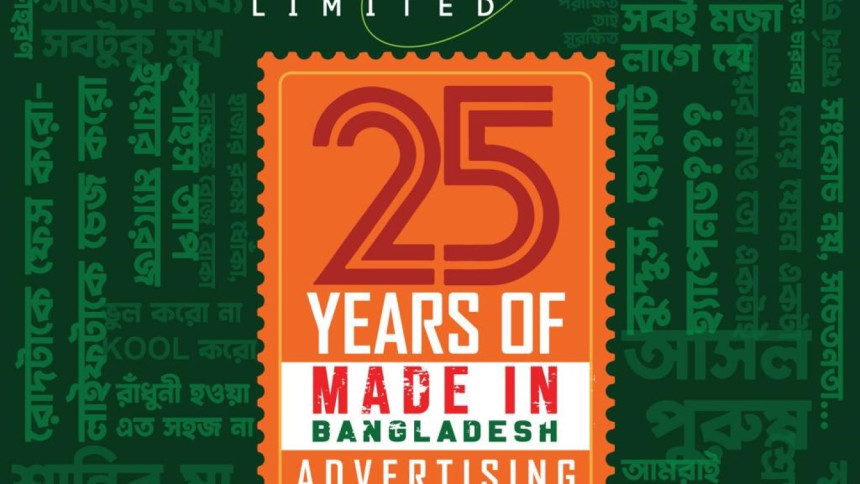 It got enlisted with Bangladesh Television (BTV) within a few days and then started getting clients outside of Square and Electro Mart, its first clients, followed by Anchor, SMC and so on.
"That changed the landscape of Mediacom in the advertising industry. We shifted to a new office space in Gulshan with a setup of 50 employees as the business got bigger," Kundu said.
Apart from media buying, other departments of advertising also started operating under its roof. From the year 2000 onwards, Mediacom started operating as a fully functioning agency.
"From the very beginning, we maintained one thing very strictly: the dream of Samson H Chowdhury, founder of Square Group. Chowdhury often spoke about his dream of wanting Square Group to always be run by local people," he added.
Through considerable successes and achievements, Mediacom has come a long way and stepped into its 25th year this year.
"That instruction is being followed strictly even in 2022. Marking its silver jubilee, this year the company developed a new payoff line that resonates with Chowdhury's dream," the Mediacom COO said.
"Now, the company is a fully 'Made in Bangladesh' agency," he added.
The advertising agency has been doing brand consultancy, marketing communication, social communication, media planning, public relations, TV and newspaper advertisements, event management and so on for Bangladeshi organisations since 2000 even though its journey started with media buying and planning.
Their works are appreciated regularly from different sectors. Some of the most talked about advertisements from Mediacom's early days were Konka TV, Panther, Square Hospital, Meril and Jui.
In 2001, Square Food and Beverage Ltd (then Square Consumer Products Ltd) started its journey. Their starter brands such as Radhuni and Ruchi also got a place in the heart of the consumers thanks to some popular ad-campaigns by Mediacom.
Along with clients from and outside Square, Mediacom continued reaching new heights of success.
In the advertising sector, you cannot get stuck in only one place. Upgradation is needed all the time in order to survive with the changing landscape of the industry. Which is why, Mediacom opened its digital media wing in 2016.
Mediacom achieved the "Google Partner Certificate" that very year in March.
In its continual excellence, Mediacom Ltd affiliated with an international advertising agency called Madison Media in January, 2017. Both organisations made a pact to work together for the next couple of years. Under the treaty, Mediacom got the opportunity to use different tricks of promotions for their clients from Madison Media, such as their operating software.
Madison organised training for Mediacom employees in Bangladesh as well as India. As such. Mediacom has become a part of the new wave of the advertising world in the 21st century.
During its two-and-a-half decade-long journey, many brands became market leaders with the aid of the agency.
From 2011 to 2014, Mediacom planned and executed some of the most praiseworthy and effective campaigns of Robi in ATL, BTL and Digital Media. Some of these campaigns included "Ebaar Hobe", "Jaamdani", "Deshpremik" and "Eid e Notun Jaama".
Mediacom has been a part of advertising, strategy, media planning-booking-buying services of different organisations such a bKash, Bata, Brac, SMC, BCCP, FHI, KSRM, Crown Cement, Matador, Bikroy.com, Akij Food and Beverage, GPH Ispat and many more.
The company created a lot of popular advertisements with remarkable dialogues or powerful payoff lines that reverberate with the hearts of the people.
Mediacom is now a strong competitor in the competitive market of media planning-buying-booking.
"We provide service to companies like Ispahani, Perfetti, Anwar Group, Akij Group, Akash DTH, Abul Khair Group and Lafarge Holcim," Kundu said.
It was the only agency for Grameenphone to make television bookings at BTV at the initial stage. They have been pioneers in buying international broadcast rights and distribution of big national, international sports events like the 2018 FIFA World Cup, almost every recent cricket world cup and ICC event, and cricket series of the Bangladesh national cricket team.
Mediacom is also working successfully in the direction of various events and activities of reputed companies. It is responsible for the planning and overall supervision of the country's biggest cooking reality show, "Shera Radhuni", and the only reality show for folk music "Magic Bauliyana".
Mediacom also arranges the "Radhuni Kirtimoti Shommanona" every year to honour the country's successful women on the occasion of International Women's Day. And with the support of Meril Baby, Mediacom has arranged the country's first "Baby Olympiad" as well.
"We are working successfully in outdoor branding, billboard, banner placement all over the country in a regular process with all these things," Kundu said.
Mediacom had received numerous national and international acknowledgements for its contributions.
"We claimed the most awards from most categories in the 4th Dhaka Ad Fest, 2012. Mediacom achieved the 2nd highest [21 awards] in the country's biggest acknowledgement of the advertising sector, called 'Commward', organised by Bangladesh Brand Forum."
There is nothing to worry about for anyone because all have to constantly face the changing situation and it will be intelligent work to try to cope with the situation because it will be changed with the advancement of technology and people's demand.
"For this, we all have to develop our skill and explore new ideas and ensure its proper execution, otherwise none can sustain in the market," he said.
The main strength of an organisation is its resources, including manpower.
"So, if we can develop our skill, it will then be easier for us to address any situation. Then we will not have to face any difficulties to sustain in market and industry as well. It is applicable for all organisations," Kundu added.
Now, Facebook and YouTube, among other social media platforms, are doing well in the country and the world as well. So, every organisation, irrespective of newspapers, banks, financial institutions or advertising agencies, make their content for these media such that they can reach the people.
"We consider Facebook, Twitter and YouTube in social media which work under our digital media wing. At the moment, we are also conducting our campaigns on Twitter, LinkedIn, TikTok, Instagram, Pinterest, Reddit and Snapchat on a limited scale."
"We cannot say that anyone among the existing social media or any new media will take the place of Facebook in days to come. We have to try to make media capable content for the new situation and then no more problems will emerge," he said.
Asked why newspapers such as The Daily Star now come in online versions, Kundu said this happened owing to market demand.
"Because people now like to read news on their mobile phones rather than in print. The media is just doing the same thing that the readers' desire," he added.
In the wake of falling demand from online consumers, many renowned newspapers across the world have shut down their print versions because people in developed countries do not have enough time to read the paper.
This situation will not happen in Bangladesh all of a sudden though because only 30 per cent of the locals have access to the internet, most of whom use the internet through mobile phones.
The advertising industry has a market of around Tk 2,500 crore to Tk 3,000 crore in Bangladesh, where more than 100 advertising agencies remain operational and some few thousand people are engaged.
The industry is getting bigger day by day. So, young people should come as they are needed to help develop the sector further.
"Young people should come as the industry is growing day by day and its potential is increasing with the advent of new technology that creates job opportunities," Kundu said.
"If one is a student of marketing, that is also a part of advertising and so, it would be easier for him to work in the latter arena," he added.