Mobile users suffer as towers go down in Sylhet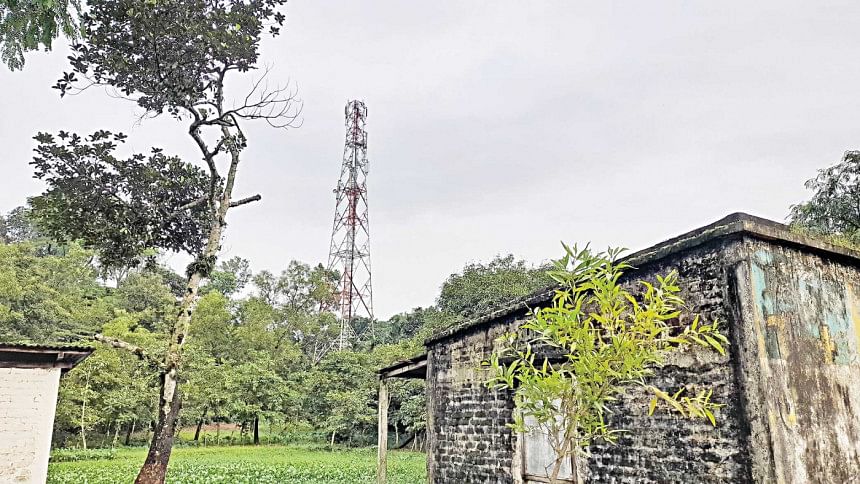 Panic and uncertainty have gripped the relatives of people living in flood-hit Sylhet and Sunamganj as they are unable to communicate with their loved ones due to an electricity blackout that has put about half of the local mobile network towers out of commission.
As such, most of the 40 lakh stranded people from the two districts and many in the similarly affected Netrokona, Habiganj and Moulvibazar districts are finding it difficult to call for help.
Mohammad Alam, who lives in Sylhet's Uposhohor area, said his relatives were very worried about him as they could not contact him from Saturday to Sunday evening. The network become partially functional on Sunday evening but only in Sylhet city, he added.
Anxieties are running so high that people like Mohammad Kawsar Uddin, an expat, even returned home from Saudi Arabia on Saturday after failing to contact his family in Sunamganj's Modonpur area.
According to the Bangladesh Telecommunication Regulatory Commission, out of a total 3,617 network towers in Sylhet, Sunamganj, Netrokona, Habiganj and Moulvibazar, 1,146 sites have reactivated as of Monday night while 976 remain dysfunctional.
According to officials of the operators, network towers usually run on commercial electricity while there are batteries as a standby power supply.
Grameenphone, the most used network provider among mobile subscribers in Sylhet, did not immediately reply to requests for comment.
However, Yasir Azman, chief executive officer of Grameenphone, said in a Facebook post that they cannot keep all of their towers functional without electricity and vehicle access.
 "Even if we fixed the generators and batteries of all affected towers, they would eventually shut down without regular electricity. We have been collaborating with various authorities to keep our network running since the situation began," he added.
In another post, he said his team is using local boats, professional speed boats and any other feasible transport to take generators to remote mobile sites.
 "We need patience but we can't wait without acting on alternatives," Azman added.
Shahed Alam, chief corporate and regulatory officer of Robi Axiata, said they fought all odds to keep 75 per cent of their cell sites in Sylhet division operational while restoration of the remaining sites is underway.
 "We are working closely with Bangladesh Army and the border guard to co-ordinate evacuations by ensuring network availability in affected areas despite the major challenge of power shortage," he added.
Ankit Sureka, head of corporate communications and sustainability at Banglalink, said their teams have been working relentlessly to keep the network up and running in affected areas.
 "However, prolonged power outages are causing network blackouts in some areas and our backup power systems are running out," he said.
 "The flooding damaged some of our network infrastructure," Sureka added.
Telecom Minister Mustafa Jabbar said the main problem is ensuring access to electricity for the network towers.
 "Transporting the required fuel is also difficult," he added.
Jabbar went on to say that he already instructed to use Bangabandhu Satellite-1 to keep telecommunication and internet functional by setting up VSAT (Very Small Aperture Terminal) hubs.