Matin Spinning's profit surges 70pc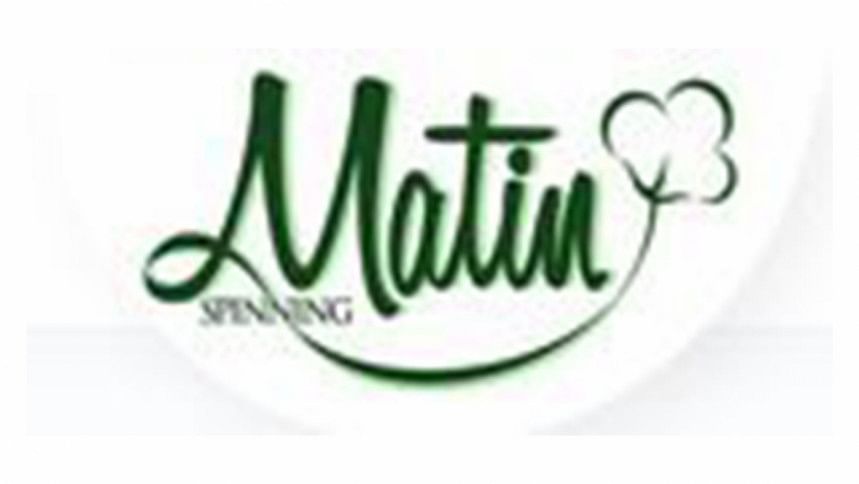 Matin Spinning Mills Ltd's profit surged 70 per cent year-on-year to Tk 105.19 crore in the financial year that ended on June 30.  
This compared to Tk 61.51 crore in profits the company generated in 2020-21.
Thus, the company reported earnings per share of Tk 10.79 in 2021-22 against Tk 6.31 in 2020-21.
The EPS increased thanks to a rise in sales revenue, and there was no significant additional fixed expenditure against the incremental revenue except raw material cost, said Matin Spinning in a filing on the Dhaka Stock Exchange (DSE) yesterday.
"The company has purchased raw materials at a reasonable and competitive rate which has contributed a lot to achieving our extra margin."
The net asset value per share rose to Tk 60.63 from
Tk 53.81, owing to the excellent operating performance, said the company.
Net operating cash flow per share surged to Tk 6.17 from Tk 0.40, driven by an increase in sales proceeds collection against both site and deferred letters of credit compared to the last year.
"For this reason, receivables decreased significantly," the textile firm said.
According to the filing, the inventory of raw materials and finished goods was jacked up during the reporting period significantly to ensure an uninterrupted supply of raw materials and production and secure price benefit since raw materials demand and prices are showing an upward trend.
"Although inventory has been increased, collection from customers has improved significantly."
The board of directors of Matin Spinning recommended a 50 per cent cash dividend for 2021-22. Shares of the company closed 2.39 per cent down on the DSE yesterday.