Fuel price hike: Marine fishing industry struggles to stay afloat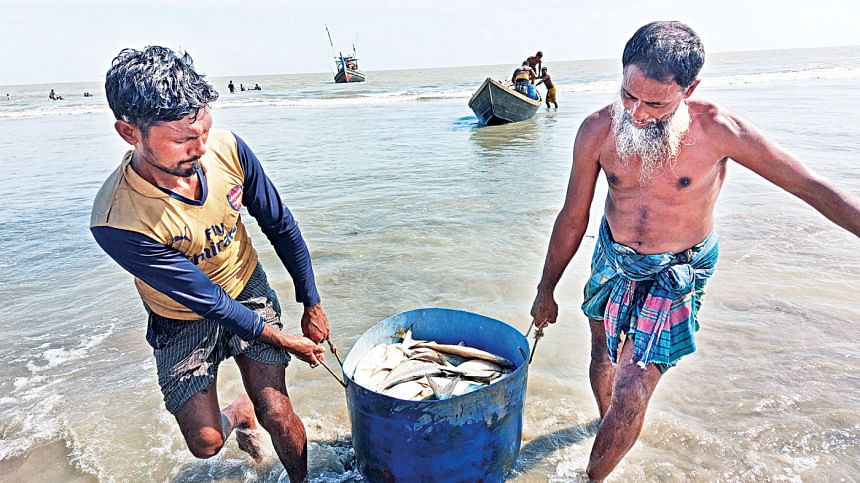 Bangladesh's marine fishing industry is barely keeping head above water as their operating costs have risen significantly after fuel prices were hiked twice in the last eight months.
Fuel cost accounts for 70 per cent of the total operating cost involved in running a fishing trawler while maintenance cost, food allowance and wages make up the rest.
Making matters worse, all of these expenses have risen in the face of runaway inflation, which is badly affecting the industry that already struggles with a lack of work for around two-thirds of the year due to bad weather.
Besides, they are forced to sit on the shores for a total of 87 days each year -- May 20 to July 23 and October 1 to October 22 -- during a government-imposed ban on deep-sea fishing to facilitate breeding.
Industry insiders say their businesses are now at stake as fuel costs have nearly doubled in the last eight months with diesel prices having reached Tk 114 per litre while it was Tk 65 per litre before November 2021.
Fuel cost accounts for 70 per cent of the total operating cost involved in running a fishing trawler while maintenance cost, food allowance and wages make up the rest
Three types of vessels are mainly used in deep-sea fishing, namely industrial fishing trawlers made of steel, wooden-body ice trawlers and small artisanal mechanised and non-mechanised boats.
A total of 215 industrial fishing trawlers and around 49 wooden-body ice trawlers registered with the Mercantile Marine Department conduct fishing activities beyond depths of 40 metres.
Apart from these larger trawlers, about 65,000 small artisanal mechanised and non-mechanised boats are engaged in fishing in shallow water, which is normally within the 40-metre mark.
According to data from the Ministry of Fisheries and Livestock, the total catch from marine finishing was 6.81 lakh tonnes in fiscal 2020-21, registering annual growth of 1.51 per cent against 671,104 tonnes the previous year.
A total of 234 industrial fishing trawlers and wooden-body ice trawlers as well as some 61,000 types of small boats were engaged in deep-sea fishing that year, the data shows.
The annual catch from marine fishing was around 14.74 per cent of the country's total fish production of 4,621,228 tonnes in fiscal 2020-21.
The Bangladesh Marine Fisheries Association (BMFA) has 80 member firms who own 215 industrial fishing trawlers, of which around 180 vessels are currently operational. These trawlers have the capacity to carry about 150 tonnes to 350 tonnes of fish.
BMFA President Nurul Qayuum Khan said when the diesel price was at Tk 65 per litre last year, they spent only Tk 52 lakh to buy the 80,000 litres of fuel required by an industrial fishing trawler for a single voyage lasting 22 to 25 days.
However, the cost has risen to Tk 1.05 crore per voyage after the recent hike in fuel prices, he added.
In addition, other operating costs have also increased by Tk 5 lakh to Tk 10 lakh for each trip due to the price hike of essential commodities.
Mentioning that the price of diesel has ballooned by Tk 47.79 per litre in an eight-month span, Khan said such a hike has badly impacted the owners of industrial fishing trawlers as they now have to bear more than Tk 50 lakh for each voyage.
"Other transport sectors have adjusted to the new fuel prices by raising their fares but we do not have any such option as we cannot impose an exorbitant rise in the price of fish as it is mostly consumed by middle and low-income people," he said.
Moreover, Khan alleged they are not getting fair prices in local markets as a significant amount of fish is imported from different middle-eastern countries even though the country is self-sufficient in this regard.
The BMFA chief went on to say that while they cannot venture out to see for around four months each year amid foul weather in addition to the government ban for 87 days, their trawlers remain idle for a total of around 200 days but the owners still need to bear instalments on bank loans and pay salaries year-round.
Besides, the industry has been facing problems ever since Covid-19 made landfall in 2020 but it did not get any government support while other sectors received special stimulus packages to help ride out the pandemic.
"We have been facing a severe distressing situation for the past several months and now, some 50 to 60 per cent of industrial fishing trawler owners are unable to send out their vessels due to financial constraints," he added.
The association recently sent a letter to Salman F Rahman, private industry and investment advisor to the Prime Minister, urging the government to provide diesel at the price it was before November last year in order to ensure the industry's survival.
Jane Alam, chairman of the Marine White Fish Trawler Owners Association that owns around 70 wooden-body ice trawlers, said the operating cost for a single voyage of 13 days has already gone up by Tk 6-7 lakh due to the increased price of diesel.
"The owners are also facing another pressure as their staff are demanding a rise in wages considering the higher living cost," he added.
Babul Sarkar, general secretary of the Marine Fish Catch Boat Owners Association, which represents the owners of artisanal boats, said most of their boats are not going to sea due to the additional fuel cost and also poor catches.
Each vessel with a carrying capacity of 10 to 12 tonnes is returning with catches weighing a mere 500 kilogrammes to 2 tonnes due to the strong waves at sea.
With this backdrop, Sarkar demanded government subsidy in fuel prices to help them survive the situation.