Mango growers fear lower yield
They blame unfavourable weather
Yusuf Ali, a mango grower in Chapainawabganj, did not benefit much despite having an ample yield last year as the price of the popular fruit was unusually low due to the lockdown-induced disruption.
Since there is no lockdown this year and overall consumption has rebounded from the pandemic, Ali, who went through financial constraints in 2021, was dreaming of meeting the expenses of his family comfortably by selling mangoes from his 1.5-bigha orchard in Shibganj upazila.
But his hope has been dashed as the yield of his orchard is estimated to be lower this season.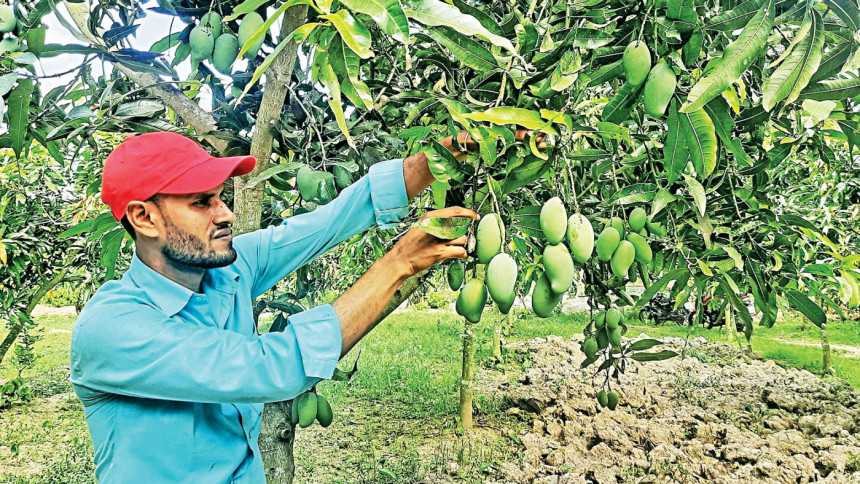 He harvested 100 maunds (each maund equals 40 kilogrammes) of mangoes last year. But this year, he is not sure whether he would be able to manage a paltry 15 maunds.
The average yield of other mango orchards nearby will be around 40 per cent this season compared to last year.
Salauddin Ahmed, a mango farmer in Bagha upazila of Rajshahi, says most of the trees do not have even 30 per cent of the mangoes they usually produce.
"This situation is not unique in Bagha. The scenario is the same in the whole Rajshahi district," said Ahmed, who has an orchard with 120 mango trees.
He blamed the sprouting of new leaves on many trees, especially the old ones, at the time of flowering for the lower yield.
"New leaves grow on some trees every year. But this year, it was unusual," he said.
Apart from that, mango buds were damaged by the rains and extreme weather, said Ahmed, also a mango trader. A lower yield is being estimated in Satkhira as well.
A yield of 9.63 tonnes per hectare is estimated from 41,150 hectares of mango orchards in the southwestern district. 
The yield was 17 tonnes per hectare, which was 43.5 per cent higher than the current season's estimation, according to Md Nurul Islam, deputy director of the Department of Agricultural Extension (DAE) in Satkhira.
He said due to inclement weather, the number of mango flower buds was lower this year.
The output is projected to be about 40 per cent lower this season due to adverse weather, said Md Sorof Uddin, a senior scientific officer at the Bangladesh Agriculture Research Institute in Gazipur.
"Because of the bad weather, most mango trees have sprouted new leaves instead of blooming flower buds. Moreover, hailstorms and Nor'westers damaged mangoes in some parts of the country."
However, he says, if the farmers take proper care of the existing crop, they are likely to get a good price for their produce and narrow losses.
The DAE in Rajshahi is projecting a yield of 11.5 tonnes per hectare, down from about 12.5 tonnes last year. Mangoes are being grown on 18,515 hectares of land in the district.
Mango buds were damaged because of rains in late November. Besides, many old mango trees in Bagha and Charghat upazilas have sprouted new leaves instead of buds, said Md Mozder Hosen, deputy director of the DAE in the northern district. 
The yield in Chapainawabganj is projected to be lower than that of Rajshahi.
The district office of the DAE has estimated 8.29 tonnes of output per hectare. There are 38,000 hectares of land in the district that are being used to produce the popular fruit.
The yield is 7 per cent lower than last season's, said Nazrul Islam, a deputy director of the DAE.
In Naogaon, the yield is estimated at 13.5 tonnes per hectare from orchards covering 29,470 hectares of land, according to the DAE office in the district. 
The DAE in the Rajshahi division has estimated an average of 10.56 tonnes of yield per hectare this season, way lower than 12.2 tonnes a season ago. 
Mango trees have been planted on 90,894 hectares of land in the northern division this year, said Mohammad Khayer Uddin Mollah, a deputy director of the office.
Twenty-five lakh tonnes of mangoes were produced on two lakh hectares of land across Bangladesh last year.
MANGOES STARTING HITTING MARKET
The mangoes from Satkhira have been available in the market for the last couple of weeks.
The harvesting of Govindbhog and Gopalbhog began on May 5 and Himsagar on May 15. These mangoes are being sold in Dhaka at Tk 110-Tk 130 per kg.
Traders say the price is high right at the moment since the full harvesting has not begun yet. The price will come down once the varieties from Rajshahi hit the market. 
Gopalbhog, Himsagar and Langra mangoes grown in Rajshahi will be available from May 20, May 28 and June 6, respectively.