Local steel products shaping Dhaka Metro Rail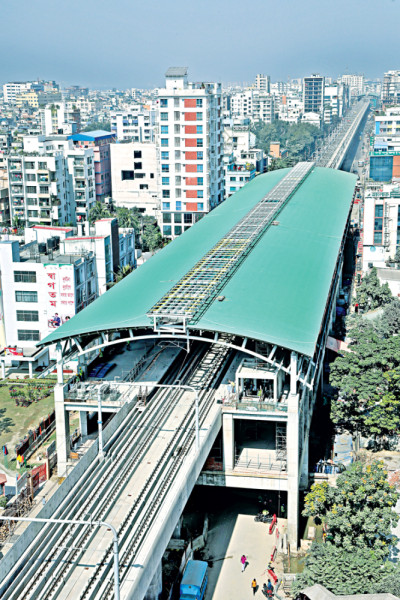 While foreign construction firms are using imported prefabricated modular units of steel in the country's mega projects, Dhaka Mass Transit Company is using that made locally in the metro rail project, resting assured of their international standard.
In case of the steel rods being used in the projects, almost all are being supplied by local manufacturers.
McDonald Steel Building Products received orders for 14,000 tonnes of steel products for installation at the metro rail's16 stations.
The company has set up a dedicated production line to make the products, including roof trusses, which are prefabricated structures designed to support the roofs.
The products have already been installed in 11 stations, said Managing Director Md Sarwar Kamal.
According to him, Japanese experts are supervising the manufacturing process while random samples are tested at a laboratory of the Bangladesh University of Engineering Technology prior to installation.
Moreover, a team of experts headed by late Prof Jamilur Reza Choudhury had recommended using their products on testing the quality.
MAN Siddique, managing director of the transit company, said the local products were recommended by consultants satisfied of their top grade and using those gave confidence to the local manufacturers and was a matter of pride for the country.
Bangladeshi manufacturers can provide all types of steel products of international standard as they used European and Japanese equipment and world class raw materials, said Jowher Rizvi, president of the Steel Building Manufacturers Association of Bangladesh.
The government is allowing the foreign construction firms to import the prefabricated steel sections duty free, which erodes the competitive advantage of local industries, he told
The Daily Star.
All such products being used in the construction of the Padma bridge and Hazrat Shahjalal International Airport's third terminal can be supplied by local manufacturers, said Rizvi, also chairman of PEB Steel Alliance.
"It is good news that Bangladeshi company McDonald Steel Building Products is providing roof trusses for the metro rail stations, which proves that local manufacturersare capable of producing world-class products," he said.