Litchi from local orchard going global
Experts forecast higher shipments this year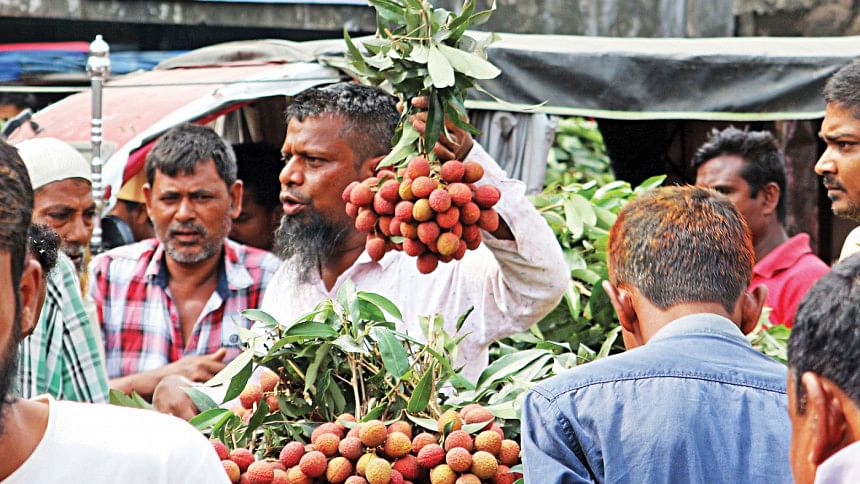 This year, a litchi orchard in Biral upazila of Dinajpur has started shipping the tropical fruit to France, indicating the growing volume of agricultural exports from Bangladesh.
The first 300 kilogramme consignment of litchi was brought to Dhaka for shipping earlier this week, according to the deputy commissioner's office and Department of Agricultural Extension (DAE) in Dinajpur.
And while the country has been exporting litchi to different markets across the globe since 1999, this is the first time that a single orchard was able to directly ship its fruits.
Dinajpur is famous for its litchi, which are grown in the perfect soil and climate conditions given its geographic location.
The local administration of Dinajpur with support of Md Habibur Rahman, the divisional commissioner of Rangpur, took the initiative to export litchi after discussing the issue with relevant parties.
Shakil Ahmed, the deputy commissioner of Dinajpur, inaugurated the shipment at his office on Tuesday.
At the programme, Ahmed told reporters that the first consignment comprised about 16,000 pieces of litchi of the Bedana variety.
"All the standards for ensuring that the litchi is of export quality was maintained throughout the production process," he said, adding that adequate packaging was used to avoid any damage.
The litchis are expected to reach France within 72 hours of their departure from Dhaka on Tuesday.
Growers had been demanding such facilities for several years and now, their dreams have finally become reality through this small effort.
Afzal Hossain, who owns the orchard that is exporting litchi, said it gives him great pride to be directly exporting fruits to a European country.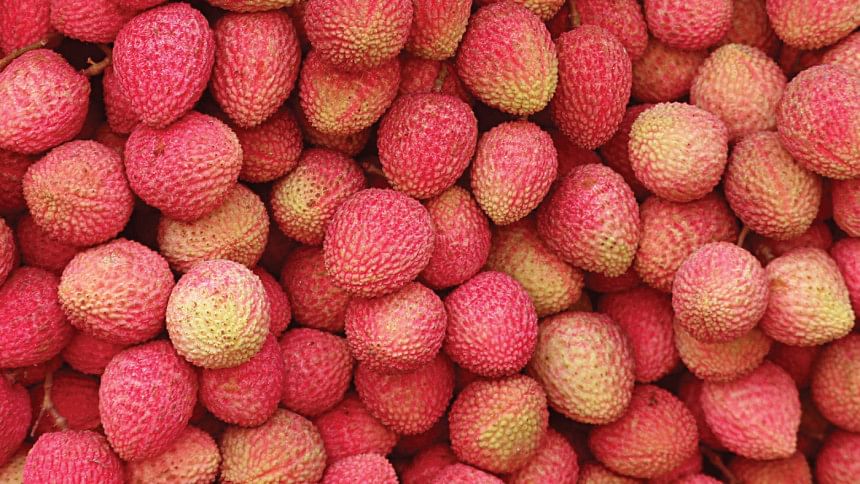 Besides, another 0.5 million pieces, or 9,500 kilogrammes, of the China-3 variety will soon be exported to France in the next consignment, which will be directly collected from different litchi orchards, said Dinajpur Deputy Commissioner Ahmed.
According to DAE officials, around 2 lakh tonnes of litchi of various varieties are produced annually on 26,000 hectares of land across the country.
As such, litchi from Pabna was also exported to different countries in the Middle East.
However, the demand for litchi from Dinajpur is particularly high for its exceptional quality, taste, colour and size.
Until June 7 this fiscal year, exporters shipped 112 tonnes of the fruit, said Md Rezaul Karim, director of the Plant Quarantine Wing under the DAE.
"We expect the volume of litchi export will cross last fiscal year's mark," he added.
Mohammad Monsur, general secretary of the Bangladesh Fruits, Vegetables and Allied Product Exporter's Association, said around 30 exporters are shipping litchi to different countries.
So far, they got orders amounting to 2.5 tonnes from different countries, he added.
Mitul Kumar Saha, joint director of marketing and managing director (additional charge) at Hortex Foundation, said Bangladesh shipped 149 tonnes of litchi fiscal year 2021-22.
"This was the biggest shipment till now. But we see new exporters have come to export mango and other fruits. We expect a good amount of litchi export this year too," he added.
As per data from the International Society for Horticultural Science (ISHS), China, India and Vietnam are major producers and exporters of litchi.
China is in top rank followed by Vietnam and India.
Vietnam is the second largest litchi exporting country even though it has a smaller output compared to China and India.
The US, Canada and countries in the EU are major importers of litchis from different countries with China supplying around 80 per cent of total demand.
Meanwhile, other South Asian countries supply the remaining 20 per cent, according to the ISHS.
In 2021, China exported $63.2 million worth of litchis to different countries.