Kuakata witnesses influx of tourists
95% hotels, motels booked for 3-day public holidays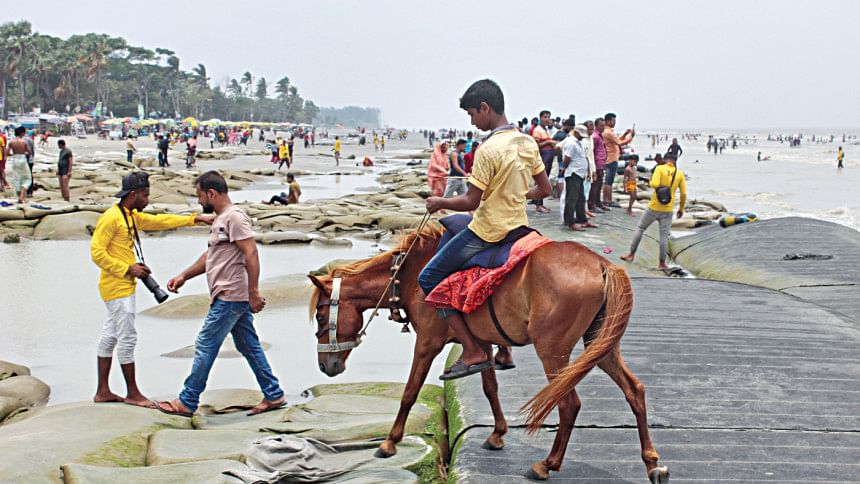 Travel-enthusiasts, holidaymakers and tourists are planning to rush to various vacation spots across the country during an upcoming three-day holiday, which includes the weekend.
People got a government holiday on Sunday for Charismas, which is celebrated by the Christian community on December 25 each year, along with the usual Friday and Saturday weekly holidays.
Many of them have already moved to Kuakata in Patuakhali to have a break from the hustle and bustle of city life as it is a rare place to enjoy the sunrise and sunset, making it a very popular tourist destination.
Moreover, Kuakata's connectivity with Dhaka and other parts of the country after the launch of Padma Bridge has been well established, increasing the interest of local and foreign travel-enthusiasts, holidaymakers and tourists.
This correspondent got to know from hotel and motel owners in Kuakata that some 95 per cent of their rooms have already been booked in advance for the three-day holiday.
Local businesspeople say Kuakata was devoid of tourists at the beginning of the month due to political unrest in the country. As such, traders were disoriented by the week-long slump, but the arrival of tourists started increasing from December 15.
Sales have marked a significant increase for tourism related businesses. Most hotels in Kuakata are currently booked in advance. So, the hotels and motels have been renovated and decorated.
Karim Mia, a bench trader at Kuakata beach, said the arrival of tourists has increased since last Thursday.
"So, we have made extra preparations so that we can serve the tourists without any inconvenience," he said.
Noor Jamal Miah, a pickle trader at the beach, said he has ordered more pineapples, guavas and hog plums than ever before this week. There is a possibility of more tourists coming in compared to the previous weeks because of the 3-day public holiday.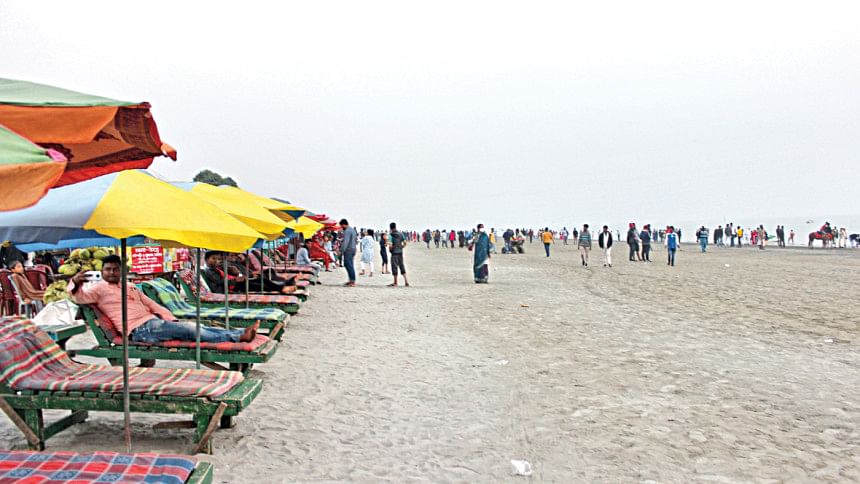 "I hope to sell more this time around," he added.
Abdus Shakur, manager of Khan Palace, a residential hotel in Kuakata, said all 49 of their rooms have been booked for the next three days.
"I hope we can make up for the losses in the past few days," he added.
Motaleb Sharif, general secretary of the Kuakata Hotel Motel Owners Association, said a large number of tourists throng Kuakata each year during winter.
The number of tourists in Kuakata is gradually increasing after the establishment of uninterrupted communication with Dhaka and other parts of the country through the opening of the Padma Bridge.
"Around 95 per cent of the rooms of hotels and motels here have already been booked due to the government knife for 3 days this week.
Hopefully, there will be 100 per cent hotel booking on Friday. Through this, we can recover the early losses of the past days," Sharif added.
Abdul Khalek, assistant superintendent of the Tourist Police Kuakata, said that his team has been patroling round the clock at every important point with the arrival of additional tourists so that law-and-order situation can be ensured.
"There will be additional police patrolling at various spots from tomorrow [Friday]," he said.