Jute growers expect good yield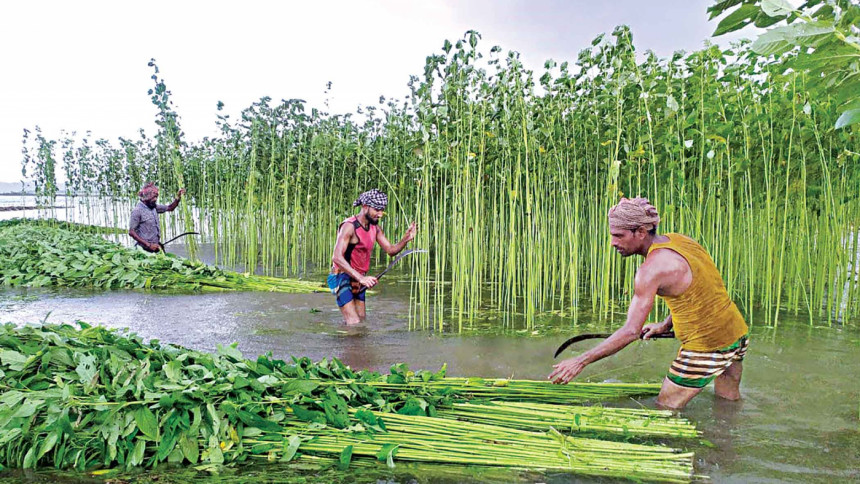 Jute growers in its biggest cultivation hub of Faridpur are expecting a bumper production this current season thanks to favourable weather, a welcome development for the industry that suffered for high prices of raw materials resulting from reduced production the previous year.
The district accounted for 10 per cent of the 77.25 lakh bales of the natural fibre grown in Bangladesh last year. This year the region's output is expected to cross 10 lakh bales.
The amount is nearly 36 per cent higher than last year's 7.38 lakh bales, according to data from the Department of Agricultural Extension (DAE) and Bangladesh Bureau of Statistics (BBS).
"The jute plants seem to be growing well," said Asmat Mia, a cultivator for 31 years at Nagarkanda upazila.
Asmat has sown the cash crop on 6 bighas of land this year investing Tk 1.20 lakh. He expects to get over 95 maunds (one maund equivalent to around 37 kilogrammes) and log over Tk 2.50 lakh this harvesting season.
Raw jute prices hit record highs of over Tk 5,000 per maund in February 2021 in the face of increased demand from mills for export against the backdrop of reduced production last season.
Grown mainly for industrial use, jute is suited for cultivation from around mid-March to April, taking 90 days to be fit for harvest. Harvest runs in full swing from July to the end of August.
Bangladesh is the second biggest producer of jute after India, roughly producing more than 80 lakh bales over the past five years.
Last year production declined 4 per cent year-on-year to 77.25 lakh bales, showed the BBS data.
Local mills demand 60 lakh bales of raw jute to process and make yarn, twine, bags, sacks and other goods mainly for export and some domestic sales.
In addition, five lakh bales of raw jute are used for household purposes while another 8 lakh bales exported annually.
For the current season, farmers have allocated 7 lakh hectares, up 3 per cent from 6.8 lakh hectares the previous year, showed the DAE data.
Official data shows that the central and western districts, namely Faridpur, Rajbari, Magura, Kushtia, Madaripur and Gopalganj are the major producers of jute.
Faridpur is by far the biggest for having soil perfectly suited for the purpose.
The DAE's Faridpur office said farmers cultivated 85,000 hectares of land this season. It is marginally lower than last year's acreage, with dry weather blamed for affecting initial sowings.
Yet growers and agriculturalists expect a good yield because of the weather staying favourable so far. Harvest in full swing will begin within 15 days.
Sumon Mia, a 25-year-old farmer in Saltha upazila, worked on 8 bighas of land this season, inspired by the increase in prices. He sold each maund for Tk 6,000 and hopes to get 120 maunds of raw jute this year.
Fazlul Haque, a farmer at Charbhadrasan upazila, also expects to profit from this year's harvest.
The 66-year grower said raw jute that had been harvested early was now being sold at Tk 3,500 per maund in local bazars.
"So I hope to get a profit of at least Tk 2 lakh this year," he said.
DAE's Faridpur unit Deputy Director Hazrat Ali said production had declined last year as the arrival of floodwaters had prompted farmers to harvest the crop before the plants had become fully mature.
"For this year, we are expecting a good yield as the weather remains favourable for growth. We expect the average yield to be much higher than that last year," he said.
Mohammed Mahbubur Rahman Patwari, chairman of Bangladesh Jute Mills Corporation, said the weather had so far been favourable. "But we have to wait for the next two months to bag a good crop," he added.
"This is really a good news for all of us, including our buyers. We lost many of our customers because of high prices earlier. We would be able to get them back if the crop is good," he said.