IT firms grapple with unskilled labour force
IT firms are struggling to find skilled tech talents and professionals despite higher demand for information technology services from local and global clients, a situation that threatens their expansion and could shatter Bangladesh's export ambition for the sector.
A mass exodus of talented workers and promising students, remote work opportunities and a mismatch between supply and demand have aggravated the situation recently.
The scarcity of skilled IT professionals has reached such an extent that Dream71 Bangladesh, one of the thriving software companies in Bangladesh, could not supply five computer programmers to a Polish firm.
The company in Poland had wanted five .NET software developers, people who specialise in building software for Microsoft's Windows platform using programming languages compatible with Microsoft's .NET framework.
"We had forwarded some CVs of local experienced developers. They refused to hire anyone after conducting highly technical interviews," said Rashad Kabir, CEO of Dream71 Bangladesh.
"The local developers couldn't meet the technical skills required by the company."
Dream71 Bangladesh develops software for local and foreign governments and companies. Now the company, which employs nearly 100 tech talents, is facing an uphill battle to hire IT engineers with proper skills.
"Getting skilled programmers and engineers is the biggest struggle for me. In the last two to three years, it has intensified," said Kabir.
As the pandemic pushed up the demand for IT services since people embraced more of the digital lifestyle, some companies rushed to hire and train freshers to churn out required products.
Brain Station 23, a software firm in Bangladesh that doubled the number of employees to about 670 since the pandemic, hires newbies and trains them to get prepared for the industry.
"We recruit freshers and train them for four months. After the training, eligible ones join us permanently. We have followed such a process since the beginning. But we have scaled it up because of the shortage of manpower," said Raisul Kabir, chief executive officer of Brain Station 23.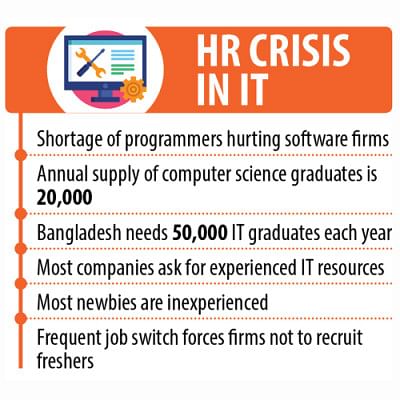 Brain Station 23 has recruited 65 freshers this year alone.
But funding such training processes is difficult for small-sized IT firms, jeopardising their future growth, according to industry people.
They said the shortage of human resources in the IT industry puts at risk the country's target of attaining $5 billion from IT exports by 2025, which was about 10 times current receipts.
"There are 2 lakh to 2.5 lakh people working in the country's IT industry. But to reach the export target we need more than 4 lakh trained people," said AKM Fahim Mashroor, chief executive officer of bdjobs.com, a job portal.
He said universities would not be able to deliver such a large human resource since they approximately supply 21,000 IT engineers per year.
"Besides, most companies demand readily employable 'experienced' resources. Since the average size of companies is small, they are not ready to train fresh graduates and make them employable as it costs them a lot."
According to bdjobs.com, 91 per cent of job postings for IT engineers require experience.
Mashroor urged the government to create a special fund to help IT companies falling under the small and medium enterprise (SME) category hire fresh graduates and ease the workforce shortage.
Industry people say IT companies are facing the biggest shortage of human resources at the mid-level as a good number of mid-level employees, after working for three to four years in local IT firms, migrate to other countries for better job opportunities.
They say human resource shortages are palpable in the segments such as coding (front end, back end, application programming interface) database software architecture, design and project management.
Julian Weber, CEO of SELISE Digital Platforms, which has innovation, consulting and IT delivery centres across Europe, the Middle East and Asia, explains the reasons for the brain drain from Bangladesh in a different way.
"There is a lack of confidence in Bangladesh for many youngsters to stay in the country for a long term. They have no vision here. They see their vision abroad," he said at an event in Dhaka recently.
"They say if they go to Malaysia, they would earn the same amount of money there, but they would be able to afford a car there."
Youngsters are encountering problems related to traffic, taxes and bureaucracy in Bangladesh, which are discouraging them from staying here, according to Weber.
He, however, acknowledged that the quality of IT education at universities in Bangladesh has improved a lot.
"The freshers that we are getting now are of much higher quality compared to five years ago. But universities are trying to overload the curriculum," said Weber.
The shortage of skilled workforce raises questions about the effectiveness of the government's large expenses aimed at training people with digital skills.
"Ministries have gone for big spending to develop the ICT skill of people. Now the time has come to assess and evaluate how many people have really got jobs thanks to these initiatives," said Mashroor.
"But from what we are witnessing in the market we can say that the investment has largely been wasted."