Internet banking thrives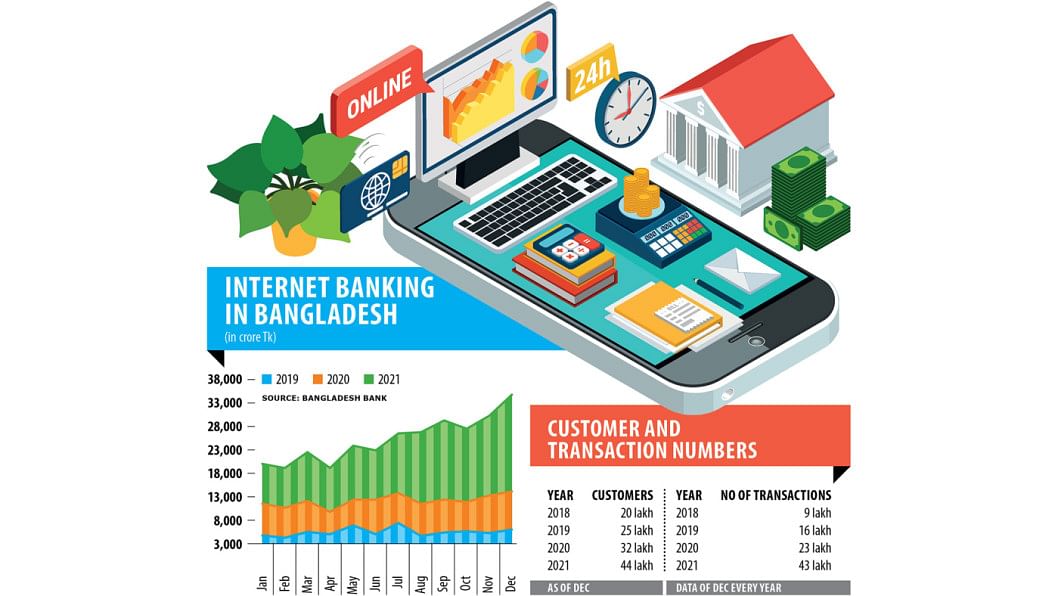 The transition from manual banking to its digital means is certainly not a new phenomenon for Bangladesh's banking sector. But the advent of the coronavirus pandemic has had clients from all walks of life honing in on internet banking to cut the chances of contracting the deadly flu.
Transactions through internet banking amounted to Tk 20,559 crore in December, up 154 per cent year-on-year and 21 per cent from that a month ago, showed data from the Bangladesh Bank.
Officials of the central bank and commercial banks say the banking sector has started taking up a wide range of initiatives since 2010 as part of its efforts to encourage the adoption of digital means.
Still, a majority of clients had long exhibited a reluctance to embrace digital methods due to their long habit of working with manual ones.
Although the business slowdown stemming from the coronavirus pandemic has taken a toll on the entire economy, it has created a paradigm shift in a way such that clients now prefer cashless transactions more than what they did in the pre-pandemic era.
People avoided going to shops or banks as much as possible during the peak of the pandemic to protect themselves from the flu, making use of alternative mobile applications and credit and debit cards to purchase essentials to get on with their lives.
With the pandemic now starting to run out of steam, general people are still eagerly gripping onto internet banking, helping the government's Digital Bangladesh agenda go from strength to strength.
The number of customers using internet banking stood at 44 lakh in December, up 37 per cent from a year ago.
A BB official says the central bank has also extended regulatory support to banks at the height of the pandemic so that they could widen their internet banking operations.
In September 2020, the BB increased the limit of inter-bank fund transfers through internet banking for clients, allowing a maximum of Tk 5 lakh per day against the previous Tk 2 lakh.
The central bank also doubled the ceiling of a single transaction to Tk 1 lakh from Tk 50,000.
Clients now are permitted to settle as many as 10 transactions per day, which was five previously.
Commercial banks have also rolled out various products in a bid to augment their internet banking operations.
For instance, almost all banks have already introduced mobile applications for customers, enabling banking irrespective of location.
Mashrur Arefin, managing director of The City Bank, says the outlook of banks being brick and mortar entities is no longer the main characteristic as customers have come to accept bank branches to be within smartphones.
"A long queue of people in front of banks' cash counters is hardly seen as clients now deposit their money or transfer funds from one bank to another, using mobile apps."
Clients of The City Bank transacted a staggering Tk 18,000 crore using its app, which will go up manifold in the years ahead, said Arefin.
The central bank's platforms – Bangladesh Real Time Gross Settlement (BD-RTGS) and Bangladesh Electronic Funds Transfer Network (BEFTN) -- have also helped popularise digital banking programmes.
People are now able to settle transactions of large volumes instantly through the RTGS while the BEFTN helps them carry out retail transactions within a day.
"Different types of payments, ranging from those of utility bills and tuition fees to that for booking flights or bus seats, can be now made from any place, which was hard to fathom six to seven years ago," Arefin said.
The availability of smartphones at affordable prices has contributed to the expansion of internet banking in recent times as well.
Brac Bank recently introduced a "Brac Bank Astha" mobile app, which has gone on to gain immense popularity among clients.
Thanks to its user-friendly features, the app now provides effortless and the most secured banking experience at clients' fingertips, said Md Mahiul Islam, head of retail banking of the private commercial bank.
"This has increased the volume of internet banking."
There was 43 lakh such transactions in the banking sector in December, which is 83 per cent higher year-on-year.
"We are looking forward to investing more for expansion of our digital banking operation," Islam said.
A central banker says branch-led banking is already on the wane in keeping with the spreading of internet banking, cutting operational costs of banks at the end of the day.
"This also benefits clients as they can opt out of going to branches to settle transactions, helping them to utilise their valuable time on another productive purpose."
In addition, settling transactions digitally has provided a boost to economic activities as money is now rolling more than in the past, he added.