Taming inflation, maintaining exchange rate stability critical: BB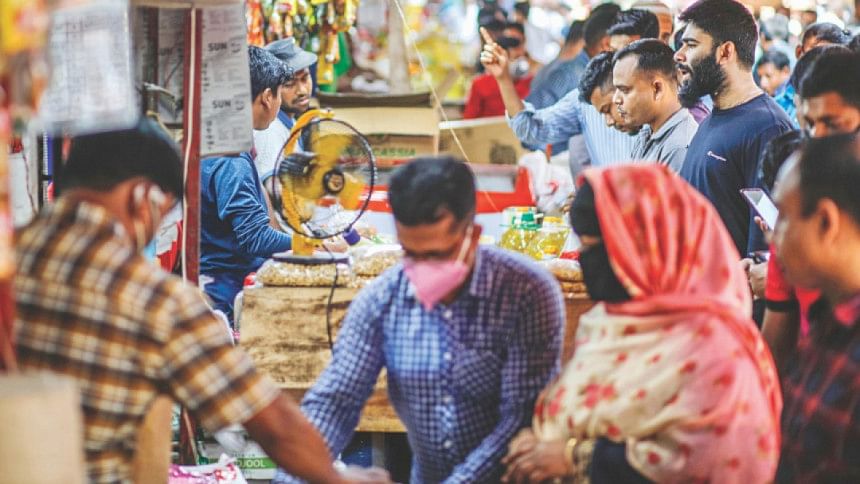 The major challenges for Bangladesh will be keeping inflation under control while maintaining currency rate stability in the coming days, according to the Bangladesh Bank's annual report.
In the report revealed recently, the central bank said the inflation scenario of Bangladesh experienced a gloomy scenario in FY22 and onwards especially until September 2022.
But containing inflation at tolerable levels and maintaining stability of the exchange rate would be a critical challenge for Bangladesh in the coming days, the BB said.
The inflation outlook in the coming months will depend on further spillover of price from supply-demand mismatch, the ongoing Russia-Ukraine war, the volatility in the exchange rate and commodity price hike in the international markets, it said.
The central bank also noted that an orderly exit from the extraordinary expansionary policy stance was necessary in light of the rising prices of commodities globally.
Despite lower than programmed monetary growth, Bangladesh had faced growing inflationary and exchange rate depreciating pressure since the second half of FY22, mainly because of the spillover effect of the unexpectedly higher global inflation rate along with excessive current account deficits.
As a result, the Consumer Price Index (CPI) went up to 6.15 per cent in FY22, surpassing the target of 5.30 per cent. It was 5.56 per cent in FY21.
Rising prices across the global markets induced by the supply disruption thanks to the war were also playing a role in increasing the prices of both food and non-food items in Bangladesh in FY22.
Besides, the budget deficit is widening and government borrowing from the banking system, particularly from the Bangladesh Bank, has witnessed a sharp increase recently, which could create upward pressure on the inflation outlook, the BB said.
Meanwhile, the Ukraine war heightened the potential losses of export demand along with international commodity price hikes, which led to higher import costs and trade deficit, mounting pressure on exchange rates, according to the annual report.
The taka has weakened by at least 20 per cent against the US dollar in recent months for higher costs of the American greenback.
The BB said a continued deficit is appeared in the current account balance in the external sector of Bangladesh since FY17.
"Even a negative overall balance is prevailing in the balance of payment (BoP) in recent months. Consequently, the foreign exchange reserve has declined and the exchange rate has also sharply depreciated."
The main factors behind the negative overall balance are higher import growth, negative growth of remittances, and less inflow in the capital and financial accounts, it observed.
The central bank said it, along with other concerned agencies of the government, have taken various measures to tackle the ongoing inflationary pressure.
It also said both the monetary and fiscal authorities will have to come forward with appropriate remedial measures to tackle the situation.