Improve logistics for higher economic growth
Experts say at workshop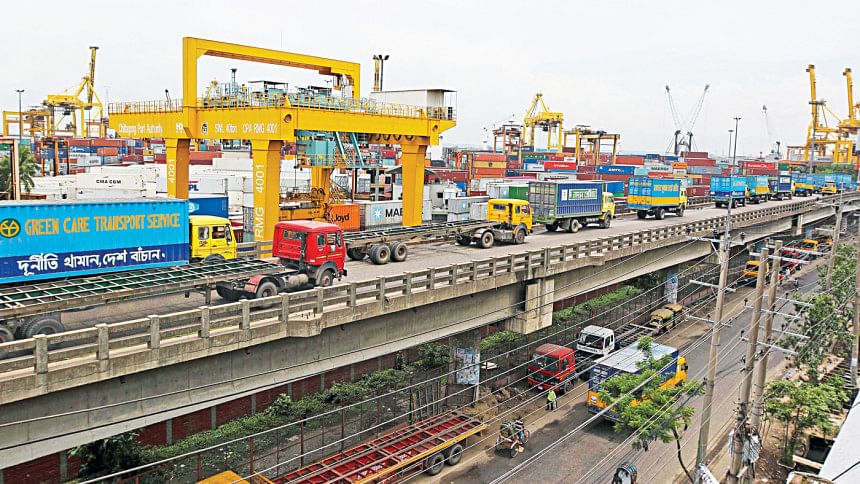 Bangladesh needs an efficient development policy for the logistics industry as inadequacies in the current infrastructure create hurdles for businesses and reduce the country's competitiveness and growth potential, according to experts.
"Bangladesh is not being able to take full advantage of its export potential because of insufficient logistics infrastructure," said Nihad Kabir, chairperson of the Business Initiative Leading Development (BUILD).
For example, the average speed of 90 to 95 per cent of goods laden trucks that ply the roads with import-export cargo is 19 kilometres per hour (kmph), which is much lower than the targeted 40 kmph.
"So, Bangladesh needs to put in place international level logistic services if we are to continue competing in the global market," she said, adding that connectivity through railways and waterways in the country remains unutilised.
Nihad was speaking at the inaugural session of a two-day workshop on "Formulating National Logistics Development Policy for Bangladesh: Experience from Global Good Practices", jointly organised by the industries ministry, BUILD and World Bank Group at the InterContinental Dhaka yesterday.
She then said Bangladesh's garment sector has set an export target of $100 billion, which will only be possible only if an effective logistic sector is established.
Other than the garment sector, other industrial sectors that are highlighted in the country's export policies need proper logistics to continue growing.
"So, the logistics industry holds importance for our economy, which is growing at a high pace," Nihad added.
She went on to say that the highways and railroads need to be prepared for handling the country's economic activities when all 100 of its economic zones go into operation.
"We will not be able to handle this unless we have a proper framework that enables us to do that," Nihad said.
The workshop was a part of first public-private interaction forum, termed "Logistics Infrastructure Development Working Committee (LIDWC)", developed by the Prime Minister's Office (PMO) and BUILD in 2020 to overcome the logistics barrier for economic development.
On request from the PMO, LIDWC, under the industries ministry, prepared a draft "National Logistics Development Policy Framework" this year.
The two-day workshop was organised to sensitize the participating public and private sector agencies on good global practices of logistics policies and nudge them towards a coordinated strategy to address the logistics bottlenecks, according to organisers.
About 10 ministries and more than 20 government agencies play roles in setting up policies and regulations, planning operating infrastructure and providing services and logistics.
Therefore, it is essential that there be good coordination to assure ease of doing business, reduce the cost of doing business and enhance trade affiliation to improve our logistics index, Nihad added.
Masrur Reaz, chairman of the Policy Exchange of Bangladesh, said a constitution of nodal agencies or ministries is needed for effective governance of the logistics sector.
He said Bangladesh lags in the logistics performance index compared to its peers.
Bangladesh ranked 100 overall with a score of 2.58 in the logistics performance index in 2018 while India was 42, Indonesia 51 and Vietnam 45.
Syed Nasim Manzur, president of the Leathergoods and Footwear Manufacturers & Exporters Association of Bangladesh (LFMEAB), said issues in the performance of the logistics sector lead to high logistics costs while the lack of reliability increases inventory carrying costs.
He said for the movement of containers inside the country, shipping lines require a bank guarantee or bond, leading to preferred transportation by covered van.
"The Bangladesh government can evaluate abolishing the requirement for bank guarantees and this can save costs for cargo owners and reduce road congestion, especially in proximity to the port," Manzur said.
He then said empty containers are considered as customs bonded goods, thereby requiring additional customs formalities for inland movement.
According to the LFMEAB president, Chattogram port's saturation capacity for the volume of cargo containers, delay in terminal extension, and lack of integration with off-dock terminals are major bottlenecks for the country's logistics sector.
Nurul Majid Mahmud Humayun, industries minister, Kamal Ahmed Mojumder, state minister, Md Tofazzel Hossain Miah, senior secretary to the PMO, Shomik Raj Mehndiratta, practice manager (transport) of World Bank South Asia, and Zakia Sultana, secretary of the industries ministry, also spoke.