Improve facilities, ease of doing business to attract more FDI
Suggests research report of FICCI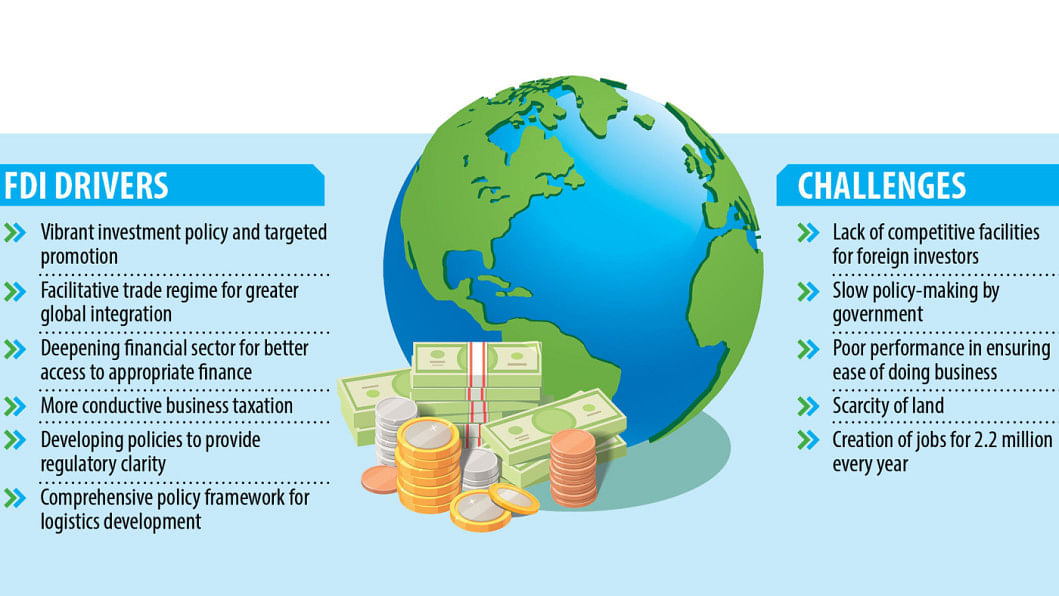 Enabling advantageous facilities for investors and making it easier to do business will help Bangladesh attract the foreign direct investment (FDI) expected in different sectors, according to the Foreign Investors' Chamber of Commerce & Industry (FICCI).
The government should focus on foreign investors' success stories and get them involved as brand ambassadors to highlight the opportunities and successes of multinationals running business in Bangladesh, said FICCI President Rupali Chowdhury.
She was addressing a knowledge-sharing workshop on a FICCI research report, styled "Growth drivers of Bangladesh: accelerating investment opportunities in agribusiness, digital economy and green finance", at the Renaissance Dhaka Gulshan Hotel yesterday.
Chowdhury suggested that foreign investors be offered more benefits than that provided by competing countries for Bangladesh to gain priority, create employment and attain higher economic growth.
However, she sees slow decision-making processes of the government as a challenge for investors who are pragmatic and unwilling to waste time.
The FICCI will hand over the report to the government on November 21.
According to the report, Bangladesh's resiliency and prosperity can be attributed to a number of causes, including increased private sector involvement, remittance, economic liberalisation, and trade integration.
Building on its achievements, Bangladesh intends to become an upper-middle-income country by 2031 and a developed country by 2041, but it must initially overcome fundamental high-level economic restrictions, the FICCI said.
The report focuses on agribusiness, digital economy and green financing for climate-smart investments to understand what is best to unleash their global and domestic competitiveness, taking into account global trends, Bangladesh's diversification needs and national priorities.
Moreover, it highlights fundamental strengths of the country's private sector.
The country's 8th Five-Year Plan aims to accelerate economic development and align it with its ambitions through stronger trade and investment.
In accordance with the plan, the amount of FDI targeted to be attained by 2025 will increase by six times, export by 66 per cent and the private investment to GDP ratio by 15 per cent.
The FICCI also said now Bangladesh has to perform better in certain areas and the vital role would be to expand FDI and step up revenue mobilisation and economic diversification to attain these targets.
Thus, the goal is to provide insight into these markets, which can be strengthened and improved for export markets in light of the best practices of successful countries, relevant gaps, policies and market activities, which would eventually assist in closing these gaps and unlocking the potential.
Addressing the programme, N Rajashekaran, country officer of Citi Bank, said the FICCI has plans to continue the momentum of three growth drivers to bring in more FDI and be more engaged with the government.
He also said foreign investors were jointly working for the economic growth of Bangladesh, actively participating in over 21 sectors.
The FICCI members account for 30 per cent of the government's internal revenue, which is 90 per cent of the FDI in Bangladesh, created 156,000 opportunities for direct employments and spent Tk 104.2 crore in corporate social responsibility activities during the pandemic.
Among others, Shwapna Bhowmick, country manager for Bangladesh and Myanmar at Marks and Spencer; M Masrur Reaz, founder and chairman of the Policy Exchange of Bangladesh; Naser Ezaz Bijoy, chief executive officer of Standard Chartered Bangladesh; and Deepal Abeywickrema, managing director of Nestle, addressed the programme.