Imports keep falling amid lingering dollar crisis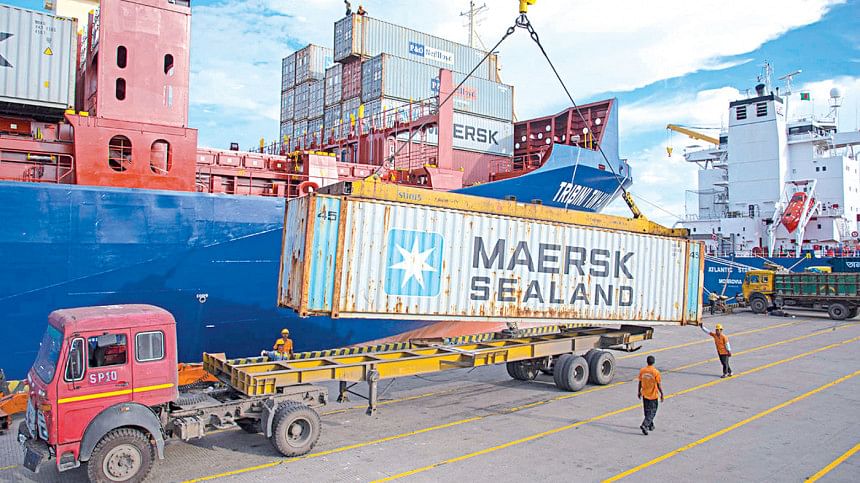 Bangladesh's imports dropped 14.40 per cent year-on-year to $58.78 billion in July-April of the ongoing financial year, which might be seen as a relief for the volatile foreign exchange regime but it could also deal a blow to the economy, official figures showed yesterday. 
Compared to July-March 2022-23 when it stood at $53.94 billion, import bills declined nearly 9 per cent in the first 10 months of the financial year, according to the data from the central bank.
Purchases of intermediate goods dipped 17.7 per cent to $37.48 billion, driven by a 21.7per cent fall in crude petroleum products amid the forex crisis. 
Bangladesh bought 4.5 per cent lower food grains, which comprise rice and wheat, at $22.03 billion in July-April. Rice imports were up 35.4 per cent but wheat procurement from international markets was down 13.4 per cent.
The imports of the raw materials -- raw cotton, yarn, textile and articles, staple fibre and dyeing and tanning materials -- used by the readymade garment industry, the biggest export earner, all declined.
Manufacturers have already said orders have fallen in the key markets such as Europe owing to a fall in demand caused by higher inflation stemming from the global energy crisis.
Capital goods worth $11.28 billion were imported in July-April, a decrease of 18.8 per cent from the same period a year ago. Capital machinery import fell 13.8 per cent and the purchase of other capital goods dipped 21.4 per cent, BB data showed.
Consumer goods imports, however, rose 1.9 per cent to $4.92 billion, led by a spike in the purchase of spices, edible oil and pulses.
Ahsan H Mansur, executive director of the Policy Research Institute, said the imports have fallen because of the US dollar shortage, not because of the regulatory controls.
"Our importers want to import raw materials, intermediate goods and machinery, but they can't do so because of the dollar crisis."
For the past one year, importers in Bangladesh have found it difficult to open letters of credit to buy raw materials and equipment from the international market owing to the persisting shortage of the American greenback. The shortage shows no sign of improving.
Mansur said the fall in the import of capital machinery means factories are not expanding. This will not bode well for the government's plan to raise the investment-GDP ratio by 4 percentage points in the next financial year.
"And if the investment does not go up, the economic growth target will not be achieved," he said, adding that the opening of fresh LCs has already plummeted by more than 55 per cent.
According to the former economist of the International Monetary Fund, imports have already fallen sufficiently and it should not be allowed to go down further. 
Central bank data showed the deficit in the financial account widened further to $2.16 billion in July-April.
The deficit was $2.04 billion in July-March whereas it stood at a surplus of $11.95 in July-April of the last financial year.
A financial account is a component of a country's balance of payments (BoP) that covers claims or liabilities to non-residents concerning financial assets. Its components include foreign direct investment, medium and long-term loans, trade credit, net aid flows, portfolio investment, and reserve assets.
A deficit shows more money is flowing out, while a surplus indicates more money is flowing in.     
Historically the financial account of Bangladesh has experienced a surplus almost every year.
For example, it was $944 million in FY16, $4.25 billion in FY17, $9.01 billion in FY18, $5.13 billion in FY19, $7.54 billion in FY20, $14.07 billion in FY21, and $13.67 billion in FY22, according to the World Bank data.
Mansur said the current account deficit of $3.77 billion could easily be overcome during normal times when the country's financial account was in surplus. But when the financial account has itself turned negative, it is difficult to plug the shortage in the current account.
"But we have no other way but the stop the depletion of the forex reserve and build it further."
He, however, thinks that turning the financial account into surplus wouldn't be easy under the current economic uncertainty and after Moody's downgrading of the country's sovereign rating.  
So, he urged the central bank to sit with banks immediately to find out the magnitude of the unpaid foreign bills. The Bangladesh Bank also needs to talk to external lenders and assured them that the country would pay back loans, he said.