BSCIC Industrial Estate In Nilphamari: A hub for small businesses
But they are fighting for survival due to Covid-19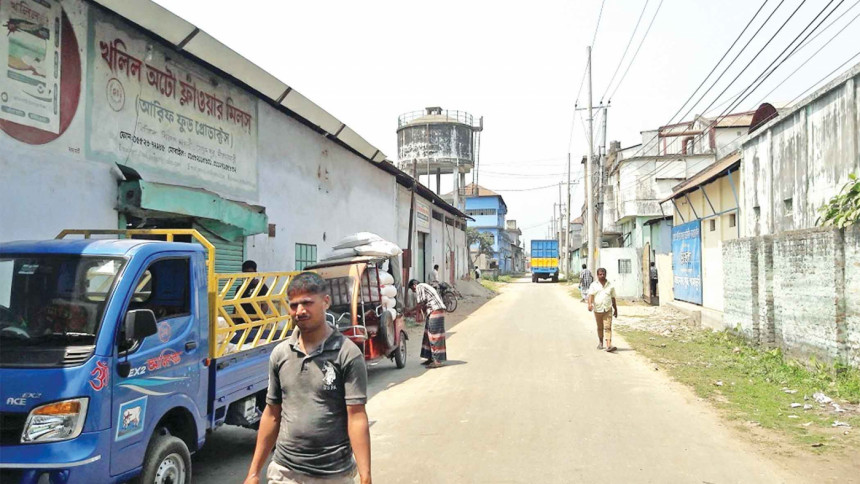 The industrial estate of the Bangladesh Small and Cottage Industries Corporation (BSCIC) in Nilphamari has become a hub for small businesses as it gives them easy access to key markets in the northern part of the country.
However, the estate has experienced its fair share of adversities amid the ongoing coronavirus pandemic.
"Although foreign buyers are not placing orders because of the pandemic, we have continued our production in the hope that things will be better soon," said Nur Islam, a director of Selim Agro.
Selim Agro, the largest factory in the BSCIC industrial estate, employed about 450 people to produce various jute goods for export to India and Nepal during the pre-pandemic era. Now, the number of workers has fallen to 300.
Arman Hossain, the labour supervisor of the factory, said that unlike many mills outside the estate, their workers were paid in a timely manner despite the current situation.
Abul Kashem, president of the BSCIC Factory Owners Association, said the Department of Environment should arrange awareness programmes on safe factory operations to help tackle the Covid-19 situation.
Established on 11 acres of land in Saidpur municipality's Neyamatpur area in 1986, all 92 plots in the estate were allocated to 49 industries within a few years.
Today, the estate is home to many small enterprises, particularly from the consumer goods, light engineering, chemical, and agro-based product sectors.
"And in the face of increasing demand from young entrepreneurs, the authorities are actively considering a proposal to expand the industrial estate by another 40 acres," said Jewel Chandra Sen, deputy director of the BSCIC district office in Nilphamari.
This sets the Nilphamari estate apart from other BSCIC industrial parks in adjoining districts, where plots either lie useless or are completely monopolised by large enterprises.
"This estate may be considered a breeding ground for small entrepreneurs as one to three plots can be allocated to a single party. Larger units are not preferred since they take up most of the area," said Partha Sarathi Sarker, acting chief of the industrial park.
"Our success lies in the good communication network as the estate is situated beside the Dhaka-Dinajpur highway, which provides access to big markets in Rangpur and Dinajpur," he added.
The availability of cheap rail transport also makes it a lucrative area for setting up factories.
Sarker praised entrepreneurs for their relentless efforts to ensure production and supply.
During a recent visit to the estate, it was found that a good number of factories are still operational.