HR Lines adds two more container vessels to fleet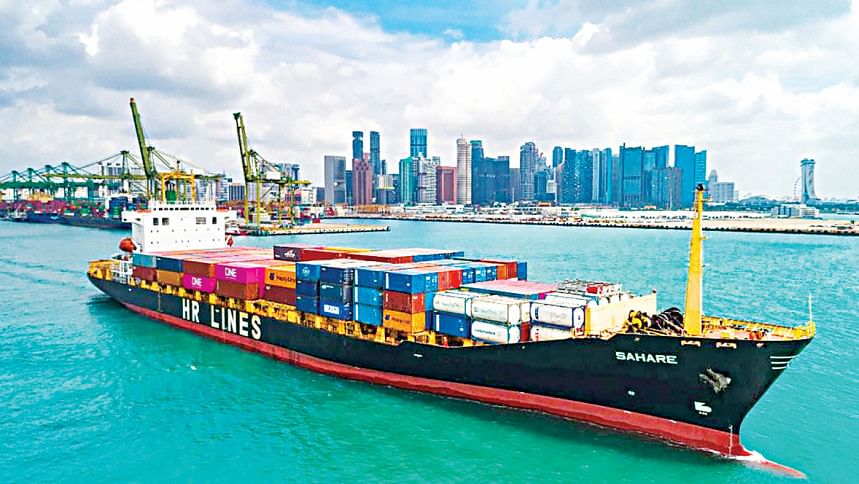 Feeder-vessels operator HR Lines Limited, a subsidiary of Karnaphuli Group, has expanded its carrying capacity by adding two more container ships to its fleet.
Senior officials of Karnaphuli Group, the only company in Bangladesh to own container vessels, yesterday confirmed the acquisition of HR Turag and HR Balu, which have a carrying capacity of 1,100 TEUs and 1,700 TEUs respectively.
With these two, the number of container vessels owned by the firm will go up to eight with the fleet now having a combined carrying capacity of 11,840 TEUs.
HR Lines currently operates two liner services with one being the Chattogram-Singapore-Port Klang route while the other is the Chattogram-Colombo route.
According to Alphaliner, an internet-based reference and information source on liner shipping, HR Lines now ranks 74th among the top 100 global container carriers, and as per the local company, it is the largest South Asian owned container shipping line.
The eight HR line operated vessels are among at least 60-65 vessels that are currently operating between Chattogram and four transhipment hubs, namely Colombo, Singapore and two Malaysian ports -- Port Klang and Tanjung Pelepas.
The total number of Bangladeshi owned ocean-going vessels, including bulk careers and container vessels, rose to 91 at the end of 2022 from 80 a year ago.
According to the Mercantile Marine Department (MMD), two more Bangladeshi flagged bulk vessels were added in January, raising the number to 93.
MMD officials said that with the new two container vessels, the number will now go up to 95, the highest so far.
According to market insiders, Karnaphuli Group already closed deals with two shipping lines -- Maersk Line and SITC Container Lines -- to purchase the two second-hand ships.
The company has invested around Tk 250 crore for the purchase.
In June 2020, HR Lines launched two container vessels -- MV Sahare and MV Sarera -- with each able to carry 1,550 TEUs of containers on the Chattogram-Singapore-Port Klang-Chattogram route to introduce the Bangladesh Express Service.
In early 2021, the firm purchased four old container vessels from Singapore's Pacific International Lines (PIL) and its subsidiary PST Management Pte Limited at a cost of around Tk 2.25 billion.
Two of the four vessels, namely MV HR Hera and MV HR Rhea, that each have a capacity of 1,454 TEUs were first deployed on the Chattogram-Colombo route in March that year, when the operator introduced Chattogram-Colombo Express (CCE) services.
Later, HR Hera and HR Rhea were placed on the Chattogram-Singapore-Port Klang route with MV Sahare and MV Sarera to be redeployed on the Chattogram-Colombo route.
In October 2021, two more vessels -- HR Farha and HR Aarai -- that each have 1,550 TEUs carrying capacity were added to the CCE service.
Currently, the four vessels deployed on the Chattogram-Colombo route carry goods twice a week.
HR Lines is planning to deploy HR Turag, one of the two new ships, on the Chattogram-Colombo route as well, which would enable it to operate thrice a week on average.
Hamdan Hossain Chowdhury, managing director of Karnaphuli Group, said they are planning to launch a shuttle service on the Chattogram-Singapore route with the HR Balu.
As local businesses mostly depend on foreign vessel operators, HR Lines is trying to expand the local fleet to help reduce foreign currency spending amid spiralling shipping costs.
HR Lines aims to keep at least one of its vessels at Chattogram port almost every day to sail either for Colombo, Singapore or Port Klang.
"We plan to acquire more ships during the course of this year and this will facilitate further enhancement and upgradation of our feeder services connecting Chattogram with major transshipment hubs," Chowdhury said.
"Our immediate focus is to deploy more than 50 per cent of the total trade tonnage between Chattogram and each of the hubs," he added.