Homemade agro-machinery making a difference
Single producer in Dinajpur changing the face of local cultivation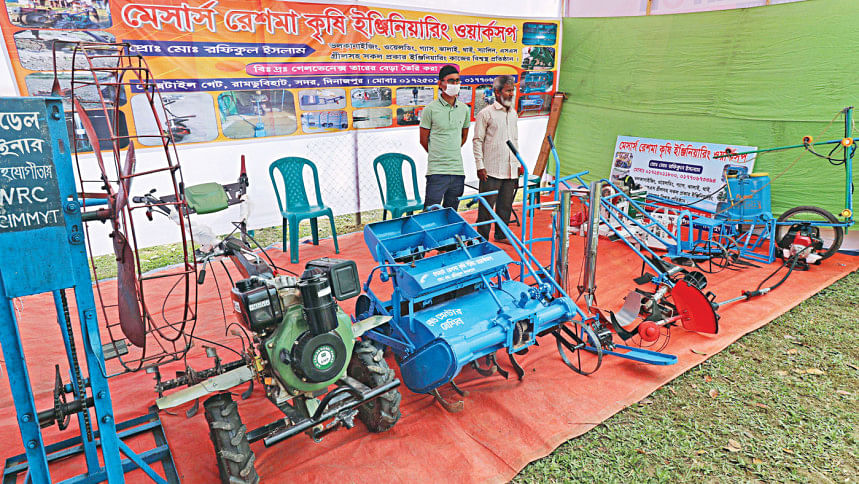 Rafiqul Islam, who lives in the Dashmile area of Dinajpur sadar upazila, has innovated various types of agricultural machinery that provide a cheap and easy way for famers to achieve higher production.
Over the years, Islam has developed weeding tools, automated pesticide sprayers, planters, harvesters, manual and power tillers, and more despite being educated only to the fifth-grade level.
And with affordable prices ranging from Tk 150 to Tk 60,000, many farmers and institutions across Bangladesh prefer these wares over more expensive, industrially made models.
As the country depends on agriculture for food security, operations in the sector must be made as cost-effective as possible, according to Islam.
"Otherwise, our dependency on food imports will keep rising," he told The Daily Star yesterday.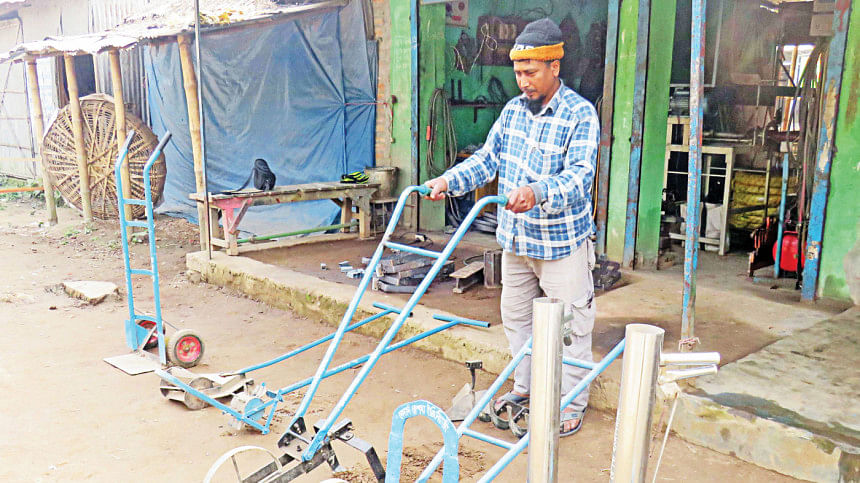 Islam started working as an assistant at an agricultural tool repair shop in the Dashmile area of Dinajpur's Kaharol upazila back in 1990s.
Initially, his work simply meant helping out experts at the workshop. However, they saw fit. But after a couple of years, Islam had learnt the inner workings of various agricultural machinery and became adept at repairing them.
Some common imported tools, such as tractors and tillers, were available in local markets back then but most farmers could not afford them.
For example, maize was widely cultivated in Dinajpur at the time, but farmers had to separate the husks by hand in what was a very difficult and time-consuming process.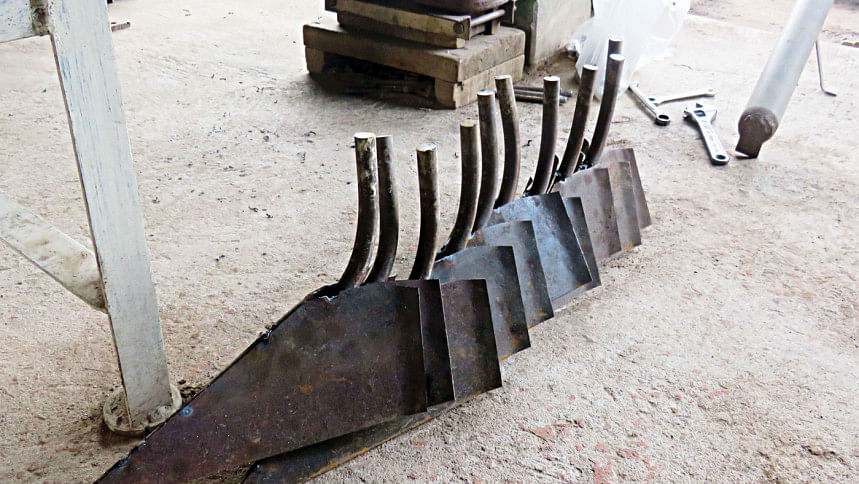 This prompted Islam to develop a device to ease such work. Then in 1995, he finally succeeded in crafting the required tool, which closely resembles a traditional spinning wheel and had to be cranked by hand.
The device, which costs about Tk 150 to make, received a massive response from local farmers and Islam soon found himself unable to keep up with the demand.
"That device was very helpful for us at the time," said Dukhu Mia, a farmer of the Dashmile area.
Later, Islam developed a power-operated version of the same tool.
In 2008, he opened a shop for his own agricultural machinery in Sadarpur village under Dinajpur sadar upazila, just next to the Dinajpur-Rangpur highway.
So far, he has developed around 15 different tools to facilitate farming.
Other than farmers, Islam has received orders from different organisations, including the Hajee Mohammad Danesh Science and Technology University, Bangladesh Agricultural University in Mymensingh, Bangladesh Agricultural Research Institute (Bari) and Bangladesh Wheat and Maize Research Institute (BWMRI).
In addition, many private organisations are purchasing agro-machinery from Islam as well.
Islam's bed planter machine is particularly popular as this single device can be used to till land, apply fertiliser and plant seeds, helping farmers reduce costs while increasing production.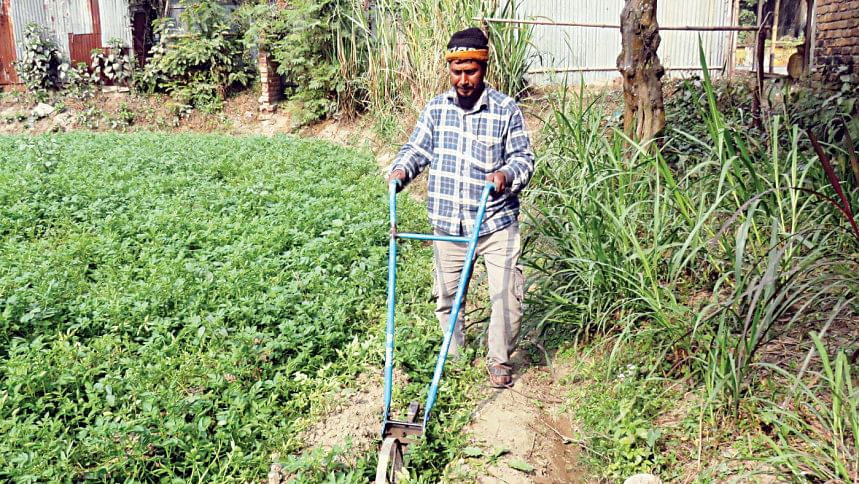 "This device gained popularity among local farmers for being highly cost-effective," said Abdul Hakim, principal scientific officer of the BWMRI in Dinajpur.
As such, Islam has already supplied a large number of bed planters, which can be used to grow wheat, rice, maize, lentil, jute, potato and other vegetables too, he added.
The International Maize and Wheat Improvement Center (CIMMYT), a global organisation for maize and wheat research, also purchased bed planters from Islam for use in different countries.
However, Islam feels he has not been able to play too big of a role in developing agriculture in Bangladesh due to the lack of financial support.