Home textile now second biggest export earner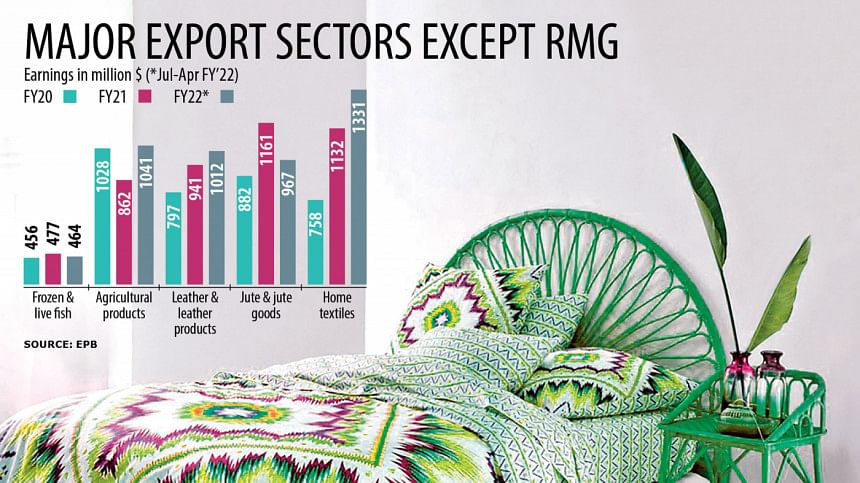 Exporters fetched $1.3 billion from shipping home textiles in the July-April period of the current fiscal year, posting 39 per cent year-on-year growth.
Receipts from shipments of home textile items such as bed sheets, pillow covers, curtains and cushion covers were higher than export receipts from agricultural products as well as leather and leather goods during the period.
Home textile exports were 28 per cent higher than its nearest peer, agricultural products, namely dry foods, vegetables, tobacco and spices.
Jute and jute goods, which topped the export basket as the second biggest earning source in fiscal year 2020-21, fell to fifth place in the face of falling demand for jute yarn, twine, sacks and bags, according to the Export Promotion Bureau (EPB).
"We have been registering increasing demand for home textiles from the last fiscal year as people stayed home as a part of coronavirus containment measures," said Shahidullah Chowdhury, executive director of Noman Group, the main exporter of home textile. It exports $27 million worth of home textiles each month.
"Our main markets are Europe, Canada, the United Kingdom and Japan. However, our exports are increasing in new markets such as Australia," he added.
The sector first crossed the $1 billion mark in fiscal 2020-21 thanks to a 49 per cent year-on-year hike in export earnings, driven mainly by higher costs and prices of raw cotton and other materials.
Export earnings were only 3 per cent of the total receipts of $38.75 billion for that year with garments accounting for 81 per cent, according to the EPB.
"Definitely the volume of exports has increased too," said Abul Basar, general manager of human resource, admin and compliance of Momtex Expo Ltd, another major exporter.
He said Bangladesh can offer competitive prices as labour costs here are the cheapest. Labour cost has increased in China, which once dominated the home textile market.
Political uncertainty in Pakistan has also discouraged buyers from placing orders there, Bashar said.
"So, the increased order flow is likely to sustain," he added.
Harun-Ar-Rashid, managing director of Apex Weaving and Finishing Mills Ltd, said nearly 10 textile mills export home textile products from Bangladesh and the export volume is not that high. Bangladesh only has a 7 per cent share in the global home textile export market.
He went on to say that demand may decline due to a yarn shortage and the ongoing war in Ukraine.
Noman Group's Chowdhury said exports would grow if the government provides policy support. Increasing the cash incentive for exports to 10 per cent from the present 4 per cent and reducing congestion at ports will be instrumental for increasing export earnings from home textiles.
"We have political stability now but what we need is policy stability," he added.