MADDHAPARA GRANITE MINING COMPANY
Hard-rock dealers violating contract
Charging higher rate than that set by the state-run company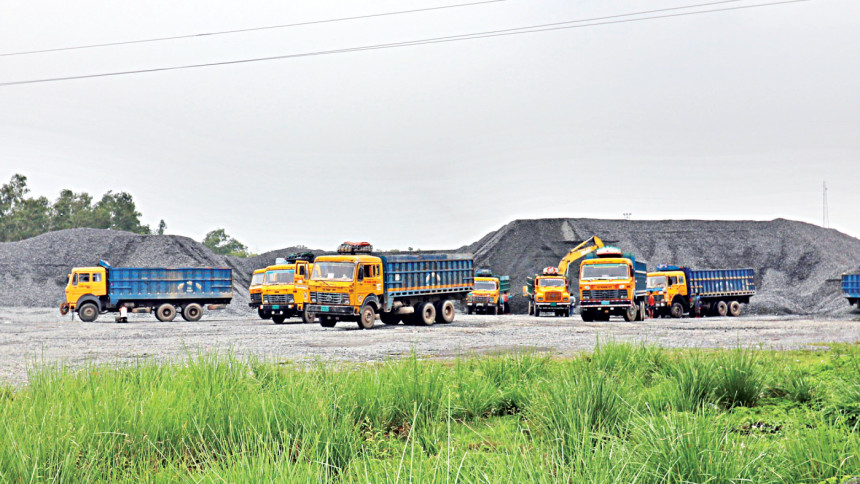 The hard-rock mined by Maddhapara Granite Mining Company Limited (MGMCL) in Parbatipur upazila of Dinajpur is getting costlier for end-users as dealers are charging higher rates than that of the state-run company.
MGMCL, which commenced commercial hard-rock mining in May 2007, belongs to Petrobangla, another state-run company that manages mineral resources, oil and gas in the country.
The objective of setting up this company was to meet the demand for hard-rock at the lowest cost.
But this goal remains a distant dream due to unabated syndicating of the company's contracted hard-rock dealers, according to various sources. 
Dealers are allegedly charging Tk 1,000 higher against the actual rate.
There is high demand for the hard-rock mined in Parbatipur for its quality and durability. The rock is first choice for government projects as well as private sectors' initiatives.
As such, various organisations such as Bangladesh Railway, Bangladesh Water Development Board, the Public Works Department, local governments and the engineering department use the key construction material.
In addition, the rock being mined by MGMCL is being used for many mega development projects, including the Rooppur Nuclear Power Plant and 3rd terminal of the Hazrat Shahjalal International Airport in Dhaka.
Hard-rock is also imported from countries such as India and Bhutan to meet the annual domestic demand.
MGMCL sells its rocks through appointed dealers.
Sources say MGMCL signed contracts with 93 dealers from different districts to sell the hard-rock procured in Parbatipur. Under their contracts, the dealers are supposed to sell the stone as per the rates set by MGMCL.
The dealers get 3 per cent commission against their sale.
But in violation of contract rules, the dealers are selling hard-rock to end-users at higher rates by forming syndicates. Besides, the authorities remain indifferent to the issue despite being informed.
Germania Trest Consortium (GTC) was contracted by MGMCL to mine the rocks as well as develop and maintain the mine.
The company has been producing around one lakh tonne of hard-rock every month, and the produced rock is sold to customers through all 93 dealers with equal distribution.
MGMCL offers there six sizes of rock for sale at different prices.  The mine authorities recently raised the price of the construction material by $2-3 per tonne.
Among the six sizes, 5/20 is the most demanded for construction purposes.
The stone previously sold for $32 per tonne, but its new rate was set at $35 following the price hike.
If a dealer wants to buy hard-rock from MGMCL, they need to pay the associated value to assigned banks alongside a Tk 60 per tonne loading charge.
Including all expenses, the price of each tonne hard-rock is about Tk 3,065.
However, dealers have been found to be selling the stone at higher prices.
This correspondent recently spoke with several dealers by posing as a buyer, and found that they are rampantly selling the hard-rock at much higher prices than that set by MGMCL authorities.
Most dealers were found charging as much as Tk 4,000 per tonne, almost Tk 1,000 higher than the given rate. The average monthly sale of a dealer is 500 to 600 tonnes. 
"This means the dealers are earning an extra Tk 5-6 lakhs per month," said Rubel Ahmed, the manager of a construction company. He alleged that all dealers are charging similar rates as they have formed syndicates.
"We, the construction companies, are almost hostage to them," he said, adding that MGMCL authorities know of the matter but hardly take any action against dealers who violate their contracts.
Zahangir Alam of M/S Alam Traders, a dealer of MGMCL, said he bought a short supply of hard-rock, for which he has been forced to charge higher prices. However, officials seeking anonymity said dealers are not authorised to regulate the price rates.
The annual demand for hard-rock in the country is around 10 million tonnes, of which the stones procured from MGMCL's mine only meet a tiny portion.
The state-run company could not even attain 1.65 million tonnes of rock annually.
The annual rock production was around 8.23 lakh tonnes in 2019-20 while 10.17 lakh tonnes were procured in fiscal 2020-21, as mentioned in MGMCL's annual report.
Md Habibul Islam, assistant secretary of the Bangladesh Economic Association, said such a trend among dealers would ultimately affect the country's development work.
Besides, end-users would opt for alternative sources from other countries like Bhutan and India, which is cheaper and not better in quality, he added.
Abu Daud Mohammad Fariduzzaman, managing director of MGMCL, refused to comment on the issue and instead asked this correspondent to send him a snap of his accreditation card.
"I will talk after getting it," he said.