Govt readies rules to pave way for electric vehicles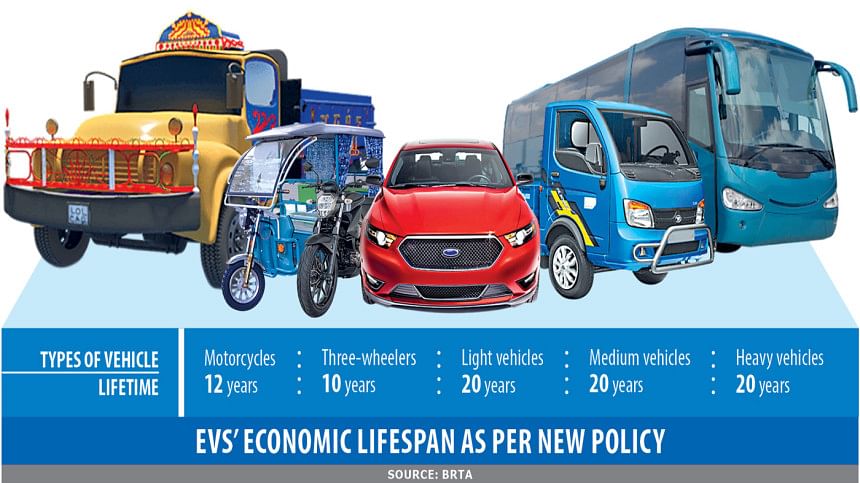 The government is set to remove all complexities for the registration and operation of electric vehicles in Bangladesh as the Road Transport and Bridges Ministry has prepared a guideline in this regard.
The draft "Electric Motor Vehicle Registration and Movement Guideline 2021" emphasises ensuring safety standards and an adequate economic lifetime for electric vehicles.
After preparing the guideline, the Road Transport and Highways Division published the draft on its website on November 24, seeking public opinions within a month. Besides, the division has already sent copies of the draft to the ministries concerned, according to various sources.
After getting opinions from individuals and ministries, the division will hold an inter-ministerial meeting before finalising the draft. Necessary procedures would then be followed before making the guideline functional, said an official preferring anonymity.
The development comes three years after a draft guideline was submitted to the division in November 2018. The division then sent a four-member delegation to India to gain experience. After a two-year pause, the move gained momentum in January this year. The registration and movement related guidelines for electric vehicles are being formulated as per clause-124 of the Road Transport Act 2018.
As such, electric vehicles will be registered just like conventional ones and the same rule is applicable for battery-run three wheelers.
According to the policy, electric vehicles are run by electric motors powered by rechargeable batteries. However, battery-run rickshaws and bicycles do not fall in this bracket.
In addition, a vehicle's chassis must be engraved with certain details, such as its international vehicle identification number.
The policy also said that the speed capacity of electric vehicles in loaded conditions would have to be set at levels like that of conventional vehicles as per law.
Abdul Matlub Ahmad, chairman of Nitol-Niloy Group and former president of the Federation of Bangladesh Chambers of Commerce and Industry, said the initiative is great news for electric vehicle manufacturers as it would help develop the industry.
"Car importers could not even import these vehicles due to the lack of a registration policy," he added.
Regarding the commercial lifetime of such vehicles, Ahmad said the government should reduce the expected tenure for all vehicle categories.
Local automobile companies such as Bangladesh Auto Industries Ltd and Nitol Motors, a concern of Nitol-Niloy Group, have been working since 2019 to set up electric vehicle plants in the country.
Under the automobile policy, the government introduced more attractive tax exemptions and tax holidays for investments in energy-efficient vehicle assembly even if the plant is located outside an economic zone.
It also introduced import duties and reduced VAT for promoting local assembly.
Besides, manufacturers can get a 10-year tax holiday if 30 per cent of the components used are locally sourced and another 10 years if it is 40 per cent.
"If the government legalised easy bikes in line with electric vehicles, huge investment would come to Bangladesh as it has a big market," said Syed Samiul Huq, director of Japan SolarTech (Bangladesh), which locally manufactures products of Yuasa, Japan's leading automobile battery brand.
Around 12 lakh to 20 lakh unregistered easy bikes and battery-operated three-wheelers are currently plying the roads in Bangladesh.
However, only substandard easy bike batteries imported from China or assembled in Bangladesh are available in the country.
However, Japan SolarTech did not invest in manufacturing easy bike batteries due to the lack of a legal framework and support in this regard, Huq said.
After the proposed policy is introduced though, people will invest in the manufacturing of lithium batteries in Bangladesh, he added.