Give collateral-free loans to women entrepreneurs
Analysts urge banks at EBL roundtable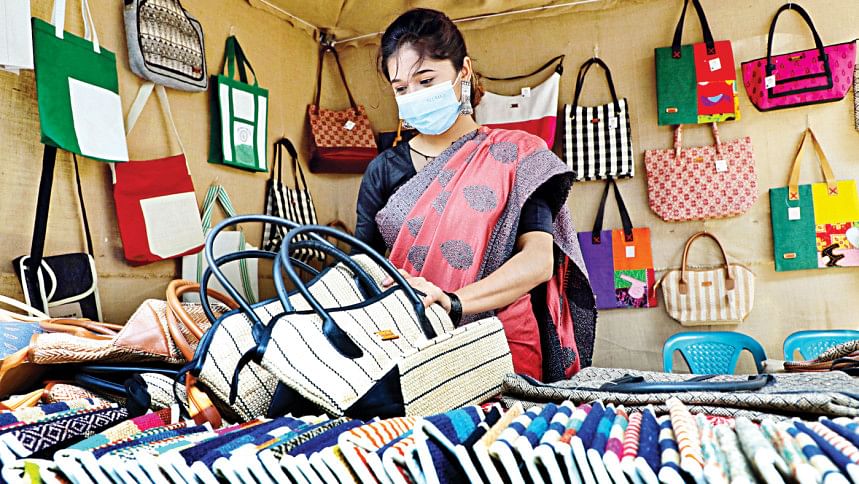 Banks should take initiatives to give collateral-free loans to women entrepreneurs by simplifying the loan application process, analysts said yesterday.
They came up with the recommendations at a roundtable on "Financial Inclusion for Women's Economic Empowerment", organised by Eastern Bank Ltd (EBL) to celebrate International Women's Day.
Rokeya Kabir, member secretary of the Bangladesh Nari Progati Sangstha, said that money is being plundered from banks in Bangladesh and the amount of bad loans is increasing.
She questioned why female entrepreneurs have to meet stringent requirements to get loans of just Tk 10-15 lakh.
"Women are one of the key drivers of the country's ongoing development, which is why banks should take the initiative to disburse loans without any hassle for female entrepreneurs," Kabir added.
Sadiq Ahmed, vice chairman of the Policy Research Institute of Bangladesh, said a gender gap prevails in many countries, but it is surprisingly high in Bangladesh.
According to the World Bank's Findex 2017, Jordan had the highest gender gap out of the 140 countries surveyed with 30 per cent while Bangladesh and Turkey were close behind with 29 per cent.
However, the spread of the ICT revolution is expected to help close the gender gap in access to financing through the lower cost of mobile financial services, Ahmed added.
Ali Reza Iftekhar, managing director of EBL, said there are almost eight million businesses in Bangladesh.
Of the many deterrents for female entrepreneurship in Bangladesh, possibly the biggest stumbling block is the glaring gender gap in financial inclusion due to socio-cultural constraints, lack of control over decision-making and low digital-technology literacy.
Nuzhat Anwar, acting country manager for Bangladesh, Bhutan and Nepal of the IFC, said the highly complex loan application process of banks in the country discourages women entrepreneurs from availing loans.
Jayendu De, country representative of the International Monetary Fund, said Bangladesh should also learn from global experiences to solve the issue of female entrepreneurs.
Nazneen Ahmed, country economist of the United Nations Development Programme in Bangladesh, said that both the central bank and commercial banks should take initiative to conduct financial literacy programmes for female entrepreneurs.
At the event, EBL also launched a banking product called the "EBL Mastercard Aqua Women Prepaid Card". This is the first product of its kind to be exclusively geared towards Bangladeshi women aged 18 years and above.
As such, this financial solution can be used by female entrepreneurs, students, service-holders, and women from all other walks of life.
Among others, Md Habibur Rahman, chief economist of Bangladesh Bank, Md Abul Bashar, executive director, Rupali Chowdhury, managing director of Berger Paints Bangladesh, Nihad Kabir, director of the Metropolitan Chamber of Commerce and Industry, and Ziaul Karim, a senior executive of EBL, addressed the event.