Garment workers vulnerable for poor living conditions: survey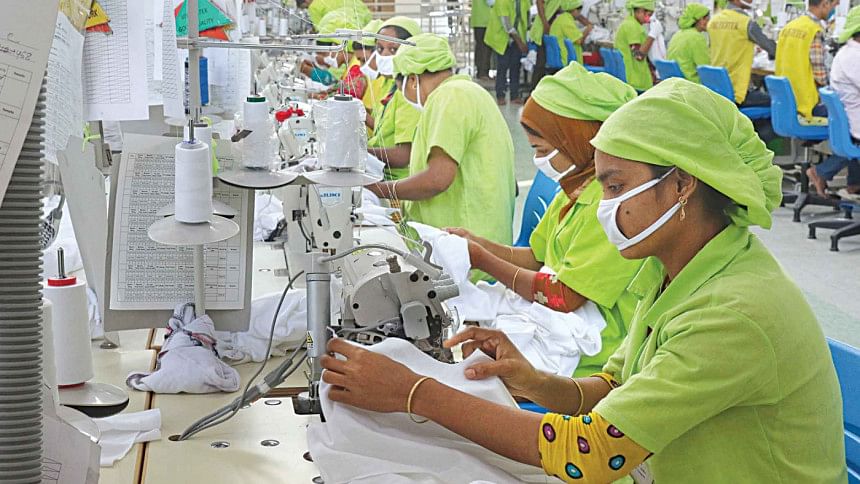 Garment worker are still in a vulnerable position as they can hardly follow health protocols to protect themselves from the coronavirus, according a paper presented at a webinar yesterday.
The paper, "Post Covid-19 sustainability challenges for readymade garments (RMG) industry: A study on Bangladesh", said workers had to put their lives at stake on returning to their residences where they have to live in congested spaces and where ensuring social distancing is difficult.
"When they go home and use common bathrooms, sit and eat in common places and use common transport, the risk of infection of coronavirus remains," said Shuvra Dey Babu, who leads one of the merchandising teams at Beximco Industrial Park.
"From that point of view, it is very difficult for them to follow the rules of hygiene and physical distancing," he said.
The paper, also co-authored by Swadip Bhattacharjee, an assistant professor of the University of Chittagong, and freelancer writer Arjita Saha, was presented at a session of an international conference titled "Business for Sustainability".
The University of Dhaka organised the event.
The researchers said Bangladesh's RMG industries need more green industrialisation as a huge amount of energy was used here for lighting and other maintenance purposes.
Implementation of advanced technologies is required to set up sustainable industrialisation, according to the study.
The research began in late October 2020 and ended in the middle of November and researchers carried out the survey through phone calls, emails, and WhatsApp messages among 48 participants with the objective to find out the post-pandemic challenges in the garment industry.
The local garment industry started its journey in 1976 and is now the second largest exporter of apparel in the global market. This sector accounts for around 85 per cent of Bangladesh's total annual exports.
The growth of the garment industry has led to an enormous impact on the country's socio-economic development.
Mohammed Farashuddin, former governor of Bangladesh Bank, moderated the event.