Garment workers' purchasing power wears away: Sanem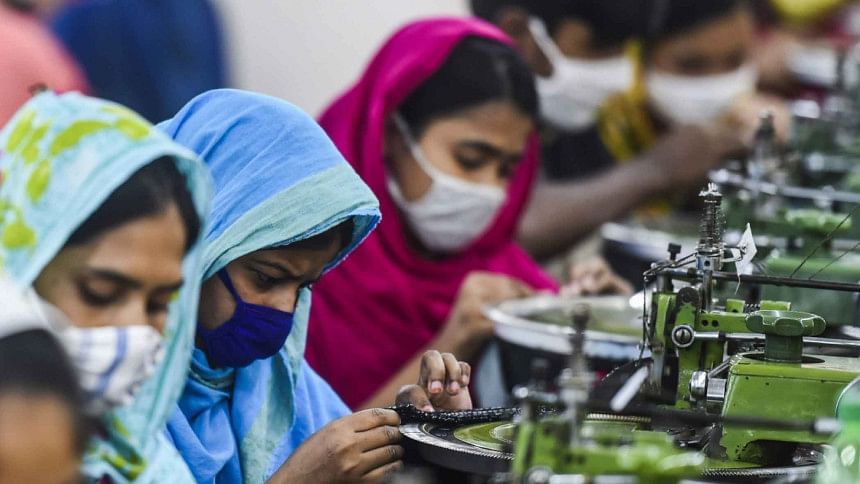 The rising cost of living is eroding the purchasing power of garment workers even though most of them work overtime in order to make ends meet, according to the findings of a study released yesterday.
Garment workers work for more than 10 hours a day on average but even after working overtime, the cost of food and rent alone eat up most of their earnings, it said.
The study was carried out by Microfinance Opportunities in collaboration with the South Asian Network on Economic Modeling (Sanem) as a part of the latter's "Garment Worker Diaries" project.
"Even with higher income through overtime work, the purchasing power of garment workers is declining," said Bazlul Haque Khondker, chairman of Sanem, while unveiling the findings at a webinar styled, "The Lives of Garment Workers During Covid-19".
The study found that the average monthly house rent paid by each garment worker was Tk 3,500 as of March 2022, representing a 17 per cent increase over a period of two years.
Meanwhile, the price per kilogramme of rice increased by 12.5 per cent between September 2017 and January 2022.
As such, the survey results point out the worsening buying capacity of garment workers at a time when inflation is on the uptick due to food prices staying persistently high and rising non-food prices.
In April, overall inflation stood at 6.29 per cent, the highest in 18 months and up from 6.22 per cent in March, according to data from the Bangladesh Bureau of Statistics.
Khondker went on to say that the garment industry was expanding rapidly.
"Scores of orders are coming to the country and so, the industry requires more employees. However, that number of employees is not currently available," he said.
Expanding the supply capacity to meet additional demand has forced existing workers to work longer hours, he said, adding, "This is not sustainable."
Khondker said Vietnam and Indonesia conducted several studies and found that the provision of social safety net programmes increases labour productivity and firm profits.
So, the government and Bangladesh Garment Manufacturers and Exporters Association should come forward to take such initiatives for garment workers, he said.
The Garment Worker Diaries project aims to collect data on the working conditions, income, expenditure and financial tool usage by workers in the global apparel and textile supply chain.
Researchers of the study have been collecting data from about 1,300 workers in the main industrial belts such as Chattogram, Dhaka city, Gazipur, Narayanganj and Savar since April 2020.
Some 76 per cent of the workers were female, which roughly represents the composition of the labour force in the garment sector as a whole.
According to the survey, a government programme aimed at facilitating digital payment systems in the garment industry was launched in April 2020 and ran for three months, during which some 2 million accounts were opened.