Female bankers in top positions on the rise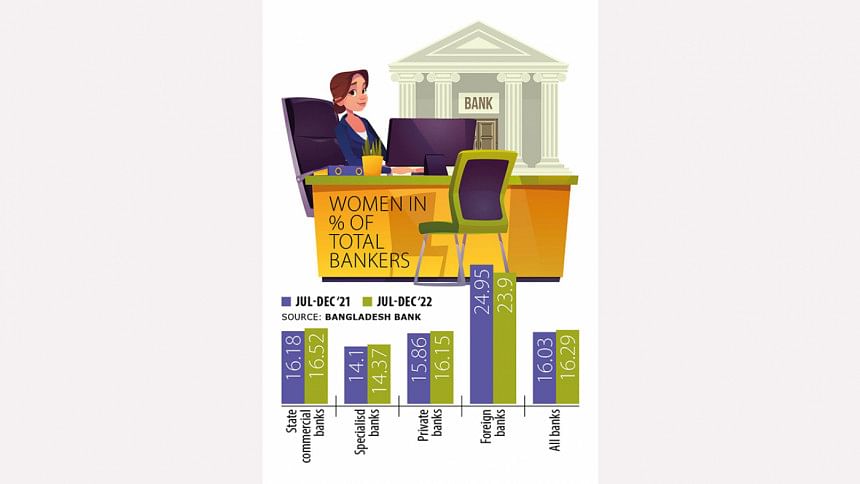 An increasing number of female bankers are gradually securing top positions at banks thanks to their skills, competence and dedication, according to a Bangladesh Bank report released yesterday. 
The ratio of women in senior positions at banks was 9.22 per cent in July-December of 2022. It was 7.57 per cent five years ago, said the BB in its Gender Equality Report of Banks and Financial Institutions.
Similarly, the proportion of female bankers at the entry-level and mid-level posts increased, albeit at a slower pace.
The percentage of women as board members rose to 14.22 per cent in July-December of last year from 13.7 per cent five years ago.
The ratio of female bankers also increased. For example, at the end of December 2018, women accounted for 15 per cent of the total bankers at 168,192.
Four years down the line, women comprised 16.29 per cent of the workforce in the banking sector at 196,102 in the second half of 2022, according to the central bank report.
The ratio of women in senior positions at banks was 9.22 per cent in July-December of 2022
Mohammad Ali, managing director of Pubali Bank, said women's participation in the banking sector is increasing owing to job security and a good working environment.
"They can take part in the decision-making process. There is no discrimination in salaries and the banking sector has the best job security among all the sectors in Bangladesh. Their participation will increase in the coming days as well."
Ali credited the efficiency and dedication of women for their rise to leadership roles.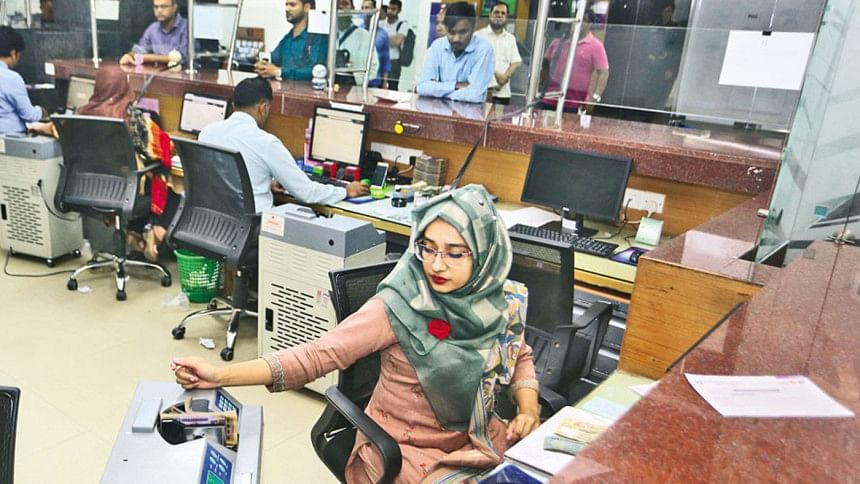 "They have a presence in the senior management team and risk management and other important teams of banks," he said.
The BB report said the highest number of people are employed at 43 private banks. Collectively, they employ 131,264 persons, of which 16.15 per cent were women. But they accounted for 66 per cent of female bankers in 2022, up from 61 per cent in 2018.
Ali recalled the ratio of women bankers was 4 per cent of the total workforce at Pubali Bank when he joined in 2008. Now women account for 18 per cent of the total headcount.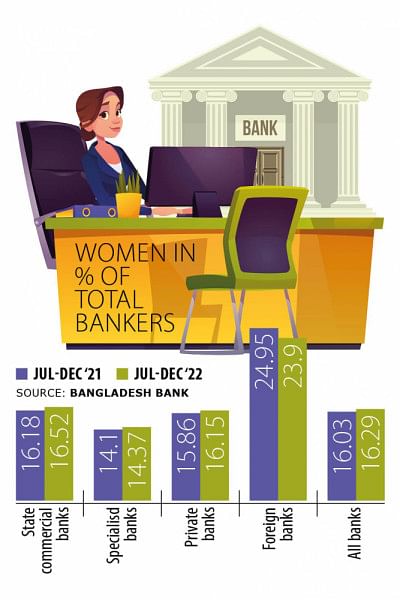 "When I joined in, there was no woman general manager at our bank. Now we have six women general managers. We have 10 corporate branches in Dhaka and two of them are run by women managers."
Afsana Islam, manager of the Mohammadpur branch of Standard Bank Ltd, said: "Women are managing families properly and running businesses. So, there is no reason why they can't hold senior positions at banks."
"All of my women colleagues and fellow managers are doing well."
Islam, who joined the banking sector in 2010, said the working environment in the banking industry is congenial and female bankers don't face noticeable discrimination when it comes to promotion and salary increases.  
She, however, admits that some people still get surprised when they see a female branch manager.  
The ratio of women employees at non-bank financial institutions, however, declined to 16 per cent in the second half of 2022 from 17 per cent four years ago.