Farmers in a pickle with unsold cattle: Blame pandemic for low demand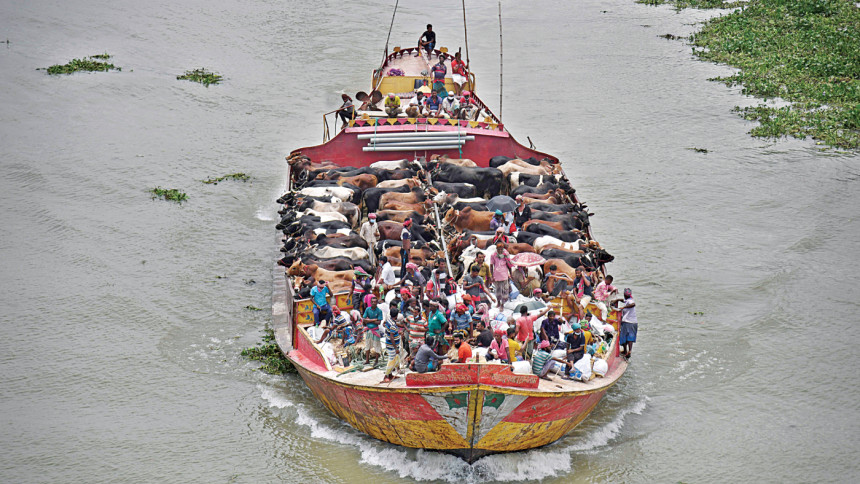 Ever since the beginning of July, Abul Hossain, a livestock farmer based in the southwestern district of Bagerhat, has been patiently waiting for buyers for the three bulls he reared over the past three years.
His untiring efforts eventually paid off as one of the bulls, weighing nearly 45 maunds, was finally sold.
He hopes to sell off the other two sacrificial animals ahead of the upcoming Eid-ul-Azha, which accounts for roughly half of the cattle slaughtered in Bangladesh each year.
Being unable to find buyers that are willing to pay his desired prices in Bagerhat, Hossain set off for Dhaka on July 16 with the two bulls, including the largest one, in search of more affluent customers.
"I even tried to sell online but did not get a good response," he told The Daily Star yesterday.
Hossain is just one of tens of thousands of farmers who have fattened their cattle to profit from the increased demand ahead of Eid-ul Azha, the second biggest religious festival for Muslims.
According to data from the Department of Livestock Services (DLS), nearly 70,000 farmers fattened a total of 38.58 lakh cattle, including bulls, for this year's festival.
However, their hopes have been hanging in the balance thanks to the nationwide lockdowns imposed by the government to contain the spread of Covid-19.
However, the government has suspended these restrictions from July 15 till after Eid. As such, cattle markets were able to be set up all over the country, rejuvenating the hopes of farmers.
Soon after the lockdown was lifted, trucks of cattle began moving towards the makeshift markets.
Still though, buyers are yet to turn up in adequate numbers.
During a recent visit to the Karatia cattle market, one of the largest regular weekly cattle markets in Tangail sadar upazila, it was found that a huge number of animals had reached the market but the turnout of buyers and wholesalers was poor.
The scene was quite similar at the Elenga cattle market in Kalihati upazila and Air Force Bazar cattle market in Sakhipur upazila.
Traders at the markets said most buyers currently just come to check the prices.
On the other hand, several buyers said that although they hoped for lower cattle prices this year due to the Covid-19 situation, the cattle owners are demanding unreasonably high prices.
Besides, many marginal farmers feel uneasy about selling their cattle online in fear of being duped.
As a result, many middlemen handle their online sales under the guise of being farmers.
Across the 12 upazilas of Tangail, more than 1,000 cattle farms have fattened about 50,000 animals for sacrifice, according to the DLS office in the district.
Farmers blame the lockdown measures for the sparse number of buyers.
Shah Aziz Talukder, owner of the Bina Agro Farm in Baluchara area of Tangail municipality, said he is yet to get the desired response when trying to sell cattle through online markets.
But Dulal Hossain Chakdar, owner of the Chakdar Cattle Farm, the largest cattle farm in Bhuapur upazila, did succeed in securing buyers through his efforts online.
As of July 15, he sold 26 of the animals from his farm, where he fattened 100 bulls and oxen in hopes of good profits during Eid.
"People are communicating online every day. Wholesalers are also coming to see them," he said.
However, Nazmul Molla, a livestock farmer of Mollahat upazila of Bagerhat, could not sell his bull weighing 1,325 kilogrammes for his desired price of Tk 12 lakh.
"People come to visit the bull but no one offers any price," he said.
"The coronavirus has destroyed our hopes and businesses," added Nazmul, who has to spend about Tk 700 daily to feed the bull.
The case is similar for Bagerhat's Hossain, who could not sell his bulls last year either thanks to low demand amid the economic downturn caused by Covid-19.
However, both Hossain and Molla are hopeful that they would get buyers this year as they are coming to Dhaka, home to most of the well-offs.
Yesterday around 8 pm, Molla was crossing the Padma river by ferry with his bull. His destination is Baridhara of Dhaka.
Hossain crossed the mighty river at daylight. His destination was Aftabnagar of the capital.