Farmers eye good profits from floating seedbeds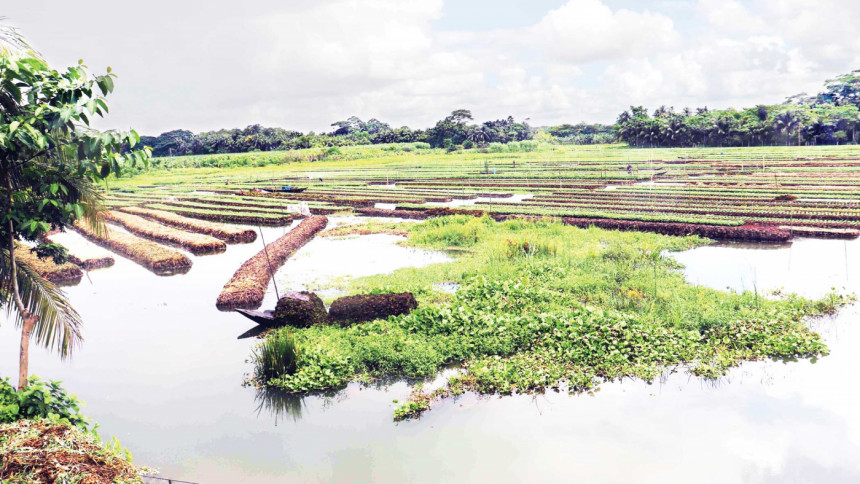 Farmers who grow vegetable saplings on floating seedbeds are hopeful of making good profits this year following two years of strife amid the Covid-19 pandemic, when there was a serious dearth in wholesale buyers due to restrictions on public movement.
Farmers of the Kolardoania, Daulbari Dobra and Malikhali unions of Nazirpur upazila, and Baldia union of Nesarabad upazila in Pirojpur have been growing vegetable saplings on floating seedbeds for over a century.
Similarly, farmers in the Moluhar and Bisharkandi unions of Barishal's Banaripara upazila have been cultivating vegetable saplings in the same manner for an equal amount of time.
Farmers follow several steps to produce saplings on floating seedbeds, which are made from the thick water hyacinth available in marshlands.
After gathering enough of the plants, they mould them together into five-feet wide, four-feet thick and 90-feet long floating seedbeds, which are locally known as dhap.
However, the process is only complete once the dhap is placed in a growing area inside the marshland. Then, farmers crush nutrient-rich plants and spread them over the seedbed as a kind of natural fertiliser.
After that, they plant vegetable saplings of their choice and after three weeks, the mature crop is ready for sale.
The whole process usually costs up to Tk 16,000, including labour and other input costs, but the price has increased by about Tk 2,000 this year, according to farmers.
The practice is recognised by the UN's Food and Agriculture Organisation as one of the Globally Important Agricultural Heritage Systems.
After the season ends, farmers use the dhap as compost for growing vegetables on high lands.
Women prepare the saplings for cultivation by placing seeds inside small lumps made of the rotten roots of water hyacinth and other plants, locally known as a doulla.
"We do this at home before placing the doullas in a dhap," said Noorjahan, a housewife from Baldia village, adding that the practice helps local women support their families.
Depending on the variety, between 1,000 and 2,000 doullas can be placed in a single bed.
Mohammad Babul, a farmer of Moluhar village, said the season for selling saplings begins in the middle of July and continues for the next five months.
"We are hopeful of making good profit this year as wholesalers are buying each sapling for Tk 5-7 depending of the variety," he added.
Farmers in the region cultivate all varieties of saplings, including that of bottle gourd, papaya, eggplant, beans and bitter gourd.
"The presence of wholesale buyers is higher now compared to last year," said Md Jasim Uddin, another farmer of the same village, adding that favourable weather conditions have helped secure good yields.
Echoing the same, farmer Mohammad Moksedul, said that it is a good thing they have seen less rainfall this year as even though the natural water source helps saplings grow, excessive precipitation does damage.
Md Jakir Hossain, a wholesaler from Baldia village, said they too have been making good business from the start of the season thanks to the opening of Padma Bridge.
"In the past, it would take a long time to send the saplings to other parts of the country via waterways but now, we can send them in the shortest possible time due to the increased road connectivity provided by Padma Bridge," he added.
Of the three upazilas in Pirojpur and Barishal that produce vegetable saplings on floating seedbeds, Nazirpur upazila is the top producer as 120 hectares of land in the region are being used for cultivation in this manner, directly or indirectly employing around 6,000 people in the process.
Meanwhile, vegetable saplings are being grown on floating seedbeds in 40 hectares of land in Nesarabad upazila and 30 hectares of land in Banaripara upazila, local agriculture officers said.
Digbijoy Hazra, agriculture officer of Nazirpur upazila, said the saplings are sent to other parts of the country only after meeting local demand.
"The dhap cultivation system has created employment opportunities for several thousand people in the region," Hazra said, adding that some farmers even produce spices using this method.