Edible oil prices raised again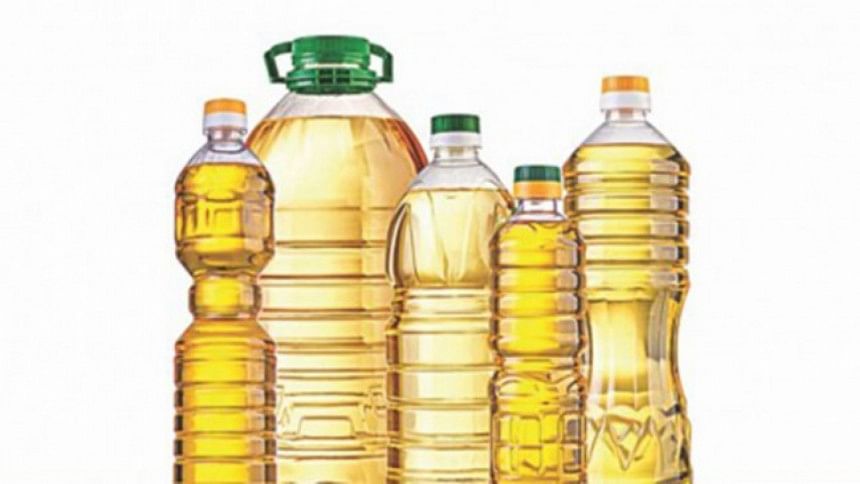 Edible oil manufacturers have reinstated a hike of around 2 per cent to take the price per litre to Tk 144, making availing daily essentials even more difficult for pandemic-hit people.
On May 4, the Bangladesh Vegetable Oil Refiners and Vanaspati Manufacturers' Association reduced the price by around 2 per cent to Tk 141 from Tk 144 per litre.
At that time, the association cited that it reduced the prices following the commerce ministry's request considering people's purchasing capacity during Ramadan and the pandemic.
The hike had come about on April 25.
It took one-litre bottles of branded soybean oil to Tk 144 from Tk 139, that sold loose to Tk 122 and a five-litre branded bottle Tk 685, up from Tk 660 not long before. Loose palm oil will cost Tk 113.
This is the fifth rise in three months, reasoned as a ripple effect from international markets.
Another hike has been proposed as international rises are leading to losses, said Md Shafiul Ather Taslim, director for finance and operations at TK Group, a leading importer and processor of essential goods.
 "A government decision is likely within a week," he said, without elaborating further.
 "We have kept the supply chain intact following commitment provided to the government but we are losing out," said Didar Mohammad Dabirul Islam, head of finance and accounts of Bangladesh Edible Oil.
 "We don't want oil prices to go beyond the purchasing capacity of consumers. But we are paying 15 per cent VAT at the import stage and additional VAT at the time of delivery. Meanwhile, the dollar has risen," he said.
Now every tonne has risen to $1,350 from $1,250 on an average, he added.
In Chattogram's wholesale Khatunganj-Chaktai market, the latest proposal sent palm oil prices up by Tk 50 to Tk 60 on every maund (around 37.3 kilogrammes) over the last two days.
On Saturday it was selling for Tk 4,200 to Tk 4,250 as per one trader.
Meanwhile soyabean oil had risen by Tk 100 to Tk 4,500 recently.
However, retail prices are still stable.
"Prices are currently declining in the international market but why are prices here being increased again…I do not understand," said wholesaler Abdur Rahman.
Dhaka's retailers have already adopted the new prices, even for products with old price tags, alleged multiple consumers.
According to Chattogram Custom House, over 7.13 lakh tonnes of edible oil, including crude soyabean and refined pam oil, were imported through the Chattogram port in four months till April.
Some of 6.59 lakh tonnes were imported in the same period last year.