Economic zones struggle to woo foreign investors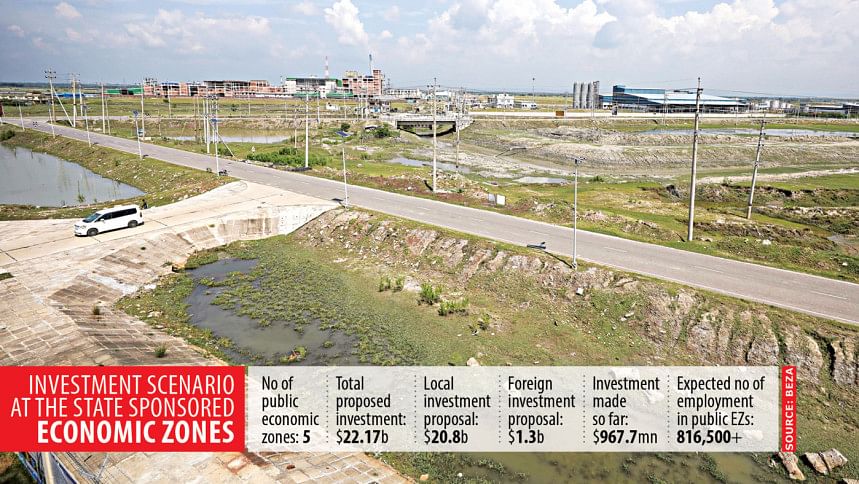 When Bangladesh embarked on a journey to set up 100 economic zones across the country in 2015, the government's aim was to attract both foreign and local investments as it looks to accelerate industrialisation, create one crore jobs and export $40 billion worth of goods and services from the enclaves in the next 15 years.
So, it offered a 100 per cent income tax exemption for 10 years on capital gains, dividends, royalties, and technical assistant fees, and an 80 per cent exemption on value-added tax on electricity, water and gas consumption.
Besides, export-oriented industries are allowed to sell 20 per cent of their products in the burgeoning local market and foreign nationals working in the zones may remit 75 per cent of their net salaries.
After seven years, the government has readied five economic zones while entrepreneurs have set up dozens of them.
Accordingly, the Bangladesh Economic Zones Authority (Beza) has received $22.17 billion worth of investment proposals from home and abroad in automobile, chemical, pharmaceuticals, light engineering, hospital, plastic, edible oil and food processing.
Of the sum, only $1.32 billion is foreign direct investment (FDI), data from the agency showed. Besides, just $55 million has been invested so far.
"The progress of investment in the economic zones is quite disappointing, particularly when it comes to foreign investment. It is below our expectation," said Khondaker Golam Moazzem, research director of the Centre for Policy Dialogue.
"We have seen huge activities of the Beza in the last decade. It has offered incentives to foreign investors, but investment realisation is yet to reach the expected level," he added.
Still, the economic zones have been able to attract investments from Japan, China, India, Australia, Germany, the Netherlands, US, UK, Singapore, South Korea, and Norway, Beza sources said.
Among the foreign investors, Marico Bangladesh Limited invested $6 million, Asian Paints Bangladesh Limited put in $34 million, and Nippon & McDonald Steel Industries Limited, a joint venture, came up with $15 million.
Local and foreign investors have together invested $967.73 million in the economic zones in various sectors.
"Although the amount of FDI is small in terms of the total investment proposal, it would increase once the Japanese Economic Zone becomes operational," said Shaikh Yusuf Harun, executive chairman of Beza.
Bangladesh Edible Oil Ltd (Singapore) has proposed to invest $400 million, Pacific Gas Bangladesh Ltd (Thailand) plans to bring in $100 million, and Inter-Asia Group Pte Ltd (Singapore) plans to invest $90 million.
Besides, Eurasia Food Processing (BD) Ltd (UK) plans to inject $30.17 million, Berger Paints Bangladesh Limited (UK) aims to bring in $29.4 million, HA Tech Ltd (Australia) $21.64 million, and Jinde Elastic (BD) Co Ltd (China) $20 million.
Besides, a $600 million investment proposal is awaiting the signing agreement for the Japanese Economic Zone, which is being developed on 650 acres of land in Narayanganj's Araihazar.
Scheduled for completion by June 2023, Japanese trading giant Sumitomo Corporation will operate the economic zone, which would be able to accommodate around 200 companies and create 2 lakh jobs.
On November 20, Prime Minister Sheikh Hasina inaugurated the commencement of commercial production at 14 industrial units and also announced the establishment of 29 others in public and private economic zones to encourage planned industrialisation in Bangladesh.
M Masrur Reaz, chairman of the Policy Exchange of Bangladesh, says Beza initially allocated land to business groups at the state-run economic zones for the development of the estates for their own purposes. As a result, foreign investors have not been accommodated there in large numbers.
"So, a significant amount of foreign investments has not arrived."
According to the purpose of economic zones, the enclaves have to be developed first before allocating land to investors. Foreign investors become interested when they get ready land and utility services, Reaz said.
"Beza has changed its model and now it would allocate the developed land to investors. The process would help attract foreign investors," he added.
According to the US State Department's Investment Climate Report 2021, several factors such as corruption, bureaucratic red tape, inadequate infrastructure and limited access to financing pose major obstacles to foreign investment in Bangladesh.
Referring to the observation of the Foreign Investors' Chamber of Commerce and Industry (FICCI), which represents foreign investors in Bangladesh, its Executive Director TIM Nurul Kabir said there is a lack of stable fiscal policy and it does not support the business plan of investors. An investment-friendly environment is yet there.
"So, foreign investors do not feel confident to invest in Bangladesh despite having huge business potential in the country."
The local consumer market is set to become the ninth-largest in the world driven by a rapidly expanding middle and affluent class, which is projected to grow from about 19 million in 2020 to about 34 million by 2025, according to top global consulting firm Boston Consulting Group.
The FICCI found that foreign investment would come to Bangladesh if the ease of doing business situation improves and there is a stable policy, said Kabir.
CPD's Moazzem called for identifying the bottlenecks for slow investment and sorting them out.
"Only land and utility services won't be able to attract foreign investments. We need to offer a full package to foreign investors. This will include a business-friendly environment, skilled workforce, and housing facilities for workers and staff."
The industrial economist suggested seeking alternatives to the investors who are yet to take initiatives to make investments despite securing land.
Beza's Harun acknowledged that the Beza has not assessed why FDI at the economic zones has been low so far. He also did not blame government entities involved in wooing foreign investors.
"And we are hopeful that the proposed investments would be translated into real investments within the next two to three years," he said.