E-commerce to face more scrutiny as BB makes rules to stop fraud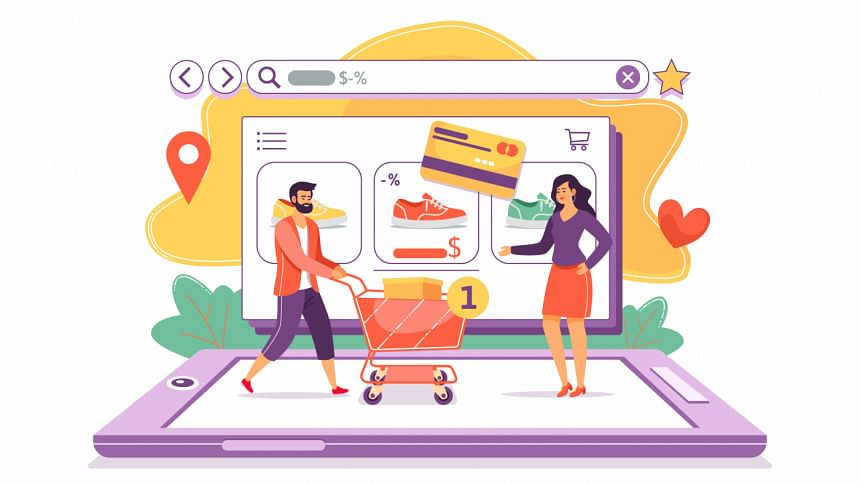 The Bangladesh Bank yesterday introduced a guideline for merchant acquiring, making it mandatory for payment services providers to carry out intense scrutiny before onboarding sellers as it looks to eliminate online frauds and financial crimes.
According to the 'Guidelines for Merchant Acquiring and Escrow Services 2023, merchant-acquiring institutions such as banks, mobile financial services, payments service providers (PSPs), and payments system operators have been asked to draw up their respective onboarding policies.
The policies will give details about the documents to be needed for merchant onboarding, document verification process, risk analysis, risk management, escrow services, refund, merchant activity inspection and monitoring, and directives for merchants in providing services to customers.
It will also include the instructions to be followed by both parties for the settlement of transactional disputes.
The move from the central bank comes as Ponzi-like e-commerce platforms that lured unsuspecting customers to make payments of thousands of crores of taka on the back of hefty discounts during the coronavirus pandemic.
Last year, the central bank identified 25 online sellers, including Evaly, E-orange, Qcoom, Dhamaka, Aladinerprodip, Sirajganj Shop, Alesha Mart, and Dalal Plus that received a staggering Tk 6,050 crore in just four months from clients through payment gateways and banks.
Most of the customers who were defrauded haven't received their products or refunds yet.
"The new guideline aims to make it difficult for e-commerce firms to resort to dishonest means to receive payments from customers," said a BB official yesterday.
"We hope there will be no new Evaly or Sirajganj Shop cases after these rules."
Since operations and transactions of merchants such as e-commerce platforms or online businesses carry the risk of money laundering and fraudulent activities, the BB guideline asked acquirers to receive a host of documents from sellers.
They include the merchant's name, permanent and current address, a copy of the national identification card, the electronic know your customer, personal retail account, digital business identification number, current trade licence, and the certificate of incorporation.
Their telephone or mobile number, bank, MFS or PSP account numbers, business address, website and email address, description, legality, social importance of the businesses in which merchants operate, the updated list of products, permission for the sale of goods or services, and documents of the association where the merchant is a member have to be submitted.
Acquirers have been asked to conduct regular risk analysis for their merchants in a bid to tackle fraud, money laundering, and terrorist financing and safeguard customer's interests.
For example, if the month-on-month sales of an online marketplace witness a jump of 25 percent, for an online seller 30 percent, for a physical store 40 percent, and for a hybrid retailer 40 percent, acquirers will have to seek an explanation for the increase.
If the clarification is found to be unsatisfactory, banks, MFS providers, or PSPs will freeze the transactions with the merchants, according to the guideline.
However, sales recorded during festivals such as Eid, when people across the country usually go for a shopping spree, would not be taken into account while taking such an action.
Acquirers will also assess the risk of merchants, involving their operational capacity, ability to pay debts, products and services, guarantee, warranty, legality, and compliance.
There has to be a contract between payments facilitators and merchants to prevent the latter from engaging in illegal transactions or money laundering and harming customer's interests.
The guideline recommended an agreement between acquirers and merchants on pricing model, data security, guarantee of goods and services, speedy payments, the remedy of customer complaints, and refunds.
An escrow system has been made mandatory. Now, customers' payments will be deposited in a trust-cum-settlement accounts with banks and sellers will only receive the payments after clients get the delivery of products.
Customers will face no charges for the escrow service.
AKM Fahim Mashroor, a former president of the Bangladesh Association of Software and Information Services, welcomes the guideline.
"However, this is not going to streamline the business of online shops."
He said currently, a lot of online merchants are receiving payments using MFS and cards for illegal activities such as gambling, betting, crypto, and foreign currency trading.
"But we have not seen any specific instruction for acquirers to take measures against such transactions."
The founder of AjkerDeal and Bdjobs also says the escrow guideline will not augment digital payments, rather it will increase cash on delivery.
He said merchants may face up to two weeks delay before receiving payments online as per the new guideline.
"This is one of the main reasons couriers that are mostly un-licenced are still not integrated with acquiring banks or MFS providers. The guideline should have given instructions to acquirers to integrate with licenced courier companies within a specific deadline."