Doel fails to spread wings
Performance of the locally-made much-hyped laptop was not up to the mark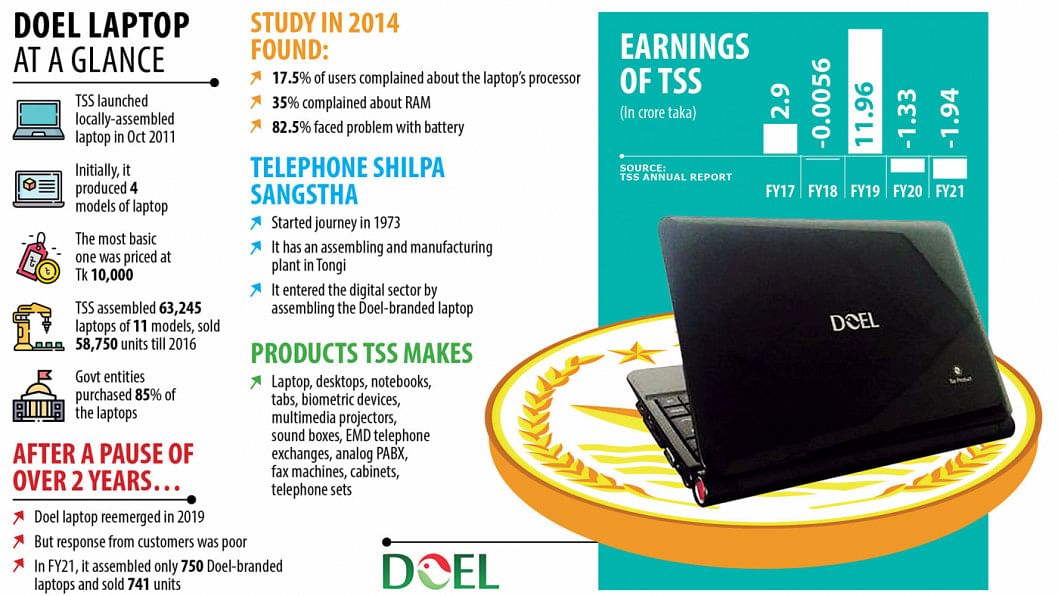 In 2011, state-owned Telephone Shilpa Sangstha (TSS) made Bangladesh proud by assembling the country's first laptop, showing promises to deliver the device at an affordable price and help the government to implement its digitalisation agenda.   
Prime Minister Sheikh Hasina launched the laptop, Doel, named after the national bird, and TSS officials were bullish that the digital devices would be available to the public and tens of millions of students.
Four models were introduced initially, attracting a lot of attention, particularly the most basic laptop that was priced at Tk 10,000.
But the excitement surrounding Doel laptop evaporated soon as customers were finding the performance of the device not up to the mark.
A teacher said he had purchased the basic model a few months after the launch.
"Soon, the laptop showed overheating. After a few months, I had to replace the battery. There was a problem with the processor as well."
In 2014, some faculty members of Jagannath University carried out a study -- 'Enactment of a Local Laptop Brand: A Study on Doel Laptop – to know about users' experiences. The sample size was 50.
According to the study, 17.5 per cent of the users complained about the processor, 35 per cent of the users raised issues about RAM (random access memory), 82.5 per cent faced problems with battery, and 7.5 per cent pointed to issues related to audio and input-output connectivity.
About 10 per cent of respondents experienced charger problems, and 5 per cent complained about resolution. None raised any issues about the hard disk and keyboard.
"Overall, customers are not very satisfied with Doel laptop," according to the study.
The bad user experience severely damaged the image of the brand.
In the first three years, TSS managed to sell Tk 126 crore worth of laptops, according to its annual reports, forcing it to suspend assembling.
It assembled 63,245 laptops in 11 models and sold 58,750 units, according to the 2016-17 annual report of the Posts and Telecommunication Division.
The education ministry bought 23,331 laptops, the telecom division's postal department 24,000 units, and the army 2,799 units. All three have complained about the poor quality of the digital device.
The Doel project was established under a venture where TSS had a 25 per cent stake, while local firm 2M, and its Malaysian partner TFT Display Sdn Bhd (TFT) owned the rest. TFT and 2M abandoned the project soon after its inception.
After the suspension of assembling, TSS started importing complete laptops bearing Doel logo and they were marketed as a "Made in Bangladesh" product. That too came to an end after demand hit rock bottom.
DOEL FAILED WHEREAS OTHERS SHONE
In 2019, TSS began assembling Doel-branded laptops again as it looked to make a turnaround. But the initiative flopped as well since it could not pull enough customers.
The state company assembled 750 laptops in 2020-21 and sold 741 units among government offices and customers.
By contrast, Walton, which set up a computer assembly plant in 2018, manufactured 50,000 laptops in the first six months of 2022.
"It's impossible to offer a laptop at just Tk 10,000 without compromising quality," said Md Ahsan Habib Tapader, who joined TSS as its managing director about a year ago.
"If the government subsidises the project, it would be successful."
He thinks if Tk 5,000 is provided as a subsidy for a laptop that costs Tk 15,000 to produce, a device could be offered for Tk 10,000.
The state-run telecommunication company's bad patch has continued whereas Walton, for example, went on to become a successful technology company despite operating in the same market. 
"Walton gets huge tax benefits, whereas we don't receive the tax benefit because we can't meet the conditions set by the National Board of the Revenue," said Tapader, adding that the company didn't receive adequate investment from the government.
In Bangladesh, local manufacturers have been enjoying the opportunity to import raw materials for computer accessories by paying only 1 per cent import duty since 2017.
AKM Fahim Mashroor, a former president of the Bangladesh Association of Software and Information Services, says if the brand image of digital service or product gets damaged, it is very difficult to revive it.
"If TSS takes up private investment and is managed by private firms, the scenario could change. In China, there are examples of successful state-owned companies run by private management."
Established in 1967, TSS was renamed after independence.
In the post-liberation period, TSS produced and set up emergency medical dispatch telephone systems, analogue PABX, fax machines, cabinets, and telephone sets to meet demand.
Apart from Doel laptops, desktop computers, notebooks, tabs, biometric devices, multimedia projectors, sound boxes, smart prepaid energy metres and other digital devices have been added to its product line.
Still, TSS's financial numbers have not improved.
It incurred a loss of Tk 1.33 crore in the fiscal year of 2019-20 and Tk 1.94 crore in 2020-21.
TSS LOOKS FOR A COMEBACK
TSS assembled a few models in 2019 and Tapader called them completely different from the previous one, saying they come with better quality and configuration.
He admits that there were some problems with the first batches of laptops. "Now there are some models of laptops available in the market that are perfect. There are no complaints about them," he said.
TSS is supplying the new models to government agencies, including the ICT Division.
In order to instil a new life into TSS, the government is considering declaring it as a hi-tech park to attract local and foreign investments.
Zunaid Ahmed Palak, state minister for ICT, has already announced it would declare TSS as a hi-tech park, said Posts, Telecommunication and Information Communication Minister Mustafa Jabbar.
A hi-tech park status would give TSS various benefits, including tax breaks. TSS has already applied to the ICT ministry seeking the hi-tech park status.
Jabbar points to the insufficient marketing for the limited sales of Doel laptops.
"We are launching a proper marketing campaign. Within 2022, it will get better promotion," he said.
The company is now conducting a feasibility study to establish a motherboard manufacturing plant in Tongi.
"Our objective is to establish a plant with a full-fledged laptop, mobile phone and digital metre manufacturing facility," Tapader added.